The packaging system consists of conveyor belts, vibrating channels, feeder Flowbiscuits to pile biscuits and the flowpack machine PANDA RED.
Conveyor system receives biscuits from the production line and places them to convey the biscuits laying flat, into the "penny stacking" area.
Products are then accumulated and transferred to the vibrating channels and feed into the feeder Flowbiscuits.
A pusher system performs the extraction and counting of the biscuits from the accumulation and transfer them stacked in the infeed chain of the wrapping machine.
Size and number of biscuits per pile can be easily changed ensuring high flexibility to the line.
The packaging machine PANDA RED then flowpack the piles of biscuits in the desired collation.
The plant is ergonomically designed to allow maximum access to operators to control the flow of products and it's easy to clean and maintain.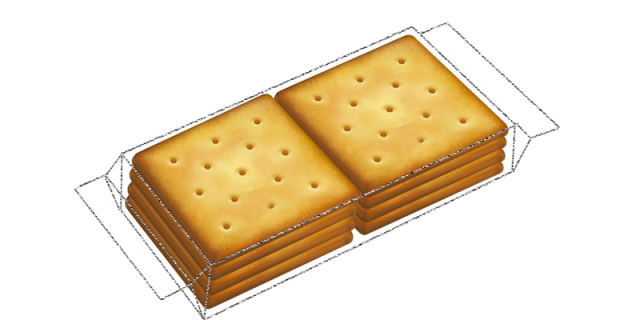 Highlights:
Technical Data:
Production Speed

up to 90 flowpacks/minute

Product size

55 x 55 x h 5-6 mm – 6,25

Min-Max. acceptable tolerances to be stated

Packaging style

2 piles x 4 pcs

110x55x22 mm