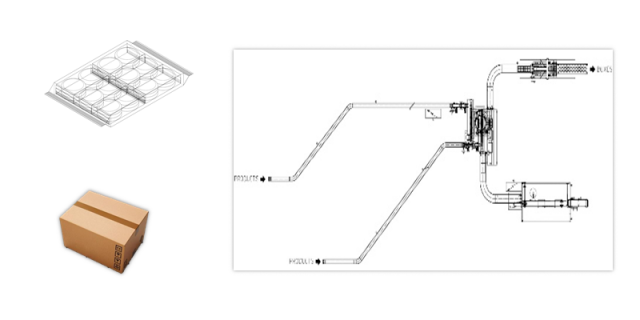 IMA EUROSICMA primary and multipack
The line is capable of collecting the products in flat position from the upstream line, put them on edge by means of a stacking system, create portions in a configuration of 2 stacks of 2 biscuits. Directly linked to the flow pack machines there are two dedicated units to fold and seal the cross wings of each flow pack before grouping them and reach the 3 axis Pick & Place. The multipack in flow pack style is composed of 6 single portions with corrugated carton around the portions packs.
IMA Ciemme secondary packaging
Multipack of biscuits arrives from two upstream lines, each one at a rate of 200 per minute. Products are packed in corrugated shipping cases (American type).
Concentrating two single lanes in to one end of line case packer saves space and improves the production flow with ideal handling of the products.
The IMA Ciemme CR loading unit receives the multipacks from the IMA Eurosicma equipment via acceleration belts and convey them to a vertical track collation system that receives and indexes the products. Multipacks are then picked up by dedicated pick up head (vacuum) fitted on a delta robot (40 cycles per minute) and loaded into the RSC shipping case. Once completed, the case is moved to a closing machine to seal the upper flaps (adhesive tape) and then carried it to the palletizing station.
The line comprises different Ciemme equipment including a high-speed case erector (adhesive tape bottom closing) to complete the system.
IMA EUROSICMA primary and multipack
Highlights of the whole line:
Top level of automatization
Hygienic design
Modular construction design
Flexibility à capacity of handling a wide range of products getting multiple pile pack configurations by dedicated settings
Highlights of the Rotary Disc piling systems:
Flexibility in terms of link with the upstream line
Each gravity feeder is driven by independent servo motor
Top level of flexibility in portion creation
Gentle handling of the products during portioning
Top level of performance, up to 500 extractions/min
Highlights of the multipack section:
Direct and automatic connection from primary to multipack
Top level of flexibility thanks to rows multipliers units and 3 axis Pick & Place system
Double Carton Feeder from reels - full time operation without stopping for carton splices
IMA Ciemme secondary packaging
Compact and versatile configuration. The individual machines are logically co-ordinated to form a complete harmonized system
Wide range of products, patterns and case styles provides flexibility for current and future needs
Quick, reliable format changeover using customized format kits and spindle adjustments
All bought-in components are sourced from recognized industrial suppliers. Each machine passes a detailed and through in-house tests (Pre-FAT)
The modular design allows to load products in single, multi-row or multi-layer collations and sideloads them standing or flat into orrugated or solid board.
IMA EUROSICMA primary and multipack
Technical Data: To be evaluated according to the request.
IMA Ciemme secondary packaging
Technical Data:
| | |
| --- | --- |
| Line Speed | |
| | Up to 400 multipack/minute |
| | up to 20 cases/minute |
| Case size | 500x400x350 |
Stainless steel construction
Special infeed belts for products on edge (loading unit)
Open flap detect and reject system (carton closer)
Centralized lubrication (manual or automatic)
Labeller / Printer integration
Spare parts kits
Amoung the full array solutions in the packaging bakery industry, IMA CIEMME offers an intermittent motion cartoner that ensures the smoothest product handling for this type of application, combined with the safest carton loading.
FUNCTIONAL DESCRIPTION
The solution incorporates high speed feeding and collating of the flow pack (dry pile of biscuits) ready to be loaded into a pre glued cartons. Working with our packaging department, an attractive carton design allowed the customer to offer a new packaging style (re-closable) optimising packaging cost and helping towards the return on investment. The key is a vertical racetrack system at the infeed able to receive products flat and turn them 90° (single, double or triple) in the pocket before they are loaded on edge in their correct formats at the carton-loading station.
The robust, low maintenance, easy cleaning, full visibility design ensures a high operational efficiency and long lifetime resulting in low operational cost. Touch screen controls deliver ease of use and step by step changeover for reliable and repeatable operations thanks to quick release change parts minimising changeover time.
Stainless steel construction
Unique infeed systems / loaders for specific products
Extension of carton magazine
Tuck-in flap closure
Multiple machine pitches
Open flap detection with reject
Fully automated format changeovers
Centralized lubrication (manual or automatic)
Labeller / Printer integration
Spare parts kits
HIGHLIGHTS
Layout

Modular and specular design, easy access

Wide Format range

Wide range of products, patterns and case styles provides flexibility for current and future needs

Changeover

Quick, reliable format changeover using customized format kits and spindle adjustments

Quality

All bought-in components are sourced from recognized industrial suppliers.
Each machine passes a detailed and through in-hpuse tests (Pre-FAT)

Highly flexible design

The modular design allows to load products in single or multiple collations and sideloads them on edge or flat
TECHNICAL DATA
Line speed

Input: up to 300 products/minute

Output: up to 50 cartons/minute

Case size

350x300x80

Power required

Total installed power: 20 Kw

Compressed Air

Exercise pressure: 6 bar

Line weight

3000 Kg