Hi,
We have a large rectangular rotary mould impression, scored into fingers and docked. Rough weight is 105g. 
With a shortbread dough, all butter (28% approx), it extracts fine. When we move to 7-14% butter and 14-21% margarine, it doesn't fully extract presumably because it's margarine based and softer. We get the below issues on extraction at the back/tail end. 
The work done so far is: 
- Firming up dough with less fat (-2%), more flour/cornflour (up to +7%).
- Pressure on back roller and knife settings. 
- Removal of docking pins yielded some success...
Thanks in advance.
Victoria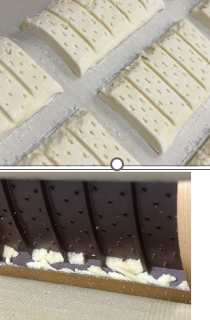 Target: