Viennese whirls are a sandwich biscuit made up of two shortbread biscuits held together with raspberry jam and buttercream. They are perfect for afternoon tea.
Where are Viennese whirls from?
Even though Viennese whirls sound like they would originate from Austria, the truth is, they were created in England. They were however, inspired by Austrian biscuits and that's were the name comes from - an attempt to credit the inspiration behind the biscuit. Viennese Whirls were popularised by Mr. Kipling (a British brand), in the 20th century and for a while people mistook them for Empire biscuits. Empire biscuits are also a type of a sandwich biscuit, the difference being that icing comes on top.
As their name suggests, the outside of the sandwich biscuit are two whirls, which are made with a piping bag. For at-home-bakers this means that there's a margin for error, because baking helps shape the whirls. The most improtant ingredient of a good whirl is butter, it needs to be soft, but not melted. When kneading the dough, air gets traped resulting in a tender biscuit.
How to make viennese whirls?
Recipe
There are a lot of recipes for making Viennese whirls at home, and none we trust more than Mary Berry's. So we bring you Mary's recipe (originaly posted on bbc.co.uk).
Ingredients:
For the jam
200g of raspberries
250g of jam sugar
For the biscuits
250g of very soft unsalted butter
50g of icing sugar
225g of plain flour
25g of cornflour
For the filling
100g of unsalted butter, softened
200g of icing sugar, plus extra for dusting
½ tsp vanilla extract
Firstly, for the jam, put the raspberries in a small, deep-sided saucepan and crush them using a potato masher. Add the sugar and bring to the boil over a low heat. When the sugar is melted, increase the heat and boil for a further 4 minutes. Remove from the heat and carefully pour into a shallow container (pass it through a sieve if you'd rather not have seeds in your jam). Leave to cool and set.
For the biscuits, preheat the oven to 190C/170C. Line 3 baking sheets with non-stick baking parchment. Using a 5cm round cutter as a guide, draw 8 circles on each sheet of paper, spaced well apart. Turn the paper over so the pencil marks are underneath.
Measure the butter and icing sugar into a bowl and beat until pale and fluffy. Sift in the flour and cornflour and beat well, until thoroughly mixed. Spoon the mixture into a piping bag fitted with a medium star nozzle. Pipe 24 swirled rounds (not rosettes), inside the circles on the baking sheets.
Bake in the centre of the oven for 13—15 minutes, until a pale golden-brown. Cool on the baking sheets for 5 minutes then carefully transfer to a wire rack to cool completely and harden.
For the filling, measure the butter into a bowl and sift the icing sugar on top. Add the vanilla extract and beat with a wooden spoon or an electric whisk until very light and smooth. Spoon into a piping bag fitted with a large star nozzle.
Spoon a little jam onto the flat side of 12 of the biscuits and place jam-side up on a cooling rack. Pipe the buttercream over the jam and sandwich with the remaining biscuits. Dust with icing sugar to finish.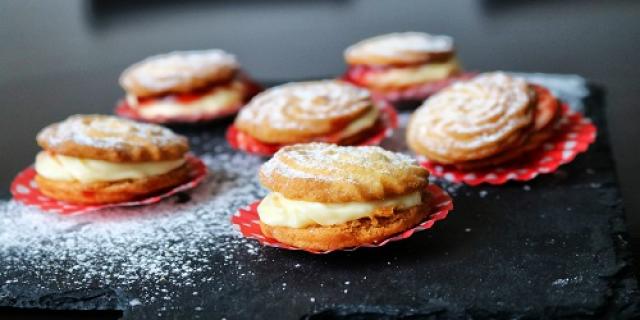 Popular brands and manufacturers
Fox's – English brand
Mr. Kipling – part of A Premier foods company
Lyons – part of Burton's Biscuit co
Border Biscuits Ltd – English brand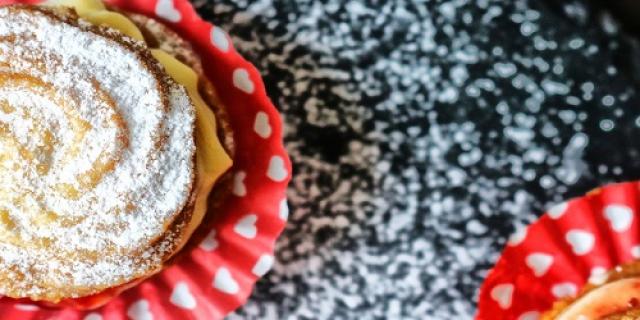 Health pros and cons
Viennese whirls contain vitamin A and vitamin D, which are good for bones. They don't contain any trans fats nor chemical raising agents. However, one Viennese whirl can contain up to a third of the daily guideline intake of saturates for women.
Discover more biscuit type in The Complete Collection of Biscuit Type
Be sure to subscribe to our newsletter by registering so that you do not miss any of our articles and insights.
---
Photo source: Ena Kokanović, Foodgasm