Custard cream in the Complete Collection of Biscuit Types is quite well-known in the British Isles. These biscuits' structure is similar to a sandwich. They have creamy, custard-flavored filling placed between two biscuits.

Country of Origin and Usage
The custard cream is said to have originated in 1908 in England. The design of the biscuits is quite Victorian with baroque markings such as Victorian ferns which were trendy in the latter half of 19th century. These biscuits are also very popular in Ireland.
These biscuits are great companions for a relaxing afternoon tea. As a matter of fact, many people love dunking these biscuits before biting into them. Originally though, custard cream biscuit were intended to be used as decorative biscuits.
Ingredients/ Preparation
Custard Creams are available all over the UK and different supermarkets produce their own versions and brands, with different variations. Some of the most popular ones are the coconut, coffee, strawberry, chocolate, orange and lemon flavors.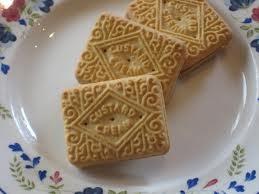 Custard cream biscuits are best when dunked in tea and they are also great to be given as edible gifts to family and friends. They are quite easy to prepare despite the challenging appearance. The biscuits require flour, baking powder, icing sugar, custard powder and a pinch of salt. These ingredients are combined together thoroughly and then butter is added and baking process continues until everything looks like dry sand. Vanilla and milk are then added in order for the mixture to perfectly lump together. The traditional filling was the butter cream, which is still being used for the home recipes.
Their name comes from custard filling which is essentially eggs mixed with liquids, usually milk or cream, and then thickened using a low heat. It can be a combination of melted chocolate, water, sugar, butter, vanilla and custard powder. Custard should never be boiled, it should be cooked at around 80⁰C (180⁰F). If you want thicker custard, add more eggs, not more heat. This combination is then going to be spread evenly on the underside of a biscuit, and then another biscuit is going to complete the Custard Cream sandwich biscuit.
Producers and Brands

Tesco Custard Cream Biscuits – The Tesco standard Custard Cream biscuit shows the clarity in the baroque design. This is also the brand that produces the biscuit with the most superior quality cream win warm yellow coloring.
Crawford's Custard Cream Biscuits – These biscuits have been voted as UK's favorite biscuit. The Crawfords Custard Creams have the kind of popularity that has not been diminished by time. These biscuits are produced in classic design; two biscuit layers that are sandwiching a tasty cream center. Crawford's Custard Cream Biscuits are manufactured and distribute by United Biscuits.
Sainsburys – These biscuits are just as delicious as the ones that come in other brands, but just a bit grainier and dusty in texture.
Hill Biscuits – This is another manufacturer and distributor of Custard Creams, and they offer different flavors in a single pack they call the Snack Pack that is good for sharing.
Other Custard Cream brands include: Boland's of Ireland; Arnotts of Australia; Khong Guan (Singapore); Divss (India); Tifanny; Birce; TruFree; Deemah Custard Cream Biscuits (United Food Industries Corp. Ltd. Co. – Saudi Arabia); Devon Custard Creams (Associated Brands Industries Limted – Trinidad and Tobago); Fine Fare Custard Cream Cookies (FMF – Fiji); and Custard Cream Biscuit (Shantaou Gangwei Foods Co., Ltd. – Guangdong, Mainland China).
Interesting Facts about Custard Creams
In 2007, Custard Cream was voted as UK's favorite biscuit, with nine out of ten British voting for it. The largest Guinness-certified custard cream in the world was baked by Simon Morgan (an amateur biscuit maker) and Paul Thacker (chef supremo), in November 2010. The huge biscuit was created at the Chino Latino Restaurant in Nottingham, England. The finished biscuit weighed 34.7 pounds (15.73 kilos) and measured 23 inches (59 cm) in length, 15 inches (39 cm) in width, and 2.6 inches (6.5 cm) in thickness. The biggest Custard Cream was auctioned and the proceeds went for the Nottingham Homelessness Charity.
There is a short story named Custard Cream by Robert Shearman. He was a playwrigh before he started writing for the popular series Doctor Who.
Custard Creams that are commercially available today are a bit smaller in sizes than the traditionally produced ones. They look smaller and squarish, while the old versions were bigger and, of course, rectangular in shape.
Though there are some people who think that Custard Creams are not the dunkable type of biscuits, many still love dunking them before actually consuming them. The taste of a custard cream when undunked is one with a great combination of crunchiness and softness that directly guides you to the think and crumbly biscuits through the vanilla cream centre. Dunked, the sweetness becomes more pronounced than the crunchiness. You wouldn't miss an original Custard Cream biscuit, as each piece is engraved with its name.
Most people love Custard Creams because they are not too sweet, thus having a second piece is not going to hurt their diets. Custard cream biscuits are made with custard powder and there is no real custard used in the recipe. Some people consider custard cream biscuits as comfort foods to be eaten with other comfort foods like ice cream or hot chocolate drink.
Find out more about different types of biscuits and cookies in The Complete Collection of Biscuit Types.