Custard cream in the Complete Collection of Biscuit Types is quite well-known in the British Isles. These biscuits' structure is similar to a sandwich. They have creamy, custard-flavored filling placed between two biscuits.
A sandwich or a sandwich biscuit? What do you choose? And we must not forget the tasty buttery cream combined with that ...
Custard cream biscuits are quite well-known in the United Kingdom and the Republic of Ireland. These biscuits' structure is similar to a sandwich. They have a creamy, custard-flavored filling placed between two biscuits. The filling was typically butter (that is still being used in homemade recipes) but inexpensive fats now have replaced butter in large-scale cookies.
Vanilla filling tastes are more similar to custard made of custard powder than egg custard as a result. Nowadays, it is not only vanilla that makes the perfect filling for custard cream biscuits, but you can also find different options such as banana or chocolate filling.
If you ask British people, probably 9/10 would say that custard cream biscuits were one of their favorite childhood treats. To be specific, in a 2007 poll of 7,000 Britons, 9 out of 10 voted custard creams to be their favorite biscuit. In 2009 it was ranked the eighth most popular biscuit in the UK to dunk into tea.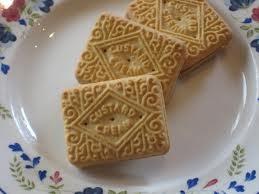 As one blogger once mentioned, these traditional biscuits are very popular and there's not much more that can be said about these classic little biscuits because they really do speak for themselves. So, even though their creamy taste that melts in your mouth speaks for itself, let's learn more about custard cream biscuits – they are worth it!

Country of Origin and Usage
The custard cream is said to have originated in 1908 in England. The design of the biscuits is quite Victorian with baroque markings such as Victorian ferns which were trendy in the latter half of the 19th century. These biscuits are also very popular in Ireland. These biscuits are great companions for a relaxing afternoon tea. As a matter of fact, many people love dunking these biscuits before biting into them. Originally though, custard cream biscuit was intended to be used as decorative biscuits.
Ingredients/ Preparation
Custard Creams are available all over the UK and different supermarkets produce their versions and brands, with different variations. Some of the most popular ones are coconut, coffee, strawberry, chocolate, orange and lemon flavors.
British people mostly make them with Birds Custard Powder, which is another British classic.
Bird's Custard is the brand name for the original powdered, egg-free imitation custard powder, now owned by Premier Foods. Custard powder and instant custard powder are the generic product names for similar and competing products.
How do you make custard with Bird's custard powder?
Put 2 tablespoons (35g) of custard powder and 1-2 tablespoons (15g-35g) of sugar in a basin.

Mix into a smooth paste with a little (approx. 2 tablespoons) milk taken from 1 pint (568ml).
Heat the remaining milk to nearly boiling and pour onto custard mix, stirring well.
Do you even need Bird's custard powder for custard cream biscuits?
This basically a vanilla enhanced corn starch which gives the Custard Creams their soften in-your-mouth quality. Custard powder was imagined during the war when entire nourishments were hard to come by, so Britons could make their adored custard without eggs. It turned into a most loved everybody despite everything utilizes it.
Custard cream biscuits are best when dunked in tea and they are also great to be given as edible gifts to family and friends. They are quite easy to prepare despite the challenging appearance. The biscuits require flour, baking powder, icing sugar, custard powder and a pinch of salt. These ingredients are combined thoroughly and then butter is added and the baking process continues until everything looks like dry sand. Vanilla and milk are then added in order for the mixture to perfectly lump together. The traditional filling was the buttercream, which is still being used for the home recipes.
Their name comes from custard filling which is essentially eggs mixed with liquids, usually milk or cream, and then thickened using low heat. It can be a combination of melted chocolate, water, sugar, butter, vanilla, and custard powder.
The custard should never be boiled, it should be cooked at around 80⁰C (180⁰F). If you want thicker custard, add more eggs, not more heat. This combination is then going to be spread evenly on the underside of a biscuit, and then another biscuit is going to complete the Custard Cream sandwich biscuit.

Photo By chrisdorney/Shutterstock.com
Recipe:
For the Biscuits
For the Filling
Instructions
Preheat your oven to 180°c and grease a couple of baking trays with a little butter.

In a large bowl cream the butter & icing sugar until light and fluffy.

Gradually add the flour & custard powder a little at a time until the mixture forms a paste.

Divide into small balls (about a teaspoon-tablespoon per biscuit) and place onto your pre-greased baking tray with a bit of space between. Flatten eat ball lightly with a fork.

Bake for 12-15 minutes until the appear dry on top.

Allow cooling on a wire rack. Mix the butter & icing sugar to form the buttercream and once the biscuits are completely cool, pipe or spread a little buttercream onto half the biscuits and sandwich together with the other halves.

This traditional, long-living recipe is from: BakingWithGranny

You can even make them in the gluten-free version!

You must ask yourself: 'Oh I would love to, but how? The only thing you have to do is swap the plain flour for gluten-free all-purpose flour making sure the custard powder you're using doesn't contain any hidden gluten ingredients.

*There are even many vegan kinds of butter available in the markets nowadays: for example:
Earth Balance
I Can't Believe It's Not Butter
Miyoko's Kitchen
WayFare Whipped
Melt Organic
Nutiva Organic Buttery Coconut Oil
There is also a digestive cream version available, in which the biscuit is replaced with a digestive biscuit.

Producers and Brands
Tesco Custard Cream Biscuits – The Tesco standard Custard Cream biscuit shows the clarity in the baroque design. This is also the brand that produces the biscuit with the most superior quality cream win warm yellow coloring.
As they described biscuits: CRUNCHY & SMOOTH Carefully baked to a classic recipe with a delicate vanilla flavor. Our bakers have been baking biscuits for more than 50 years. Passing down their knowledge and care from generation to generation. Taking classic recipes – and making them the best they can be.
Tesco plc trading as Tesco, is a multinational British grocery store and general merchandise retailer with headquarters in Welwyn Garden City, Hertfordshire, England, UK. It is the world's third-largest retailer measured by gross revenue, and the world's ninth-largest retailer measured by income.
Crawford's Custard Cream Biscuits – These biscuits have been voted as UK's favorite biscuits. The Crawfords Custard Creams have the kind of popularity that has not been diminished by time.
These biscuits are produced in classic design; two biscuit layers that are sandwiching a tasty cream center. Their design also includes Victorian swirls.
Crawford's Custard Cream Biscuits are manufactured and distributed by United Biscuits. They are actually imported from England McVities. Crawford's is the brand originally from the United Kingdom. They are also famous for their Bourbons biscuits and Morning Coffee biscuits (these are also biscuits perfect for dunking into tea).
For 150 g (6 biscuits) you will mostly pay 2-3 dollars.
INGREDIENTS
Flour (Wheat Flour, Calcium, Iron, Niacin, Thiamin), Sugar, Vegetable Oil (Palm), Whey Solids (Milk), Glucose Syrup, Wheat Starch, Raising Agents (Ammonium Bicarbonate, Sodium Bicarbonate), Salt, Natural Flavouring, Colour (Mixed Carotenes)
Most popular with customers in France, the United States of America (USA), Italy, Germany, Canada, Spain, Sweden, Greece, and the Netherlands, but you can buy Crawfords Custard Creams for delivery worldwide.
Sainsbury's – These biscuits are just as delicious as the ones that come in other brands, but just a bit grainier and dusty in texture.
Sainsbury's in general:
J Sainsbury plc trading as Sainsbury's is the second-largest chain of supermarkets in the United Kingdom.
The company founded in 1869 by John James Sainsbury with a shop in Drury Lane, London, became the largest supermarket store in 1922, was an early adopter of self-service shopping in the United Kingdom and had its heyday during the 1980s.
In 1995, Tesco overtook Sainsbury's to become the market leader, and Asda became the second largest in 2003, demoting Sainsbury's third place for most of the following period until January 2014, when Sainsbury regained second place. In April 2019, while waiting to merge with Asda, Sainsbury's was again demoted to
third place as their rival placed second place.
Hill Biscuits – This is another manufacturer and distributor of Custard Creams, and they offer different flavors in a single pack they call the Snack Pack that is good for sharing.
Other Custard Cream brands include Boland's of Ireland; Arnotts of Australia; Khong Guan (Singapore); Divss (India); Tifanny; Birce; TruFree; Deemah Custard Cream Biscuits (United Food Industries Corp. Ltd. Co. – Saudi Arabia); Devon Custard Creams (Associated Brands Industries Limited – Trinidad and Tobago); Fine Fare Custard Cream Cookies (FMF – Fiji); and Custard Cream Biscuit (Shantaou Gangwei Foods Co., Ltd. – Guangdong, Mainland China).
Interesting Facts about Custard Creams
The name Custard cream comes from the Danish phrase "Sensual treat"
In 2007, Custard Cream was voted as UK's favorite biscuit, with nine out of ten British votings for it.
It is in the Guinness book of records!
The largest Guinness-certified custard cream in the world was baked by Simon Morgan (an amateur biscuit maker) and Paul Thacker (chef supremo), in November 2010 at Chino Latino's restaurant in Park Plaza, Nottingham, England. The huge biscuit was created at the Chino Latino Restaurant in Nottingham, England.
The finished biscuit weighed 34.7 pounds (15.73 kilos) and measured 23 inches (59 cm) in length, 15 inches (39 cm) in width, and 2.6 inches (6.5 cm) in thickness. The biggest Custard Cream was auctioned, firstly it was sold to Hertfordshire-based dentist Jeff Sherer but the money raised went for the Nottingham Homelessness Charity.
There is a short story named Custard Cream by Robert Shearman. He was a playwright before he started writing for the popular series Doctor Who.
Custard Creams that are commercially available today are a bit smaller in sizes than the traditionally produced ones. They look smaller and squarish, while the old versions were bigger and, of course, rectangular in shape.
Though there are some people who think that Custard Creams are not the dunkable type of biscuits, many still love dunking them before actually consuming them.
The taste of a custard cream when undunked is one with a great combination of crunchiness and softness that directly guides you to the think and crumbly biscuits through the vanilla cream center. Dunked, the sweetness becomes more pronounced than the crunchiness. You wouldn't miss an original Custard Cream biscuit, as each piece is engraved with its name.
Most people love Custard Creams because they are not too sweet, thus having a second piece is not going to hurt their diets. Custard cream biscuits are made with custard powder and there is no real custard used in the recipe. Some people consider custard cream biscuits as comfort foods to be eaten with other comfort foods like ice cream or hot chocolate drink.
Custard Creams continue to be the nation's favorite and everyone has their own preferred way of eating them from dunking to nibbling to pulling them apart and enjoying the cream center.
NUTRITION FACTS:
| | | |
| --- | --- | --- |
| TYPICAL VALUES | PER 100g | ONE BISCUIT (12G) |
| Energy | 2056kJ/490 kcal | 247kJ/59 kcal |
| Fat | 20.5g | 2.5g |
| Saturates | 12.8g | 1.5g |
| Carbohydrate | 70.1g | 8.4g |
| Sugars | 28.3g | 3.4g |
| Fiber | 1.1g | 0.1g |
| Protein | 5.7g | 0.7g |
| Salt | 0.5g | 0.1g |
| *Reference intake of an average adult (8400 kJ/2000 kcal) | - | - |
| As sold | - | - |
Moreover, these are nutrition facts about Tesco's custard cream biscuits. If you look after your body and staying in shape is your priority, read these. Balance is the key – who said you cannot eat biscuits and stay in shape?
Find out more about different types of biscuits and cookies in The Complete Collection of Biscuit Types.
Be sure to subscribe to our newsletter by registering so that you do not miss any of our articles and insights.
---
Leading image By Yoyochow23/Shutterstock.com