Shortbread is a not actually bread, it's a sweet and crumbly biscuit, that originated in Scotland. Today, they are a popular Christmas treat all over the world.

Shortbread is a sweet, dense and rich biscuit. Bakers like to make these goodies because they are easy to bake and distribute. Legend has it that shortbreads originated in Scotland in the 18th century. It was around this time when butter became commonly used as an alternative to cooking fat. Shortbread is also known as the UK's greatest biscuit.
Etymology
The term shortbread could have come from the fact that this baked goodie comes with a crumbly short texture. It is also said that the name was given due to the big shortening amount used in the preparation.
Ingredients

Shortbread is a type of cookie or biscuit that is made traditionally with flour, white sugar and butter. In modern day recipes, corn flour or rice flour is added for a change in texture. The traditional sugar is also being replaced by some bakers with powdered or granulated sugar. Salt is also added in some recipes.
Some people mistakenly think that shortbreads and short cakes are the same. However, the difference is in the ingredients. Short cakes are prepared using vegetable fat and baking powder or other chemical rising agents. For people who prefer to consume products made of natural ingredients, there are shortbreads prepared with organic ingredients.
Preparation
After preparing the shortbread dough, bakers shape them into biscuits. The round shape is the most commonly preferred by housewives because they are easy to make and they do look great when properly arranged on a special platter during the special holiday seasons like Thanksgiving and Christmas.
Most commercially available shortbreads are prepared and baked in a round shape, which is then cut into smaller pices while still hot. This practice is ideal for easy to pack cookies. Shortbread biscuits also come finger sized, with some that are rectangular and actualy resemble fingers.
Since shortbread dough can hold its shape quite well, they are great for decorating. Some bakers use forks or stamps to make different images, patterns or decorations in the dough before baking. There are shortbread bakers that also dip the baked products in chocolate for added flavor and design.
Traditionally, shortbread is prepared this way: three parts flour, two parts butter and one part sugar. The individual dough is then placed in ungreased baking sheet and baked at low temperature until the golden color is achieved. Some bakers prefer to bake their dough whole, and then cut into serving pieces as soon as they are removed from the oven.
Uses

Shortbreads are served with coffee or tea because they are easier to eat when softened. Shortbreads are very firm and this characteristic makes them ideal for packing in decorative paper or tin cans and can be given away as Christmas gifts. Currently, shortbread is considered as a popular souvenir or gift from Scotland. Aside from the plain shortbread, there are other varieties that are being distributed in the market today like ones with chocolate, nuts and fruits.
Most Popular Shortbread Producers and Brands

The popularity of shortbread has encouraged a lot of bread and cookie producers to manufacture high quality goodies commercially. The following are some of the most popular manufacturers and brands of shortbread.

Walkers Shortbread
It was in 1898 when Joseph Walker started out with one mission, which is to bake the finest shortbread in the world. Up to this day, the tradition of making the finest baked products, including shortbread has been followed using the original recipes from Mr. Walker.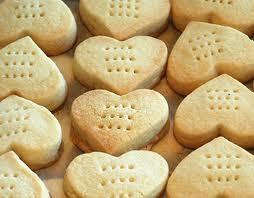 Dean's
Another popular shortbread producer is Dean's and it supplies great tasting shortbread from a factory located in the outskirt of Huntly town. The shortbreads produced from this factory are hand-baked and they are the melt-in-the mouth kind and they come from the original recipe developed and popularized by one Mrs. Helen Dean.

Knott's Shortbread Cookies
Knott's Berry Farm, a popular cookie manufacturer offers their shortbread cookies in different varieties like the Apricot Shortbread Cookie, the Raspberry Shortbread Cookie, the Strawberry Shortbread Cookie and the Boysenberry Shortbread Cookie.
Interesting Facts about Shortbread
Today, shortbreads are no longer baked exclusively in Scotland, but rather all over the world. They are simple to make, and only require a few ingredients. If you like to bake and you've been struggling with hard to find ingredients, then maybe it is about time that you go back to the basics. Try baking shortbread using the traditional, flour, butter and sugar combination.
In Shetland Islands in Scotland, shortbread cookies are traditionally used for weddings. The cookies are broken over the head of the bride before she is allowed entry into her new home. In Scotland, bakers classify shortbread as bread rather than biscuit in order to avoid paying additional taxes. The National Shortbread Day is every sixth of January.