A ginger biscuit is an English baked goodie and it is very popular in The Complete Collection of Biscuit Types. Ginger Biscuit is particularly flavored with powdered ginger, with hints of other spices like nutmeg and cinnamon.

Ginger biscuit should not be mistaken with gingerbread, because the former is a hard biscuit while the latter is thicker and a bit softer and more bread-like. Ginger biscuits are also called ginger nuts, but they are not the same with the pepper nuts. Again pepper nuts are more like gingerbread. Ginger biscuits are very popular in the UK, Australia, New Zealand, the Isle of Man and in almost every part of the British Empire, as a dunkie biscuit or a dunkable cookie.
Etymology
Ginger Biscuits are British biscuits that have ginger as their main ingrendient. In Denmark a ginger biscuit is also called Brunkage, which literally translates to "brown biscuit". In Sweden, they're called Pepparakor, in Finland - Piparkakut, in Latvia - Piparkukasin, in Estonia - Piparkoogid, and in Norway - Pepperkaker, which all mean Pepper Cookies. In the United States, a ginger bread is called a ginger snap, and it is a round drop cookies that usually measures between 3mm and mm. Maple syrup is sometimes included in the American recipe.
Country of Origin and Usage
According to food history, ginger nuts have been enjoyed in Britain since the 1840s and they were the best selling goodies of Huntley & Palmers from 1933 right up to the close of World War II.
In the United Kingdom, Australia, and New Zealand, these biscuits are best enjoyed with tea. Their hard texture makes them one of the best dunkable biscuits in the English regions. In other parts of the world, they are formed into different shapes before the baking process. As they say, if you value your teeth, you should definitely dunk your ginger biscuits in your tea or coffee. In other regions, ginger biscuits are baked really hard; hard enough that it can hurt if thrown at someone.
Loyal buyers of the John Ginger's Ginger Nuts (from Huntley & Palmers) love bringing these biscuits while travelling, because the ginger ingredient is very helpful for calming the digestion.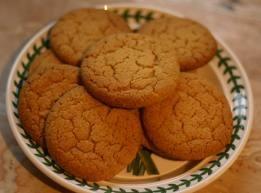 Ingredients and Preparation
Ginger biscuits are being prepared differently by different cooks and in different regions of the world. The main ingredient though that is ginger is the common denominator of all the recipes for ginger nuts.
In the United Kingdom and in Australia, the additional basic ingredients are flour, margarine/butter and golden syrup. Extra spices are added like cloves, nutmeg and cinnamon. In some parts of the world, raising agents like baking powder or baking soda are also used. Other cooks from other countries also prefer to use brown sugar, while there are some bakers who insist that granulated white sugar is the best to be used.
The Biggest Producers and Brands of Ginger Biscuit Worldwide
Huntley & Palmers is considered as one of the most successful British biscuit company that commercially produces ginger nuts. This biscuit making company started producing John Ginger's Ginger Nuts in the 1800s and popularized them until the end of World War II. What makes these biscuits very popular is the fact that at Hunrley & Palmers, ginger nuts are made with eggs, butter, dark syrup and muscovado sugar, with the addition of natural flavourings and a blend of spices to create a kind of deliciousness and crispiness that is totally and uniquely gingery.
Griffin's Food Limited from New Zealand is said to be distributing the modern day Real Gingernuts. Other producers and brands of Ginger Cookies include Aulsbrook, Tesco (Tesco Ginger Nuts, Tesco's Finest Dark Chocolate Ginger Cookies), Thornton's (Ginger Cookies and Dark Chocolate Ginger Cookies), Fudges (Stem Ginger Biscuits Half-Dipped in Belgian Dark Chocolate), Rakusen's (Ginger Crunch Biscuits), Borders Biscuits (Dark Chocolate Ginger Biscuits), McVities's (Ginger Nuts), Nairn's (Stem Ginger Oat Biscuits), and Fox's (Ginger Crinkles).
Yearly Production and Consumption

In New Zealand, ginger nuts are considered as the most popular biscuit and the country's leading biscuit company, Griffin's, has estimated that 60 million ginger nuts are being produced every year.
Interesting Stories about Ginger Biscuits

Despite their hardness, Ginger Biscuits are considered one of the healthiest biscuits in the world and due to their iron-rich molasses content, about three pieces can provide around one tenth of recommended daily allowance of the good-for-the-blood iron.
Ginger biscuits may have been called differently in the past, but however you call them one thing is for certain, a ginger biscuit will always have ginger in it.
Ginger biscuits are also known to many as the perfect biscuits. This is because of the unique blend of taste; they are sweet and spicy at the same time. And with a kind of hardness that is not disappointing but rather adds to the craving of people who love dunking their biscuits into tea, coffee or hot chocolate drink.
Would you like to know more about Gingerbread Man and the recipe?
Discover more biscuit types in our Complete Collection of Biscuit Types
Be sure to subscribe to our newsletter by registering so that you do not miss any of our articles and insights.