Springerle are traditional Christmas cookies in Bavaria and Austria for centuries. Springerle are white, anise-flavored cookies, made from a simple egg-flour-sugar dough.
Usually rectangular or circular in shape, they have a picture or design stamped on the top. The images are imprinted with specially carved rolling pins or flat molds (Springerle presses, or boards). After the cookies are baked, the designs are sometimes enhanced with edible food colors or with tempera or acrylic paints, if the cookies are to be used as decorations. Hartshorn is the traditional leavening.

The name Springerle comes from an old German dialect and means "little knight" or "jumping horse". Historians trace these cookies back to the Julfest, a midwinter celebration of pagan Germanic tribes. Julfest ceremonies included the sacrificing of animals to the gods, in hope that such offerings would bring a mild winter and an early spring. Poor people who could not afford to kill any of their animals gave token sacrifices in the form of animal-shaped breads and cookies. Vestiges of these pagan practices survive in the baking of shaped-and-stamped German Christmas cookies such as Lebkuchen, Spekulatius, Frankfurter Brenten, and Springerle.
Springerle cookies originated in the German province of Swabia in the 15th century. They were originally baked to honor Church Holy Days, but more recently they have become especially a Christmas cookie. There are several other cookies that are made the same way except for the molding, such as "Wurzburger marzipan", Nuremberg "Eierzucker", and Swiss "anisbritli".
The oldest known springerle mold from Switzerland was carved from wood in the 14th century. This round shaped mold pictures the Easter lamb, and originates from the St. Katharine monastery in Will St. Gallen. It is now in the collection of the Swiss national museum in Zurich, Switzerland.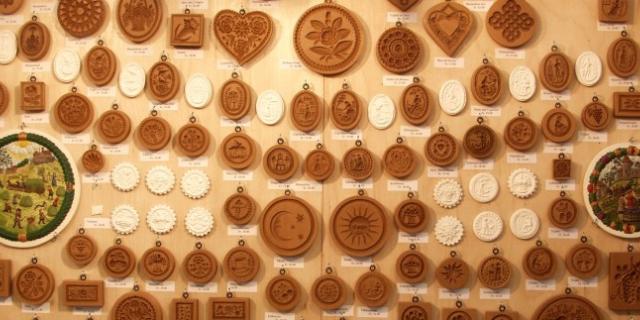 Traditional springerle recipes use hartshorn salt (baker's ammonia) as a leavening agent. Since hartshorn salt can be difficult to find, many modern recipes use baking powder as the leavening agent. Springerle made with hartshorn salt are lighter and softer than those made with baking powder. The hartshorn salt also imparts a crisper design and longer shelf-life to the springerle. The leavening causes the biscuit to at least double in height during baking.
To make springerle, very cold, stiff dough is rolled thin and pressed into a mold, or impressed by a specialized, carved rolling pin. The dough is unmolded and then left to dry for about 24 hours before being baked at a low temperature on greased, anise-dusted baking sheets. The drying period allows time for the pattern in the top of the cookie to set, so that the cookie has a "pop-up" effect from leavening, producing the characteristic "foot" along the edges, below the molded surface.
Source: Gode Cookery
Photo source: Springerle