The full-width "capper" sandwiching machine is used for the production of sandwiches using round, square or rectangular biscuits.
Available in short or long versions, it can accommodate up to four mobile depositing/capping heads. Dosing of cream, jam, chocolate, caramel, mallow, etc. using spot or layer technology with motion-tracking devices.
No product/no dosing function. Possibility to make triple sandwich (e.g. alfajores), co-deposit with several flavors in one product or different flavors in the same row.
Procys pays close attention to all your production issues (quick size changes, modification of parameters during production), maintenance (strong construction, standard components) and cleaning (hygienic design, cleaning in place).
Industrial version is adapted for continuous production in connection with an oven tunnel.
The machine is directly connected to an oven and installed after the cooling conveyors area. The following operations are completed automatically:
Distribution and alignment,
Rows & lanes preparation,
Rows tilting,
Row synchronization with dosing & capping,
Dosing of filling,
Capping.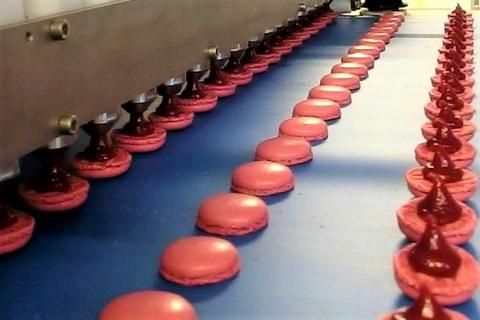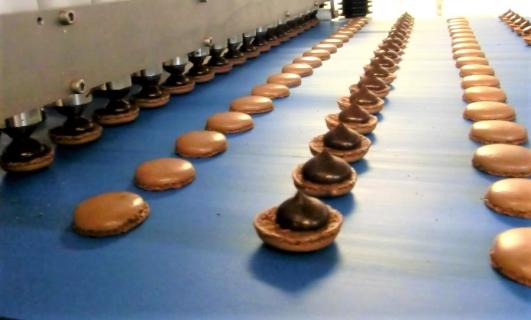 Procys defines with you the machine the best adapted to your production:
Machine feeding with flat products on the belt or with stacked products via loaders,
Dosing via manifold or hopper depending on type of fillings and/or speed,
Option: no product/no dosing,
Cream feeding in simple or double jacketed.
Some technical characteristics:
Hygienic design, strong construction, frame in stainless steel with no mechanical parts under the process area allowing a maximum cleanability,
Dosing and capping head motions are controlled by brushless motors allowing a movement adapted to each recipe with maximum flexibility,
Automatism & control provided by Procys,
Machine controlled from a touch screen, recipes storage (dosing/capping motions),
Modification of settings during production with different access levels for operators, line manager or maintenance technicians.