The cost of a quality imported baking oven will be approximately 40% of the total cost of a cracker line and up to 50% of the cost of a short dough biscuit line. Many international manufacturers of high-quality large ovens are located in high-cost environments, Europe, USA, Japan, Korea. Local manufacture offers important cost savings.
A considerable proportion of the oven cost is in building the steel structures, baking chambers, heat exchangers, frames, covers, and insulation. This work can be carried out successfully in many countries. There is no need to import large steel fabricated items with high capital cost, which can be manufactured successfully locally.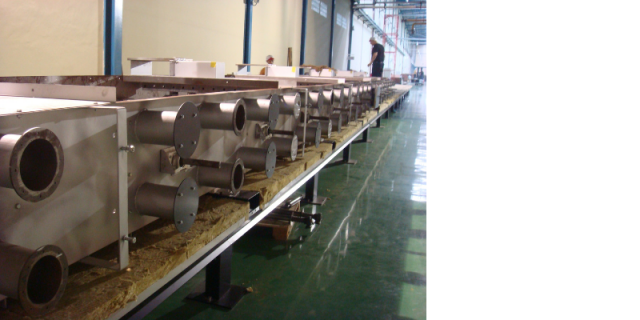 Direct Gas Fired Baking Chambers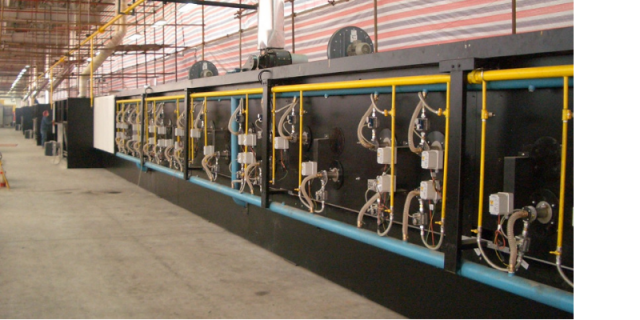 Oven assembly with completed baking chambers and burners
Most biscuit oven manufacturers now assemble their ovens into complete modules before shipment. This reduces the time required on-site to assemble the oven. However, it results in most of the assembly work being carried out in a high-cost environment and in incurring high shipping costs. Shipment of a typical oven may require 10-20 containers with both cost and time disadvantages to the project. The capability to manufacture ovens locally in the growing markets is an important advantage.
Reduced fabrication cost
Reduced import duties
Low shipping cost
Oven assembly in a lower cost environment
Part-payment in local currency
Establishment of a local service capability
Building baking ovens locally: the Tasks and Team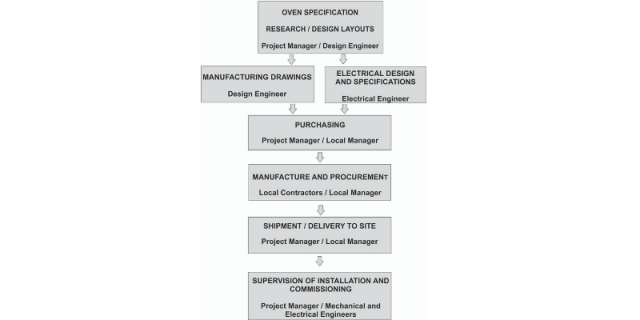 The tasks and team
The team and experience required
Project manager
Mechanical engineering
Biscuit production
Purchasing
Design engineer
Mechanical engineering design
Software: CADCAM, Solid Works or equivalent Steel
Fabrication experience: Pneumatic systems, conveyor drives/transmissions
Electrical Engineer
Control and safety systems and components
Temperature control systems
Pneumatic systems for conveyors, drives, and transmissions
PLC and PID system software Commissioning experience
Local Manager
Language, technical, commercial, financial experience
Installation Engineer
Fabrication / installation experience
Manufacturing drawings
Layout drawings are produced in Solid Works and Corel Draw to set out the design concept.
A layout drawing is then made to meet the customer's requirements.
Following an agreement, a drawing is made showing foundations and installation details.
Control and safety systems
For hard wired control panels, wiring diagrams with parts lists are produced by the electrical engineer. The contractor will make AutoCAD drawings for approval and inclusion in the Operation Manual. For PLC controlled ovens, software is provided by a specialist contractor
Contractors
Baker Pacific have manufactured ovens in China, India and Indonesia. The projects rely on having a first-class local manager, conversant in technical, commercial, financial matters as well as language.
To select a suitable local contractor, we consider:
Location /communication
Capabilities: steel fabrication and assembly/factory space
Quality standard for food industry
Drawing standards and language
Purchasing of materials and components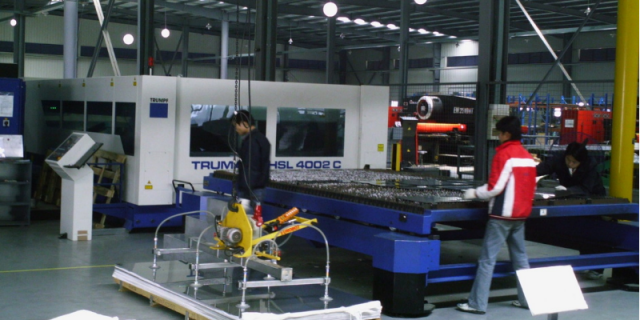 Fabrication work in China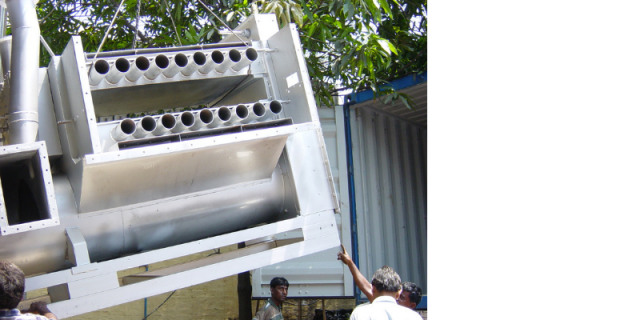 Indirect Radiant heater module made in India
Purchasing
Purchase Orders are placed on our contractors and suppliers detailing specification, price, terms of payment, delivery and commercial terms, for example guarantees. Currency may be in USD, Euro, GBP, local currency.
Bearings
Burners
Clamping elements, chains, sprockets pressure switches.......
Electrical equipment and panels, PLC thermocouples, UPS
Motors and gearboxes
Fans and Blowers
Gas equipment
Insulation and seals
Pneumatic equipment
Powder coatings
Summary