The exciting world of baked goods takes all shapes, sizes and more important flavours, and our favourites are of course biscuits! One of the classics in The Complete Collection of Biscuit Types is most certainly cookies known as wagon wheels, made of two biscuits with marshmallow filling with a jam layer and covered in chocolate coating.
What type of biscuit is in a wagon wheel?
Biscuit and chocolate make a divine combination... add to the mix a marshmallow centre and you have an instant, but also a classic, winner! Chocolate-coated marshmallow treats are a world-wide phenomenon and wagon wheels are just one of them. There are so many version, from New Zealand's chocolate fish to Danish cream bun or flødebolle.
Wagon wheels are spread all around the globe but they're mainly sold in Australia, the United Kingdom, Canada, Ireland, Spain and Russia. Specifically, wagon wheels have an iconic status in Australia, and they are a popular afternoon snack since their introduction in 1948. The name of the biscuit refers to the shape of the biscuits and one of the Wild West's symbols of an adventure in the mass media. At that time, John Wayne was the biggest name in Hollywood and everybody wanted a small piece of the Wild West he showcased on the screen.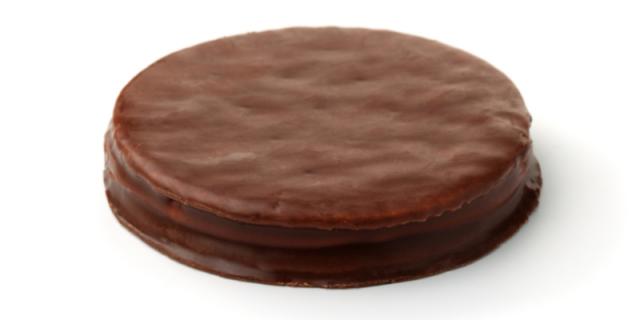 Photo source: By Anton Starikov/Shutterstock.com
The inventor of wagon wheels is Garry Weston, then in the factory owned by his father. In the 1940's, they had been making biscuits to supply the army with during the war, and with that market now drying up, the management said they needed something "new" to make. Garry came up with the Wagon Wheel idea, and within six weeks the Slough factory was rolling them out for sale in England.
Interesting story is that Gerry's father, an entrepreneur, had three sons; one son inherited the UK business, one had the Canadian, and the other Weston got Australia. Which is why in each country one can find the Wagon Wheel. And this is why there are slight differences in the biscuits in different countries.
Wagon wheels are a somewhat retro sweet snack which tie many people's memories to their childhood. These are now produced by Burton's Food in the UK, separated from the Weston family in 2000. When it comes to Canada, wagon wheels are produced by McCormick's, now under Dare Foods Ltd. And they come in four flavours: Original, Fudge, Choco Cherry, and Raspberry. In Australia, the cookies are produced by Arnott's Biscuits, after Weston family sold the brand in 2003.
Llantarnam in south Wales is the current home of Burton's Biscuits factory, well-known for making the world famous Jammie Dodgers and Wagon Wheels. The Llantarnam factory also produces cream crackers, fig biscuits, Cadbury's Fingers under licence, digestives for every supermarket and Cadbury's under licence, mini Maryland cookies and 10g unbranded cookies.
What is inside a wagon wheel?
The original cookie had a marshmallow centre, without the jam centre, and is now sometimes referred to as "chocolate". Other flavours include Jammie, Original, Toffee, Double Choc, Orange, Caramel, Banoffee and Big Country (Malted).
Do you have fond memories of this sweet treat? Wagon wheels are as a delicious of a snack as ever, so indulge your sweet tooth and bite into this cookie's crispy biscuit and soft marshmallow centre.
Recipe for wagon wheel cookies (vegan)

Ingredients
Biscuits
1/2 cup almond flour
1/3 cup gluten free flour
1/4 cup coconut oil
2-3 tbsp maple syrup
1/2 tsp vanilla bean extract
pinch of salt
Cream (marshmallow)
1/2 cup coconut butter
1/4 cup coconut cream (solid cream from a can of coconut milk)
2 tbsp coconut oil
2 tbsp maple syrup
1 tsp vanilla bean extract
1/3 cup sugar-free raspberry jam
1 cup dark chocolate
1 tbsp coconut oil
Instructions
Preheat your oven to 175 celsius.In a small bowl, combine all cookies ingredients, mix until well combined. Cover the bowl and refrigerate for 5 minutes.

Roll out the dough. Use a circle cookie cutter, cut out the cookies until you've used all the dough. Lay cookies on prepared baking sheets and bake for approximately 12-15 minutes. Let cool completely before assembling.

Make the cream, place all cream ingredients in a food processor and process until smooth. Place cream mixture in the fridge for 10 minutes.

Melt chocolate with coconut oil, allow to cool.

Assemble, spread 1 tsp of raspberry jam into each cookie. Then spread a layer of the cream on one of the cookies, sandwich together jam cookie. Press together slightly. Take the cookies and dip into the melted chocolate. Put in the refrigerator until set and ready to serve. Enjoy! - Recipe source: nmmeiyee.com
Discover more Biscuit Types
---
Photo source: taste.com.au