In India, every day and its happenings must be accompanied by tea. It is a well-known fact that the Indian people love tea above any other beverage. But, the truth is that tea is rarely enjoyed alone. What's better than a hot cup of strong aromatic tea? A hot cup of strong aromatic tea with a little treat to nibble on as you relax and take in your surroundings. We find the best treats to have with Indian tea are Indian traditional biscuits. But just which Indian biscuits are the best, the ones you should definitely taste? In this article we've compiled a list of our top 11 favorite Indian biscuits (we've picked a few out of many beloved biscuits worldwide) we would like to have with tea all the time.
This list is comprised of some of the most well-known Indian biscuits. The rankings are based on the popularity of the biscuits or what Indian biscuits are the most famous, how interesting their back story is, and their importance in the Indian culture. So, let's begin!
11 Atta: The Star of Atta Flour
Kicking off our list, we have a very simple Indian biscuit: Atta biscuit. This treat is made out of wholemeal wheat flour also known as atta flour, sugar, butter, and other basic biscuit ingredients. It is a somewhat dry, crunchy biscuit that perfectly accompanies the strong delicious spicy Indian tea. It doesn't have a strong flavor and is easily made.
Atta is made out of atta flour which is different from Western types of flour because of different milling techniques. In the Western world, whole wheat flour is milled by steel rollers, while in India stone mills are used for the same process.
10 Jeera Cookies: It's All in the Spice
Jeera biscuits are one of the simplest Indian biscuits with common biscuit ingredients such as flour, powder, powdered sugar, butter, salt, and cumin seeds. Well, the last ingredient is less widely used in the world, but it's very popular on the Indian subcontinent. Cumin seeds give Jeera biscuits their special biscuit identity, enriching their flavor and making them healthier. Jeera is not a particularly sweet biscuit, it's rather somewhat salty, that is, savory in flavor. Because of its simplicity and neutral taste, this biscuit is often dipped in tea. It is crunchy in texture, which perfectly matches the tea-sipping and allows the biscuit to break nicely after dipping.
Jeera is a simple biscuit not just because of the common ingredients used, but the simple preparation too. All in all, this biscuit is a traditional familiar feel-good Indian treat.
9 Shankarpalli: Many Names and Variations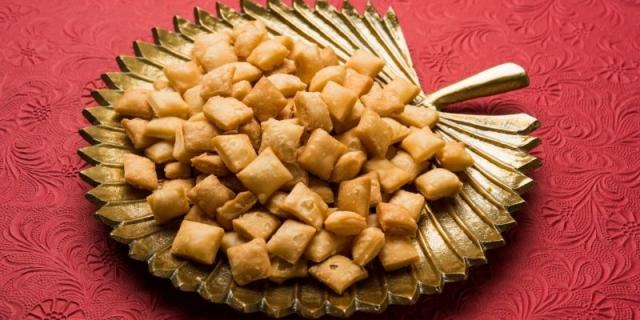 Source: StockImageFactory.com/ Shutterstock.com
Shankarpalli (shakkar para / shakarpara) is a Maharashtrian biscuit deep-fried and diamond/rhombus-shaped. It is made for Diwali and Holi but for other occasions too. The biscuit is also known as sweet tukdi, kalakala, and teepi maida, depending on the region they come from. The name of the biscuit allegedly means 'sweet cookies'. It is prepared throughout India.
The biscuit has both a savory and a sweet version, depending on which one you're most in the mood for at a specific time. Whichever version, it accompanies tea regularly.
Shakarpara Ingredients
Shakarpara is a diamond-shaped biscuit made out of maida flour, sugar, cardamom powder, and ghee. Savory shankarpalli are made with carom seeds, cumin, crushed black pepper, and salt, not including sugar. The sweet version is made either with sugar or jaggery together with all-purpose flour, rava (semolina), and ghee. It is either deep-fried or baked.
Fried or Baked?
The method of baking the biscuit will determine its overall taste and texture. Fried shankarpalli is darker in color, while baked is lighter. They have a different texture as the fried one tends to puff up more and has a crispier texture while the baked one is softer, more like a baked biscuit.
8 Chandrakanthalu: Gold Moons
Chandrakanthalu are traditional Indian fried biscuits usually molded into the shape of a crescent moon. Originating from the Indian territory of Andra Pradesh, these biscuits have been the Indian favorite for quite some time. They're made out of green gram (moong dal), sugar, coconut, cardamom, saffron, cashew nuts, and ghee. The dal is soaked in, then ground into a paste and mixed with grated coconut and sugar. Cardamom and other spices are added to enhance the flavor. A mold is used to shape the biscuits and the shaped molds are deep-fried in ghee until golden brown.
Other popular shapes of the biscuit are squares and diamonds. Once tried, you would be surprised by its tenderness on the inside paired with the crispy crust outer layer.
Chandrakanthalu are special treats made for special occasions: festivals and other celebrations.
7 Dry Fruit Biscuit: Taste the Nature
Dry fruits are healthy, that is common knowledge and biscuits are sweet and tasty, also a fact. So, why not mix it all together and get the best of both worlds? This lovely mixture is what you can find in Dry fruit, Indian healthy biscuits. They're perfectly soft, fruity, and crunchy. Indians eat them with tea, for breakfast or afternoon meals. Dry fruit biscuits are round in shape and crunchy in texture with a lovely tendency to melt in your mouth. They are made without eggs and are easy to make in general. Full of flavors, Dry fruit biscuits are filled with dried cherries, figs, dates, raisins, cranberries, orange zest, and other various fruit. To top it all off, to the biscuit batter, cherry liquor is added (or hot tea instead). What makes the biscuits especially Indian is the addition of spice cardamom. Many incorporate different nuts in the recipe to spice up the flavor and make the biscuits even healthier. The richness of flavor from abundant ingredients just thrills the senses.
6 Murukku: Twist it!

Source: Santhosh Varghese/ Shutterstock.com
Murukku is an Indian biscuit from the state of Tamil Nadu known for its twisted, spiral shape (hence the name murukku – 'twisted' in Tamilian) and a deep-fried spicy flavor. This biscuit, also known as muruku, chakralu, and jantikalu, is everything but ordinary. Beloved by Indians, it is specially prepared for the Diwali festival, when it's made in large quantities (although you can make them at any time). The ingredients used for the biscuit are rice flour, lentil flours, carom or cumin or sesame seeds, ghee, different spices, and seasonings. Often, people add other types of flours like the urad dal, also known as black gram or matpe bean. Since these biscuits are fried they have a long shelf life.
How to Make Murukku Crispy?
Murukku biscuits are crispy simply because of the fact that they are deep-fried so you don't need to add anything special into the recipe to make such s texture.
What about the Shape?
The shape of Murukku is spiral, almost like a shell of a snail. To get the desired shape, you have to use a special tool called murukku press or chakli maker. The press makes the dough thin and spiky, while you move the press with your hands in a circular motion to create the round shape.
A similar biscuit is made in Maharashtra, called chakli. They do differ, however.
Chakli vs Murukku
The two similar biscuits, chakli and murukku, are different in shape, size, taste, ingredients used to prepare them, and the region they come from. Chakli is a whole wheat flour deep-fried biscuit made with ingredients such as red chili powder, ginger garlic paste, carom, sesame seeds, pepper powder, and green chili paste. Unlike Murukku, chakli is usually made with whole wheat flour rather than rice flour. Murukku can also contain hing / asafetida while chakli contains Bengal gram (chickpea) and murukku doesn't. As was said, murukku originates in Tamil Nadu and chakli in Maharashtra.
5 Khari or Puff Biscuits: Layers of Flakiness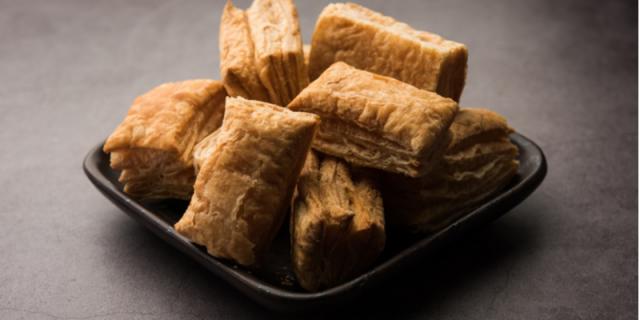 Source: StockImageFactorycom/ Shutterstock.com
Khari biscuits, also known as Puff biscuits (due to their puffy layers of dough) are light and savory Indian biscuits usually eaten with tea. Indians have them for breakfast or as a snack. It is a popular treat in Bombay.
What is Khari Made of?
Khari are biscuits made out of plain flour, ghee, exotic spices such as black pepper, dried fenugreek leaves, ground cumin, star anise, garam masala, etc. The dough is shaped in sheets that are stacked and held together with butter or ghee, then rolled out and folded. The dough is cut into long pieces or squares.
European Roots
The creation of puff pastries is claimed by France in the 17th century and even earlier in Islamic Spain. Supposedly, Islamic Spain made the pastry already in the 13th century where they used olive oil between sheets of dough to make the puff pastry. It is unclear how exactly did puff biscuits spread to Indian, but they seem to have been popular in Iran before being introduced to India. Khari was part of the Iranian Zoroastrian cuisine and was brought to Indian soil once the Iranian fled the Islamic persecution in Iran. These people opened Iranian cafes in India, where many Iranian treats were first enjoyed by the Indians. This is how Khari was adopted into Indian cuisine.
4 Nan Khatai: Shared Bread of Two Cultures
One of the most popular biscuits in India is Nan Khatai, an excitingly spicy and eggless biscuit of a round shape. They're sometimes called Indian shortbread cookies or biscuits because of their similarity to shortbread, or the bread-like consistency. The name Nan Khatai comes from Persian words Naan meaning 'bread' and Khatai meaning 'biscuit'. This biscuit is very soft with a crumbly and tender texture because yogurt and ghee are some of the ingredients. Others are all-purposed flour, sugar, besan (gram flour), and various spices such as cardamom, nutmeg, sooji, almond, and pistachio powders. Besan gives the biscuit a slightly nutty taste, just like ghee, and sooji adds to its crunchiness. Nan Khatai is a traditional Indian biscuit, sweet and savory in flavor.
Nan Khatai's softness allows it to melt in your mouth, especially if you combine it with hot tea. It is a very common pairing with tea in Indian households as well as in public cafes and bistros. Nan Khatai biscuit is found in most bakery shops throughout India and is easily made at home. A very versatile biscuit, it can be served with tea, as a school snack, at High Tea parties, and also for New Year's Eve and Diwali.
Nan Khatai's Origin: The Legacy of the Dutch and the Native Indians
The story of Nan Khatai goes back to the sixteenth century when the Indian city of Surat was colonized by the Dutch empire. At the time, the Dutch lead a powerful organization in Asia called the United East India Company, also known as the Dutch East India Company. This company regulated and controlled the trade between Asia and Europe. As many Dutch lived in India it was in their interest to suit their dietary needs and habits so they opened a bakery for themselves in the city. For some time, the United East India Company flourished in business but eventually, they lost their power which resulted in the changing market. Many Dutch left Surat, meaning there was no need for Dutch products anymore. The owners of the bakery decided to gain some last-minute profit by selling the company to the locals, who created new products from the Dutch dry bread. What was mainly created from the bread were various biscuits the most popular one being Nan Khatai.
3 Pitha: Not Only Biscuits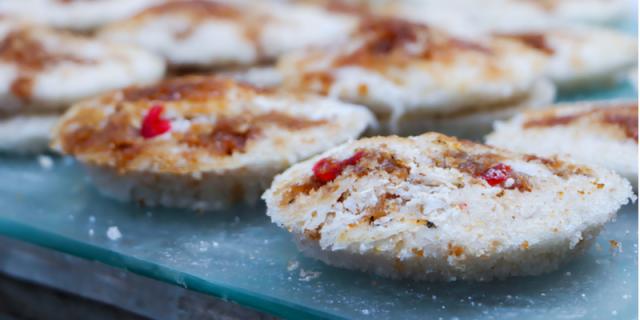 Source: Labanya Prova Biswas/ Shutterstock.com
Pitha is a collective name for a variety of biscuits, bread, and cakes that are made in India and Bangladesh. These treats are made most often out of different spices, nuts, and even vegetables in either sweet or savory versions. They can include coconut, jaggery, cheese, lentils, sesame seeds, pistachios, palm syrup, etc. so you have an abundance of options to try. Many recipes include one of India's favorite spices – cardamom. After all, India is a country known for its love for many spices to enrich every meal.
Pitha are biscuits commonly prepared with rice flour with wheat and corn flour options as well. Pitha batter is prepared through frying, steaming, or griddling. What is interesting is that it isn't baked in an oven like most biscuits, but unleavened and cooked on a stovetop.
Beauty in the Variety
Throughout India and Bangladesh, a number of varieties of Pitha are prepared and named: Pakan Pitha is the sweetest ever since it's dipped in sugar syrup and Bhapa Puli Pitha offers a delicious sweet coconut filling inside while Nokshi Pitha is simple when it comes to ingredients but with complex and beautiful ornamentations. Many other versions and recipes are popular and widely spread.
The biscuit originated in India and spread to Bangladesh. Usually eaten for breakfast and with chai (tea), Pitha is among India's favorite traditional treats.
Pitha is a Special Accompaniment
Pitha has been made traditionally for over a thousand years. The biscuits are enjoyed often in India and Bangladesh but especially during celebrations and customs throughout the year: on Bengali New Year different kinds of Pitha are prepared; traditionally, farmers make a pitha party called Nowbanno when harvesting their crops, and in some areas, pitha is served at weddings when the married daughter goes to the parents' home.
2 The Special Sacred Biscuit: Kashmiri "Roth"
Kashmiri Roth is a cardamom flavored biscuit baked on special auspicious days in the region of Kashmir. The biscuit is gold in coloration and made out of cardamom, ghee, flour, sugar, milk, almonds, and other ingredients.
Roth's Unique Preparation
There is a long-going tradition of the eldest lady of the house preparing Roths on the day of Pann Deun while narrating the anecdotes about the ongoing festival. This 10-day festival is called Ganesh Chaturthi which marks the birth of the elephant-headed deity Ganesh, the god of prosperity and wisdom. It usually begins sometime in August and September. Roth is prepared during the Ganesh Chaturthi in the homes of Hindus with a ritual of sorts. Because the biscuit is to be consumed as holy food it needs to be prepared with great detail and made sacred. On the day of the preparation of Kashmiri Roth, the kitchen and utensils for preparing the biscuits are cleaned thoroughly. Families decide for the day they'll prepare Roth. The utensils, pots, and pans used for Roth are even kept separate from everyday cooking utensils. After being used for preparing the biscuits, the utensils are not used until the next year's Roth preparation. Once made, Roth is shared with family and friends to be eaten together symbolizing the unity of Hindus during the holy days. The ritual of making the biscuits goes back thousands of years, so it is a very important part of Hindu life. "Penn Duen" is the name of the ritual by which the biscuits are offered to the Goddess of Harvest thus becoming sacred. Before the ritual starts though, Roth is baked and then kept in a wicker basket under a muslin cloth for a couple of hours. Then the ritual begins. The eldest lady of the house narrates the old story of why the festival is held while tying the sacred thread around the wrists of family members. After everyone in the family has offered their prayers and offered the food to the Goddess, the Roth has become the sacred food, so-called "Prasad". Finally, the biscuits can be offered to everyone. They are also referred to as Sweet Bread as the biscuits themselves resemble bread in their texture. The biscuit is essentially fried bread.
When to Prepare Roth?
Even though Roth is considered special during the festival, you can still prepare it any time you like. Satisfy your desire for Roth whenever you want. The biscuits are tasty, crispy, and soft all at once (crispy on the outside, soft on the inside)!
And of course, have some tea with it.
1 Achappam: Beauty of a Rose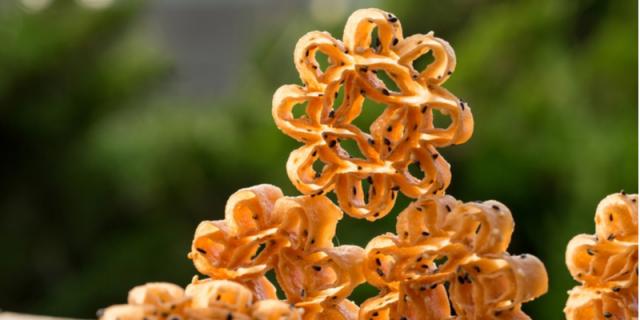 Source: Haccongtu/ Shutterstock.com
We've finally reached the most popular Indian biscuit, the one we consider the most interesting: Achappam biscuit. Achappam are one of the most unique biscuits out there with their thin rose shape (hence why they're also called Rose Kokki or Rose Cookies). They are made from a batter consisting of rice flour, eggs, and coconut milk. Additionally, you can mix fennel, cumin, and/or sesame seeds for a richer flavor. Achappam are delicate and thin, yet truly delicious, crunchy, and sensationally sweet.
Achappam Mould
The unique rose shape is made by the achu mold, an iron mold specifically designed for these biscuits. The achu is heated in oil to a very high temperature, dipped into the biscuits batter, and immersed again in the hot oil to create a crisp shell around the metal. The mold gets removed immediately, leaving the now deep-fried crispy batter shaped by the mold into a rose. Because of the special mold used, the biscuits got their name Achappam (achu meaning "mold", and appam "food made with flour").
Closest Relative: Rosette Biscuits
Rosette biscuits are just like Achappam. They are made in Scandinavian countries and in the Netherlands. This is where the rosette biscuits originate. The method of shaping the biscuits is the same in both areas but the recipe is slightly different, reflecting the baking tradition of the region. Thus, in European countries, and in the US, rosettes are dusted with cinnamon or powdered sugar, two very common ingredients in Western baking. Rosettes are eaten on their own because they're nicely sweet and tasty but can also be used as a base for sundaes topped with ice cream and chocolate.
The Name of the Rose
Rosettes are named after their rose-like shape with a variety of names for the biscuit, depending on the region. In Mexico, they're named Buñuelos, in Sweden struvor, demir tatlisi in Turkish, flores manchegas in Spain, rosettbakkelse in Norway, etc.
Indian Christmas Cookies
Achappam biscuits originate from the Indian state of Kerala specifically from Kerala's Christian communities. They serve Achappam during Christmas, so they are a part of this community's religious tradition. But, similar sweets are found across other Asian countries and they're compared to Scandinavian rosette cookies as well. It is thought that all these rose biscuits are modeled on the traditional Dutch biscuits known as rosette or struva.
Finally, we would like to point out that Achappam is beloved not only in India, but in Malaysians, Sri Lanka, and Goa as well! We hope you try Achappam yourself and enjoy its lovely taste and beautiful appearance.
That was our list of Top 11 Indian biscuits. Do you agree with our list? Let us know!
Have you tried any of these biscuits and what are your thoughts on them?
Be sure to check out our other articles for top biscuits around the world:
Be sure to subscribe to our newsletter by registering so that you do not miss any of our articles and insights.
If you wish to promote your products or company, please contact us via e-mail: contact@biscuitpeople.com.