Most of us start our day with coffee or tea or some other beverage to boost our energy in the morning. Many like to have an accompanying snack, especially a biscuit to nibble on as the warm aroma of the beverage fills the air. Morning Coffee biscuit is a great company to a beverage in the morning, especially to coffee. It is

dunkable

, delicious, and yet intricately simple.
Morning coffee biscuit is a thin sweet white wheat flour biscuit rectangular in shape, flavored with malt. It is a simple biscuit that is recognized by its appearance and the way it is most often consumed – with coffee. It is similar in appearance to the classic Petit Beurre biscuit and the popular British Rich Tea. With most brands, this biscuit has a simple packaging with not a lot of colors or an elaborate design – this is because the biscuit is simple and it indicates the price (the biscuit is not expensive, so it does not need elaborate packaging).
Why Is It Called "Morning Coffee Biscuit?"
Morning Coffee biscuit is named after the way it is supposed to be eaten – with coffee, which is usually drunk in the morning. Brands, like McVitie's and Crawford's, have an incised image of a coffee cup on the biscuit and the phrase "MORNING COFFEE." This is the trademark of the biscuit.
How Many Holes Are in the Morning Coffee Biscuit?
Another trademark of the biscuit is the small holes that cover the surface of it, together with the images and inscription. The number of holes is not the same for every brand, nor do bakers always poke the same amount of holes. One of the most popular Morning Coffee brands, Crawford's, has 20 holes on the biscuit. Whether there is some sort of symbolism behind this is unknown.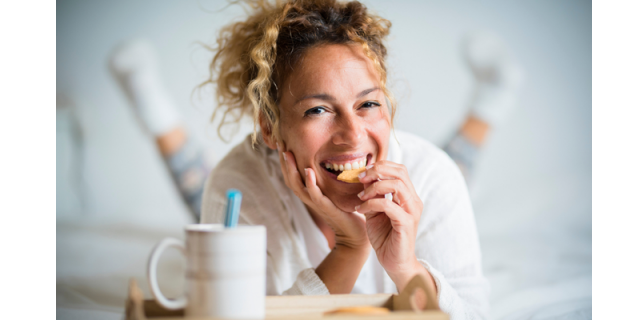 Photo source: By simona pilolla 2/shutterstock.com
Morning Coffee Biscuit – ingredients
There are obviously different recipes and variations to the biscuit, but generally, Morning Coffee biscuits are made of wheat flour, sugar, vegetable oil, barley malt extract, raising agents, salt, natural flavorings, etc.
What adds to the flavor of the biscuit is the malt extract, giving it specific sweetness which makes the flavor more memorable. Usually, when thinking of Morning Coffee, people remember first its malty taste, together with the image of the cup of coffee and the shape of the biscuit.
How Many Calories Are In the Morning Coffee Biscuit?
This depends on the brand of the biscuits and on the ingredients used. Here is a table of nutritional values of Crawford's Morning Coffee biscuits:
| | | |
| --- | --- | --- |
| Typical values | Per 100 g | Per biscuit (4.8. g) |
| Energy (kJ) | 1916 | 93 |
| (kcal) | 456 | 22 |
| Fat | 14.6 g | 0.7 g |
| of which Saturates | 6.8 g | 0.3 g |
| Carbohydrates | 72.1 g | 3.5 g |
| of which Sugars | 19.2 g | 0.9 g |
| Fibre | 3.0 g | 0.1 g |
| Protein | 7.3 g | 0.4 g |
| Salt | 0.94 g | 0.05 g |
The biscuit is not overly creamy and potent which means that it is somewhat healthier than many other biscuits out there, so it might just be the one to go for if you care about a healthy and balanced diet.
What is malt?
Malt is a grain product that is added to food and beverages as a basis for fermentation and for further flavoring. Malt is prepared from cereal grain through the process of germination (the development of a plant or a seed from a seed or spore from a period of dormancy).
Pretty much any cereal grain can be used to make malt, although in most cases barley is used. Where you'll find malt most often is in beer as malt is added to the brewing process of this alcohol. Malt is what gives beer its "beer" taste. It is also used for making distilled alcohol for whiskey and some other beverages. You can find malt in flour, malt vinegar, breakfast cereals, baby foods, confections, and baked goods.
A Favorite Combination of Many: Cookies and Coffee
As was said earlier, the Morning Coffee biscuit is usually eaten with coffee, also suggested by the name of the biscuit. Eating biscuits with another beverage is nothing new, as we are sure you have done it before, we have done it, and humankind has been doing it since way back. We all especially like to dunk our little treats into various beverages. During the Age of Exploration, sailors would dunk the hard biscuits they had aboard their ships in coffee or brine to soften them. Nowadays, we mostly do it for additional flavor and to make the biscuit warm and nicely coated in the beverage. Dunking is an interesting ritual that made some wonder what it's all about. British chef Heston Blumenthal decided to see if dunking a biscuit into a beverage actually makes the biscuit more flavorful.
On his TV show Heston's Fantastical Food, Blumenthal, with the help of food scientists at the University of Nottingham, conducted an experiment to measure the intensity of flavor of a chocolate-covered biscuit on its own and then after being dunked in hot black tea. The measuring was executed by a device the scientists invented called MS-Nose which measures the amount of flavor released as aromas when a person starts chewing food. Blumenthal had the device in his nose while he was eating the biscuits and the data of the levels of flavor released was shown on a computer screen on a chart. The device measures methyl butanol, a compound that gives biscuits a toasty or malty taste and it was the levels of this compound that were measured. So, what were the results? There is actually a difference in flavor with the dunked biscuit being more flavorful, having a stronger biscuit taste. When Blumenthal ate the biscuit dunked in tea the methyl butanol had higher levels. This confirms that a biscuit tastes stronger when dunked. While some might wonder why the device was inserted into Blumenthal's nose, the answer is simple: flavor is made of both taste and aroma. To reach a person's nose aroma has to jump from the biscuit into the air. When a biscuit is hot and wet, it becomes easier for the aroma to reach the nose, hence why a dunked biscuit tastes stronger than a dry one. Dunkin has become a part of many cultures and is spread worldwide. Italians, for example, like to dunk their biscotti in a cappuccino. In some parts of India, people like to dunk their osmania biscuits in chai, while Americans like to dunk their chocolate chip cookies in milk. So, don't miss on dunking your biscuits in your beloved beverages. It's fun and makes the biscuit experience more pleasurable.
The Story of the Cookie
Morning Coffee biscuit is a beloved biscuit for many in the giant biscuit world. With so many options to choose from, everyone can find a biscuit that is just perfect for them. Nowadays the biscuit industry is lucrative and large, but it wasn't always like that. Enthusiasts of this treat have enjoyed it since ancient times. Let's talk about the history of the biscuit.
What Was the First Cookie Ever Made?
Although the first ever biscuit is not known, we do know that biscuits were at first only test cakes, meaning, small parts of cake batter were put in the oven to test its temperature. They weren't really the center of attention in the baking process. That changed over time as people experimented with the small test cakes and turned them into an actual treat. The earliest known biscuits or rather cookie-style cakes are found in the 7th century AD in Persia (now Iran), which is not a coincidence as this area was one of the first ones to cultivate sugar. Because of this, the Persian Empire was able to produce various pastries and desserts, which were then, later on, spread to other parts of the world during the Muslim invasion of Spain, the Crusades, and through developing spice trade. With the export and import of products, the Arabians introduced their cooking techniques that Europeans soon reproduced. Thus, Europeans also learned how to make biscuits. By the end of the 14th century, people were able to buy little filled wafers on the streets of Paris which means that biscuits were already a common treat. During the Renaissance, cookbooks were published that contained biscuit recipes. Biscuits became very popular with explorers during the Age of Exploration because they could stay fresh for long periods of time, which was ideal for long sailing journeys. For centuries, an iron-like cracker was aboard almost any sailing ship because it could last for months, even years. This 'ship' cookie is known as hardtack, a hard dry cracker with long shelf life.
During the 17th and 18th centuries in Europe, baking became a serious profession, being part of Guilds or professional associations. If one wanted to become a baker, they had to complete years of apprenticeship and climb the professional ranks to finally become a master baker. Through guilds, it was easy to regulate the number of goods baked. During the Industrial Revolution in the 19th century, technology improved immensely, allowing bakers to create a lot of both sweet and savory biscuits for commercial consumption. Since then the ingredients for making biscuits have stayed pretty much the same: 'soft' wheat flour (which contains less protein than the one used to make bread), sugar, and fats, like butter and oil. European immigrants brought their biscuit recipes to America, where biscuits continued to be very popular. Interestingly enough, in American cookbooks, biscuits were given silly, whimsical names like Jumbles, Plunkets, and Cry Babies. The 20th century brought about even more biscuit variations and new biscuit types like the icebox cookies, which came to existence after the invention of the electric refrigerator in the 1930s. Since then, biscuits can be kept in low temperatures to preserve them for longer. Interesting ingredients found their way in the biscuit, like cereals, which were invented around the turn of the century by the Kellogg brothers in Michigan. Nowadays, it is almost impossible to count how many kinds of biscuits there are and with the birth of new technologies we are sure to witness many more new and exciting biscuits.
Did you know that you can make other food with Morning Coffee Biscuits?
Yes, people add Morning Coffee to other recipes to make treats, desserts, and meals. One of the Morning Coffee brands, Frou Frou, has a great, yet simple pancake recipe containing the biscuit that we want to share with you.
Pancakes with Morning Coffee Biscuit
Ingredients
1 glass of milk
1 egg
1 ½ cups of all-purpose flour
½ tsp Mon Ami Vanilla in Sugar (vanilla sugar)
garnishing materials
Frou Frou Morning Coffee, crushed
strawberries
chocolate, melted

Method
Mix the milk, egg, and vanilla and stir well, then add the flour slowly until it blends and becomes a thick liquid.
Bake the pancakes and garnish them with Morning Coffee Biscuits and the other ingredients.
5 Most Popular Morning Coffee Biscuit Brands
Earlier in the article, some brands of Morning Coffee biscuits were mentioned. Now we explore the 5 most popular Morning Coffee brands in the world.
The Mediterranean Devon Morning Coffee Biscuit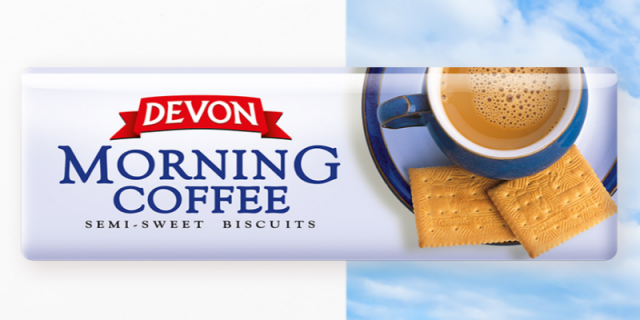 Photo source: Consolidated Biscuit Co.
Devon Morning Coffee biscuits are sold in the Mediterranean countries of Malta, Lebanon, Jordan, Kuwait, and Oman, Qatar, Dubai, and Bahrain. Devon makes these lovely and simple Morning Coffee biscuits together with many other cream biscuits, cookies, various crackers, and a sugar-free tea biscuit. Devon is, however, most popular for its Cream Crackers and Digestives. The owner of the company is actually Consolidated Biscuit with its own brand of biscuits called Devon. The brand started working with the United Biscuits in 1982 and later on under the McVitie's and Crawford's brands. Devon Morning Coffee biscuits are suitable for vegetarians.
Bites of Happiness with Happy Shopper Morning Coffee Biscuits
Happy Shopper is a British brand that sells Morning Coffee biscuits together with a great range of other 300 products. Happy Shopper biscuits are tasty biscuits that are especially dunkable in coffee and milk. They're crispy and full of flavor. Happy Shopper was rebranded under Premier Stores in the 2000s but it continues to sell groceries, frozen foods, carbonated drinks, dried foods, and confectionery. Some Happy Shopper stores do still exist, however, especially in the area of East Midlands (Nottingham, Derby, Ilkeston) and in the South East. Happy Shopper claims that they offer a healthier option for biscuits because of no artificial colors and flavorings and the minimum amount of salt and sugar contents.
The Eye-Catching McVitie's Morning Coffee Biscuit
McVitie's has one of the more well-known Morning Coffee biscuits. It is light in taste and crunchy in texture. McVitie's biscuit is easily recognized by its green packaging which makes it stand out. This biscuit has no hydrogenated fat, no artificial color, and no artificial flavors. McVitie's is a big company best known for their Digestive biscuit that is sold in great numbers. It is noteworthy to mention that McVitie's has been given the royal seal of approval when asked to make the wedding cake for Queen Mary and King George V in 1893.
The No. 1 Biscuit of Cyprus: Frou Frou Morning Coffee
Frou Frou is a brand from Cyprus that provides the country with its most popular biscuit – Morning Coffee. Their biscuits are ideal for snacking or with coffee or tea for breakfast (although any time of day is alright). Frou Frou Morning Coffee biscuits can also be used in baking, cakes, and pastries. They offer versatility as you can buy them in different sizes from 400g and 600g multipacks for the fanatics to small individual 80g packages for people who are constantly on the go. Morning Coffee biscuits are also available with a delicious chocolate coating, known as Choco Morning Coffee. This cookie is coated with milk chocolate for those of a sweeter tooth.
The Prototype of the Morning Coffee Biscuit: Crawford's Morning Coffee Biscuit
Crawford's Morning Coffee biscuit is the first one that pops up when you google these biscuits. They sell the good old-fashioned British biscuit whose iconic coffee cup design has made them a staple for this biscuit. The company recommends eating the biscuit with some beverages. This biscuit isn't just popular in the UK, but in Italy, the USA, Canada, France, Australia, Philippines, Norway, and Iran too.
Crawford's was the fourth largest biscuit manufacturer in Britain and the longest-established. The brand continues today as the economy sister brand to McVitie's. The company was owned by United Biscuits but in 2014 became a private company once again.
After naming some of the most popular Morning Coffee brands, we hope you are intrigued to try some of these yourself. Tell us what you think.
Be sure to subscribe to our newsletter by registering so that you do not miss any of our articles and insights.
If you wish to promote your products or company, please contact us via e-mail: contact@biscuitpeople.com.