We asked Gérard Lebaudy, CEO of Biscuiterie de l'Abbaye from France, to share a few thoughts about his family business which became one of the Europe's most successful family factories of biscuits
Can you, please, present your company/group – history, number of employees and the most important products?
Biscuiterie de l' Abbaye is a family company created in 1964. At first, it was a bakery and his owner was Mr. G. Lautour. His son, Michel, worked as baker and, after the war, he married Miss Lebaudy. Meanwhile, in the bakery, a worker called Michel Lebaudy decided to marry sister of Michel Lautour. After that two Michels created the "Sablé de l'Abbaye" in 1944. In1964. They built the first biscuit factory in which worked only nine workers. The strategy was the development of new products and the creation of four areas of strategic focus: organical, dietetical, regional products (Normandy) and trademarks.
Gérard Lebaudy, the son of Michel, became President of the Company in 1990. His strategy was to lead the factory in line with the sustainable development policy.
In 2015, Biscuiterie de l'Abbaye sold 7.200 tons of 242 different recipes andthe number of employees was 230.
The origins of the Biscuiterie de l'Abbaye date back to the 19th century, when you opened it as a small local bakery called Normandy Sablé. In the last fifty years (from 1964. to today) you have managed to turn the company into one of the Europe's most popular and most successful family factories of biscuits. How did you manage to achieve that?
The main words to describe the actual management are: diversification, know-how, societal policy. Our four wheels are: 1) excellence; 2) quality of human relationships; 3) respect for the environment and 4) proximity.
Biscuiterie de l'Abbaye had to stay a family company and Mr Lebaudy's son started to manage the company from 2010.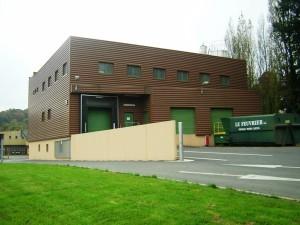 Please, reveal your "secret": how did you manage to survive as a traditional family business at the present time of increasing globalization and alongside the big international factories of biscuits and cookies?
To "survive" means that we need to create new products and to answer to any request – in France, in Europe, in the whole world. We consider that our "know-how" is typical and we are working with specialists in producing our biscuits – bakers and pastry chefs. Our biscuits are made with rich, regional and traditional ingredients: butter, eggs, milk, flour and sugar from Normandy.Our reputation is based on societal policy.
Which and what kind of position you have taken in the market of biscuits?
At the international market of biscuits the most important is to be able to propose a large range of products. That required our company to find specific recipes and satisfy the customers' expectations. That is why our company is able to propose more than 240 different recipes (dietetical, organic, traditional and trade mark).
What do you think, why a large number of customers choose your products? What sets you apart from others?
A large number of customers choose our products because of their high quality and because of the choice of the recipes. That is very important, because large range of recipes must correspond to a large number of customers, of course.
Which products would you mark as your most popular and why is it so?
The bestsellers are the most traditional ones. The "Sablé de l'Abbaye" remains at the head of our classification and second one is the "Sablé d'Antan" (the "simplest one"). Third popular is the "Trouvillais" with apple or red fruits, number four is the "Petit Normand", made like a "petit beurre" and number five is the "Organic Sablé Bjorg" (trade mark).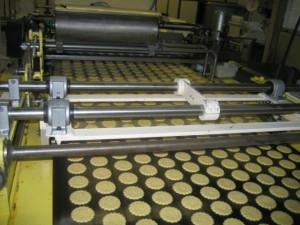 Your company was recognised in 2005 as the most socially minded company in Normandy. What, in your opinion, was crucial that you deserved such a title? What distinguishes you from other companies?
The first "ingredient" to be recognized is our four wheels, which I described earlier. Also the crucial thing was that we were the first to put in place this title – the most socially minded. A great work was made on the employment of weakened people (e.g. disabled people), improvement of "well-being at work", health of employees and quality of exchanges with the stakeholders.
Finally, the company invests in hiring of an employee – specialist of sustainable development, which is in line with the strategic philosophy of the President. The Biscuiterie de l'Abbaye obtains a lot of trophies concerning this societal policy.
All benefits are distributed between investments and gratifications to employees, because shareholders don't require any dividend.
Which ingredients you usually use to produce your cookies?
We use around 450 different ingredients in our biscuits: flours, sugars, fats, leavenings, milks, eggs, additives, vitamins, minerals, technical ingredients etc. Usage of ingredients depends on type of the product. For example, in organic products we use 95% minimum of organic ingredients since 1995.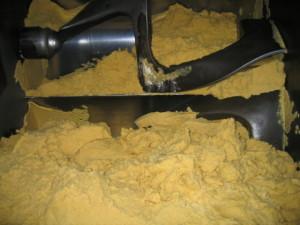 For traditional cookies we use the best ingredients we can find: wheat flour, pure butter with "AOP" (protection of the origin), sugar, milk, eggs, caramel, all domestic from Normandy. For dietetical products we use functional ingredients and we are adding minerals and vitamins, if needed. The "know-how" of the company in this field of activity is 30 years old.
How often do you cooperate with local suppliers and distributors from Normandy and France?
The Biscuiterie de l'Abbaye cooperates with local suppliers and distributors as often as possible. Our first distributors were based in Normandy and the company is able to deliver products since the smallest distributor up to the biggest one.
Your biscuit factory has developed a range of gourmet biscuits (Chocoladises, Delices d'Arthour), and has used their expertise to enter into different areas, such as dietetics and organic. Whether dietary and organic production is more expensive and if they are more expensive – how much? Also, how much higher is the price of dietary and organic products in the stores compared with the "ordinary" biscuit products?
Biscuiterie de l'Abbaye is not a philanthropic company. We had to develop products with added value. That is the case of traditional biscuits made with more expensive ingredients (compared to regular biscuits) and dietetical biscuits in which technology, "know-how" and ingredients are more expensive then in other, organic products (double costs of ingredients). We consider that, 20 years ago, organic product were twice more expensive than traditional biscuits, but now it's only 1 – 1,5 times more expensive. The case of dietetical products is really different and prices are very different according to the recipe, up to three times. That is the main reason there is not equivalent biscuit to compare to dietetical biscuits.
Such successful company cooperates with many shopping malls and commercial "chains", which distribute and sell your products. Please, name some of the most important malls and "chains" for your company.
Some of the retail chains we cooperate with are: Carrefour, Aldi, Systeme U, Auchan, Leclerc, Casino, Intermarche, Leader price, Costco (USA), Distriborg ("Bjorg"), Disney, Laboratoires PYC and other big chains of laboratories (dietetical products), Nutrition et Santé, Wing Kee (China), Brioche Dorée (China), Kitano (Japan), etc.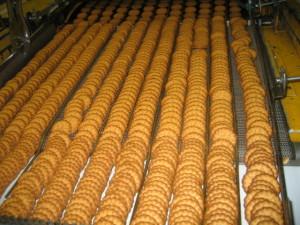 As I understand, 11% of your production goes to export. Do you have plans to increase this share?
Biscuiterie de l'Abbaye has an export sales service. Normand association was established in different food industries in order to enable product presentation in different countries. That kind of structure helps industrial entities to present their products at foreign markets. Also, the company often exhibits at international fairs in the whole world: Tokyo, Beijing, New York, Frankfurt etc. At last, the company is developing specific products for all countries out of Europe and that creates a real interest of customers.
Can you please, briefly point out some important plans for further expansion and development of the Biscuiterie de l'Abbaye. Are you planning any new products, and which?
The company is a real creator of new products. In average about 20 new products are created annually. Investments in conditioning machine are important to answer to the needs of our customers and confectioning of new box packaging or paper bags is in line with the latest trends. New products are always a secret until their launching.
Can you reveal recipe of some of your product? Did you use some traditional recipes in its production?
It's easy: you just have to read the ingredient list write on packaging. Regulations require writing precisely all ingredients content (in percentages). About 10% of total recipes are traditional – Sablé de l'Abbaye, Sablé d'Antan, Petit beurre, Galettes Normandes, etc.
__________________________
More info: http://www.biscuiterie-abbaye.com/