We bring you an interview with Claudio Zanão, the CEO of ABIMAPI (Brazilian Manufacturers Association of Biscuits, Pasta and Industrialized Breads & Cakes), in which he opens up about his history with the company and ABIMAPI's goals for the future.

Can you tell us a bit about yourself and your association?
I graduated in Mechanical Engineering and have a postgraduate in Administration, Marketing and Finance by FGV and MBA in Business Management, with a solid career in national and multinational companies in the food/consumption segment such as Coca-Cola, Danone and Bunge Alimentos. I am currently the CEO of the Brazilian Manufacturers Association of Biscuits, Pasta and Industrialized Bread & Cakes (ABIMAPI), 10 years managing the entity.
ABIMAPI stands for Brazilian Manufacturers of Biscuits, Pasta and Industrialized Breads & Cakes. Which of these sectors is the most successful or has more products sold?
In 2016, in the national market, the sales of the Brazilian biscuit industry reached R$ 21.853 billion (in Brazilian currency, 'reais') with approximately 1.7 million tons sold. In this same period, the pasta manufacturers handled R$ 8.744 billion with 1.24 million tons sold. Still in the last year, the industrialized bread segment earned R$ 5.414 billion with 440.7 thousand tons of products sold. In relation to industrialized cakes, this category reached R$ 851 million and the total sales volume of 33.7 thousand tons.
How many members did you have in your association at the time, and who are your members?
We are one of the largest food associations in the country. We represent 99 companies that hold about 80% of the national consumption of pasta, biscuits, breads and cakes and account for a turnover of R$ 37 billion per year, production of 3.5 million tons of products and the generation of more than 100 thousand direct jobs. In Brazil, we account for a third of the national consumption of wheat flour. In partnership with Apex-Brasil, we develop the sectorial project called 'Brazilian Biscuits, Pasta and Industrialized Breads & Cakes', formed by 51 Brazilian companies that annually export to more than 80 countries.
What is the main mission of ABIMAPI and what does it mean for the Brazilian food industry?
Our mission is to strengthen and consolidate the categories of biscuit, pasta, bread and cake in national and international settings.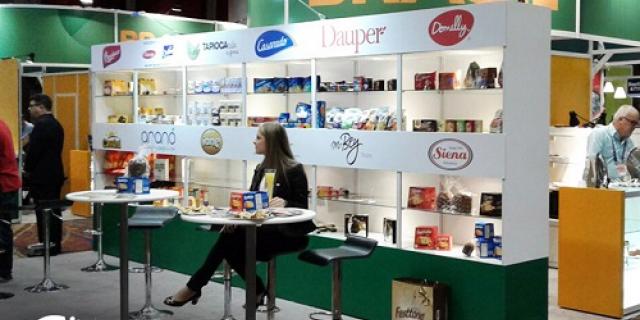 Can you tell us more about your accomplishments with ABIMAPI so far?
Among our many achievements over the last ten years, the most important was the birth of ABIMAPI, which began its activities in January 2015 as one of the largest food associations in Brazil, which was a result of a merger between ABIMA (Brazilian Manufacturers Association of Pasta and Industrialized Bread & Cakes) and ANIB (National Biscuits Manufacturers Association). Currently, we have four main areas of activity - Marketing & Communication, Technical & Regulatory, International & Exports and Administrative & Financial - that offer all necessary support to our members. We started to participate in even more actions with organs such as the Brazilian Ministry of Health, ANVISA (responsible for Health Surveillance and Sanitarian/Food regulation in Brazil) and INMETRO (responsible for Metrology, Quality and Technology for consumer goods and other in Brazil) and similar entities.
We have strengthened our presence in media vehicles and we have become the reference association for journalists when the food industry is on the agenda. To portray all this representation, focusing on the development of the sector, in 2015 we published the first ABIMAPI Yearbook and at the beginning of this year we innovated with the second edition. In this last decade, we have been able to gather our categories at the 'ABIMAPI International Congress of Biscuits, Pasta, Breads and Cakes', which receives sector´s several executives and entrepreneurs and its main objective is to contribute to the strengthening the growth of these segments in Brazil and worldwide. We also participate in large forums and national/international events, such as the annual meetings promoted by the National Pasta Association (NPA) from USA and also by the International Pasta Organization (IPO), headquarters in Italy, among others.
In September 2016, you held a 15th International Congress. What were the highlights of the event for you and is there more info for the congress in 2017?
On October 25, 2017, we will hold World Pasta Day, which will take place in São Paulo (SP). Since the first edition, held in 1998 in the city of Naples, Italy, this day celebration has gone through countries as distant but united by one passion: pasta! We have prepared this year an exclusive program with Brazilian and international speakers - such as the international well-known market expert Mrs. Kantha Shelke (from USA/India) and the nutritionist Dr. Mauro Fisberg (from Brazil), among many other VIPs - who will discuss economic, nutritional and cultural issues regarding food. For more information check the event´s hotsite. For the first half of 2018, between April 05 and 07, we will hold the 16th ABIMAPI International Congress for Biscuits, Pasta, Breads and Cakes, which brings national and foreign manufacturers closer to new technologies and trends.
Any additional new projects which will push the industry forward?
Brazil is the 3rd largest manufacturer and consumer market worldwide for biscuit and pasta, and also the 7th largest manufacturer and consumer market worldwide for industrialized breads and cakes. We have a huge, diverse and innovative industrial park that has started its international run during the 80´s. Nowadays we have more than 30 Brazilian Brands abroad, supplying cereal based packaged food for more than 80 countries in the 5 continents. In 2000 ABIMAPI has developed a partnership with Apex-Brasil, the Brazilian Trade and Investment Promotion Agency, creating the sector´s exports promotion project called today 'Brazilian Biscuits, Pasta and Industrialized Breads & Cakes'. We have more than 15 years of an amazing work promoting our companies globally. Last August 2017, we have started two more years of partnership with Apex-Brasil. This includes at least 20 activities between 2017 and 2019 for the group of 50 Brazilian companies. We have a good range of brands. This group is very frequent in the most important trade fairs, as per example the International Sweets & Biscuits Fair (ISM in Cologne, Germany, every January annually), Gulfood (the biggest event for food and beverage at the MENA region), ANUGA (the global biggest event for food and beverage biannually - odd years - in Cologne, Germany) and SIAL (the global biggest event for food and beverage biannually - even years - in Paris, France). By these reasons, we believe we are developing our awareness and international positioning, pushing the industry forward.
Regarding Brazilian bakery industry, what are your thoughts on the current market?
Brazil is the 8th largest manufacturer of cakes in value and the 10th in volume worldwide. Our per capita consumption has jumped very fast over the last 5 years, but we still have an income below our market potential with less than 200g per person annually. This is a category that the Brazilian population is discovering more and more together with the companies innovations as we have different flavors, sizes, ingredients and types of goods (low fat, zero sugar, gluten free, diet, organic/bio, etc). It´s important include that we have a very strong market for the Panettone category – Brazil is the 2nd largest market for this product worldwide and the 7th global supplier, exporting for more than 25 different countries, including some non-Christian (UAE per example). This is a traditional Christmas cake for the celebrations at the end of the year started by the Italians and after by their immigrant descendants in Brazil. Nowadays some Brazilian brands have them available all the year, including the Biggest Panettone manufacturer worldwide, an ABIMAPI member.
What do you think was the biggest step forward for the industry and what more could be done to improve it further?
For more than 4 years, ABIMAPI has been offering to its members and has partnered with other associations the "Dê a Mão para o Futuro" Program ('Give the Hand for the Future') focusing on Recycling, Entrepreneurship and Income. The entity is therefore aware of the need to seek solutions to the issue post-consumer packaging and is committed to contribute to the increase of recycling rates in Brazil. The "Give the Hand for the Future" Program was developed itself as a viable alternative for its associates in the management of their post-consumer solid waste, the industry's main attention to the theme of sustainability. Thus, by promoting a holistic and global analysis, we understand that sustainability and, in particular, solid waste are among the main challenges facing the planet and industry. Year after year, therefore, we identified new technologies and opportunities to minimize the environmental impact of the food sector. The joint effort between companies and trade associations through the program presented, as an example, is a great test and response.
What country are Brazilian companies mostly exporting to, and how much of the products are for domestic consumption?
Last year, 2016, Brazil has exported more than US$ 107 million and 56 thousand tons of ABIMAPI sector´s products to over 80 destinations – 70% of total products exported were biscuits, 20% pasta and 10% packaged cakes (including panettones). The most important destination was South America responsible for 53% of revenue of total Brazilian sector´s exports last year. After it, North America (specially USA) accounted for 25% of products exported and the other regions have less than 10% each. Today these numbers represent just 1% of sector total sales. But this is just a general result. Annually the export participation on total revenue is growing company by company considering - we have members reaching between 20% and 30% of its total annual revenue with exports only.