Şekerpare
is one of the popular desserts in

Turkish cuisine

. Mainly prepared by baking some softballs of almond-based pastry dipped in thick lemon-flavored sugar syrup.

Do you like exploring other cultures and their cuisine? Would you rather stick to classic biscuit types or try the most unusual cookies in the world? Although, today's topic isn't unusual but traditional, if you are not from Turkey we bet you haven't tried them. This is why are we here to introduce you! It would be such a pity to miss this tasty treat. Also, we can surely say this pandemic year and staying at home more than usual made us bake more and explore different recipes we haven't tried yet. Will we ''infect'' you with our ''baking obsession''? Take a look at Turkish Sekerpare – a very traditional dessert from Turkey.
Wondering why is it called 'Sekerpare'?
Sekerpare implies a piece of sugar in Turkish. As the name infers, Shakespeare will be the best answer for you if you experience issues to fulfill your sweet tooth, şekerpare is pronounced "sheh-kehr-PAH-rih" in Turkish.
In Albanian, sheqer implies sugar, and pare implies baked good. The word sheqerpare is along these lines meant sweet cake and is articulated sheh-ker-pah-reh.
The beginning of the word is Turkish too, yet additionally Persian and comes from the word şakarbūre which signifies "a sweet made with baked good and sugar".
The şakarbūre is related to the Persian şakarpāra, which signifies "sugar solid shape" however which additionally alludes to an extremely sweet assortment of apricots from the area.
What does Sekerpare look and taste like?
These sweet, sticky, and tender biscuits are made from semolina, classic flour, even though you can use variations minding the fact that since 2020 it is flour's time to shine, and powdered sugar that is baked golden brown and let steep in a sweet, lemon syrup. You will adore the brittle, lighter surface semolina brings to Sekerpare. Thus, it essentially melts in your mouth.
Sekerpare is produced in almost every Turkish household, sold in every Turkish bakery and confectionery, and appears on almost every Turkish restaurant menu.
Except for Turkey, Şekerpare is an after-dinner sweet common also throughout the Middle East and Greece. Şekerpare is a dessert you will see at family gatherings, especially those associated with holidays like Ramazan, and Kurban Bayrami.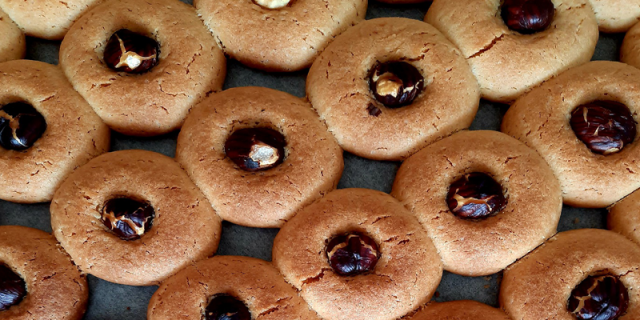 Turkish Sekerpare origins and history
In Albania, they are called sheqerpare, and in Turkey sekerpare. Today, we're researching an Albanian treat with Turkish starting points. Indeed, the most common and popular desserts in Albania are made throughout the Balkans, sometimes with different names.
Five centuries of Turkish control have profoundly affected the way of life, food, language, and surprisingly the offers of the Balkan populace, the sheqerpare thusly starts straightforwardly from the şekerpare, a mainstream Turkish sweet.
How to make Sekerpare treat?
We are here to introduce you to the method of making Sekerpare biscuits. When we mention the method of making and maybe a bit long instructions but believe me it is nothing demanding or anything that will take you too much time.
Time to prepare Sekerpare Turkish delight: 30 minutes
Making the perfect Sekerpare
Mixing the ingredients for biscuits and mixing the dough slowly by hand is the key to making a perfect, uniform sugar dough that does not crack or separate while baking. Each 'steam' or piece, should retain its perfect shape, even after immersion in the syrup. The more syrup it absorbs, the better. They should be good enough to cut and eat with a fork.
The recipe has three folds:
First of all: Make the syrup – here is how
Ingredients for syrup:
Juice of 1 small lemon

345 gr/ 12 oz. /1 ½ cup sugar

480 ml/ 16 fl. oz. / 2 cups water
Pour water and sugar into a pot. Warm them until it bubbles. Allow it to bubble for around 15 minutes until it arrives at the correct consistency.

Add lemon squeeze and take it from the warmth. Set it to the side and let it cool totally.
Ingredients
Zest of 1 small lemon

115 gr/ 4 oz. / ½ cup sugar

125 gr/ 4 ½ oz. unsalted butter

300 gr/ 10 ½ oz. /2 cups plain (all-purpose flour)

95 gr / 3 ¼ oz. / ½ cup fine-grained semolina

2 eggs

15 ml/ 1 tbsp. baking powder

30 ml/ 2 tbsp. light olive oil (and a little extra to grease the baking tray)

20 blanched almonds or hazelnuts

A small bowl of cold water (to help shape the sekerpare cookies)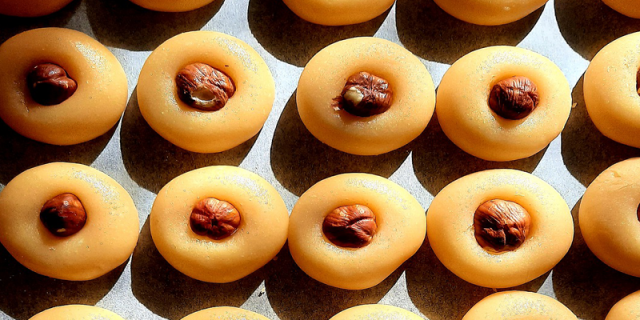 Step 1
Instructions for dough mixing: First, cautiously soften the butter in a little pan over low warmth. In an enormous bowl join the filtered flour with semolina, at that point make a well in the center and pour in the softened butter.
Step 2
Then, mix in two eggs, sugar, lemon zing, olive oil, and preparing powder and work for five minutes. You need to wind up with a delicate, sodden mixture.
Step 3
Cover the batter with a sodden fabric and leave to rest for 15 minutes. You should have a little bowl of cold water close by to help you shape the treats. When the mixture is refreshed, ply it again for five minutes.
Step 4
Presently, hose your hands, partition the dough, and shape it into twenty ping pong measured balls. Spot the balls on a lubed heating plate next to each other. Ensure you leave some space between every one of the balls, so they have space to grow when heating.
Step 5
Biscuit baking process: Press delicately every one of the dough balls so they straighten a piece and push in an almond or a hazelnut in the focal point of each. Heat in a preheated broiler for 20-25 minutes or once they start to become light earthy colored.
Step 6
Eliminate from the broiler and pour the chilly syrup over the still-hot şekerpare. Leave currently to cool. After around 15 minutes the şekerpare treats would have retained the syrup and turned delicate and wet. The cooled sekerpare treats are best eaten with some tea or espresso.
Extra tips and tricks
Preparing
At the point when you place şekerpare on a preparing plate, you need to ensure you leave sufficient room between every one of them, as they will extend during heating.
Ingredients
If you feel like exploring different avenues regarding fixings, have a go at subbing almonds or hazelnuts with Maraschino cherries.
Recipe source: tasteatlas.com
Want these treats for later? Here are tips for freezing and storing
Although you can serve them warm (just a little warning: they might feel too sweet if you serve them hot). It is best to serve them when they cool down at room temperature.
Storage
Keep your şekerpare treats canvassed and in a holder at room temperature for up to a few days.
Sekerpare freezes well without the syrup. So you can store half of the treats in the cooler after they cool totally. At the point when you need to transform them into sheqerpare dessert, defrost them first. Make the syrup, pour the hot syrup over cool treats and let them retain the syrup.
Other versions of sekerpare recipes: Try orange flavor
While the şekerpare treats are preparing, heat water and sugar together, add the orange bloom water, and heat everything to the point of boiling. Presently, add the lemon strip and the opened and scratched vanilla units. Allow everything to stew.
Take the treats out of the broiler, and keeping in mind that still hot, pour the hot syrup over the treats—to ensure every one of the treats is very much drenched, it's ideal to utilize a spoon.
Will enjoying in Sekerpare biscuits ruin your diet?
Amount Per Serving

| | |
| --- | --- |
| Calories | 91 |
| Total Fat 3g | 4% |
| Cholesterol 9.1mg | 3% |
| Sodium 2.6mg | 0% |
| Total Carbohydrate 15.4g | 6% |
| Protein 1.1g | 2% |
* % Daily Value
Debate: Sekerpare od baklava? Which treat is more popular?
It is one of the most popular Turkish sweets after baklava. Even though some people say they prefer Sekerpare more because it is somehow easier to make and is made more often.
Turkish cuisine and cookie tradition
Now that we have introduced you to one of the most famous and most common biscuits originating from Turkey, it would be a real shame to stay on just one when Turkish cuisine is so rich in so many more delicious delicacies.
Now that with our recipe you can perfect your own making of Sekerpara, why not dive into the Turkish tradition and some more dunking biscuits deeper and discover praiseworthy desserts that will fix your day.
Turkish holiday celebrates desserts!
Numerous festivals and holidays in Turkey include Sekerpare and other delicacies. In Turkey, in addition to the ritual of drinking tea, delicious biscuits are also included, and imagine only when the holiday is celebrated!
Perhaps the main occasion in the customary Islamic schedule is the one that denotes the finish of the 30-day time of daytime fasting during the long stretch of Ramadan.
A mainstream Turkish name for the Ramadan celebration is "Seker Bayrami" (Sugar Holiday), which is a kind of capstone to the rich sweets arranged for dusk dinners during the blessed month. These treats are intricate in their fixings as well as in their visual effect and show.
The sweets and sugary treats of Turkey take a stand concerning the rich history of its food and geology.
The pith of conventional Turkish food lies in the significance given to subtleties, be it an intricate baked good or a basic stewed fruit.
Try not to botch them:
There is additionally another distinctive pastry that is called also so in the event that you perhaps now and again read this at some menu at the eatery or essentially on the web – don't think it is exactly the same thing.
Along these lines, shekarpareh (sugar-sweets) is a pastry in Khorasan, Iranian cooking. Shekerbura (Azerbaijani: şəkərbura), is an Azerbaijani treat. It is a sweet cake perfectly healthy, stacked up with ground almonds, hazelnuts, or walnuts, and sugar. Shekerbura, shorgoghal, and baklava are the famous food wellsprings of Novruz event in Azerbaijan
One of the amazingly well known desserts of Turkish food is baklava. Baklava is made either with pistachios or walnuts. Turkish food has an extent of baklava-like desserts which consolidate şöbiyet, bülbül yuvası, saray sarması, sütlü nuriye, and sarı burma.
Kadaif is an average Turkish treat that uses annihilated yufka. It tends to be set up with either walnuts or pistachios.
Künefe and ekmek kadayıfı are rich in syrup and spread, and are ordinarily given kaymak (coagulated/blended margarine). There is similarly Künefe, which resembles kadaif, and it contains wire kadayıf with a layer of disintegrated cheddar in the center and it is served hot with pistachios or walnuts.
Among milk-based treats, the most notable ones are muhallebi (rice pudding), keşkül, kazandi, and tavuk göğsü (a sweet, thick, milk pudding cake like kazandibi, to which gently stripped chicken chest is added to give a chewy surface).
Helva: un helvası, irmik helvası (cooked with semolina and pine nuts), Yaz helvası (delivered utilizing walnut or almond), tahin helvası (crushed sesame seeds).
A word or two about Turkish coffee – perfect combination with Sekerpare!
What is extraordinary about Turkish espresso?
Turkish espresso is finely ground espresso blended by bubbling. Any espresso bean might be utilized; arabica assortments are viewed as best, however, robusta or a mix is additionally utilized. The espresso beans are left in the espresso when served.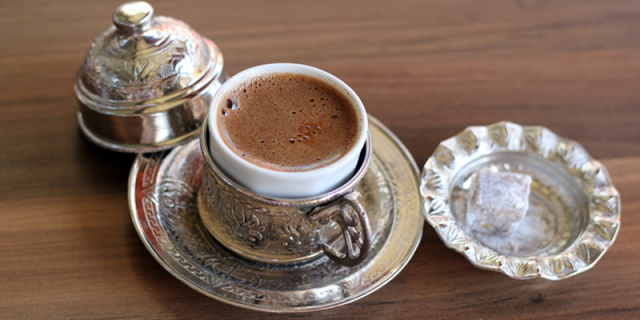 Serving water with Turkish espresso
Turkish espresso is constantly presented with water: A taste of the water will permit the individual to clear their sense of taste before drinking espresso, making for the best satisfaction. Also, the vast majority serve the espresso with a little, sweet deal with like Turkish pleasures, chocolate, or candy.
Grab your cup of coffee and move on to baking!
Now that we have introduced you to this famous Sekerpare dessert - can you resist without trying it? We believe not ... That's why we immediately supplied you with a prescription. If you try our recipe, be sure to feel free to send us your little masterpieces, and also if you have any additional questions on this topic, contact us at contact@biscuitpeople.com.
---
Leading image source: By Nadir Keklik/shutterstock.com