A lot of cookies or biscuits are perceived as a good companion to a hot beverage, but scones are an evergreen and it truly never goes out of style. Mostly used for afternoon tea, the delicious biscuits are perfect for any occasion and any time of day.

Classic Scones
A scone falls under the quick bread/cake category, but it differs from other buns or teacakes with a variation in its ingredients. It's heavier than a muffin but thicker than a flat bread. Originally, this biscuit hails from United Kingdom where the afternoon tea is almost always accompanied with one or the other type of scones. It's known to be a part of cream tea, also known as Devonshire tea, a light meal consisting of tea, as mentioned, scones and cream or jam.
Scones' main ingredients include wheat, barley, or oatmeal, baking powder, and is often glazed with egg wash. Scones also differ from some ordinary biscuits because they contain eggs, more fat and sometime a bit more sugar. It has a soft sweet taste but there are savoury variations as well. Before the mass use of baking powder as a leavening agent, original scones were round and flat, and cut into triangles for serving. Now, they're available almost everywhere, from British bakeries to supermarkets, this delicious breakfast or afternoon treat is always an excellent choice.
Roughly divided, there are two different types of scones—the American scone and the English scone. The American scone tends to be larger, drier, and much sweeter than its European counterpart. The European scone is often light and flaky like a biscuit and barely sweetened.
Food industry market...
A market report in 2005 detailed that the UK scone market is worth 64 million pounds with a 9 percent increase over five years. And our guess is it's only going to further increase, according to Zion Market Research and their report for global bread and baked food market in Europe which is expected to reach above 157 billion US dollars in 2021.
A variety of taste
Other than already mentioned main ingredients, scones also often include raisins, currant, cheese, blueberries, cinnamon, or dates. Recent rise of brunch trend just gives you another opportunity to indulge in scones, and taste the ever-growing combinations. To mix it up, you can add any type of fruit or nut to for it to become a delicious biscuit. And they're incredibly easy to make.
The scone is a versatile treat that can easily be forgotten about with doughnuts, biscuits, and other delights in the pastry case — but that doesn't mean we should pass over this simple snack. Check out the recipes on the link above to see more variations for this daytime treat.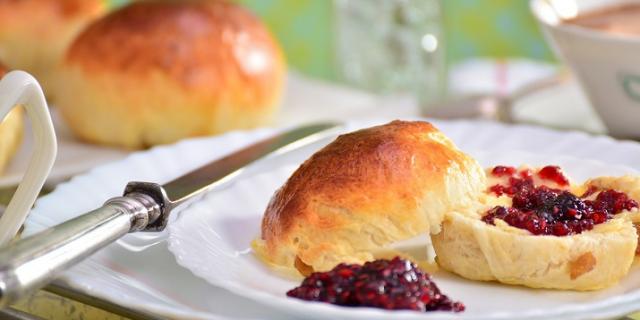 Especially in North America, the scone has become one of the most sought out items for breakfast. With a delicately crusty exterior, and tender, light crumb within — scones have become part of the morning ritual for many: grab your travel mug and a scone, and hit the road.
If you're not a tea drinker, don't worry, they're perfect companion to every kind of coffee as well. Best served warm and with butter and/or jam. Enjoy!