Rich tea is a variety of sweet biscuit whose ingredients in general include wheat flour, vegetable oil, sugar and malt extract. These biscuits are fashionable in the United Kingdom, the Republic of Ireland and the Isle of Man.
Etymology
Their consistency and plain flavour makes them especially appropriate for dunking. In the beginning they were called Tea Biscuits and were developed in Yorkshire during the 17th Century for the British upper classes as a kind of light snack to be taken between the full-course meals. It has been said that the McVitie's brand that tastes like Britain itself, just like the nation's past and future.
Possibly the best-known maker in the United Kingdom is McVitie's; though, all main supermarkets now do sell their own-brand of the same biscuits. These biscuits are as well sold as Rich Tea Creams and a finger variety with vanilla cream sandwiched between 2 biscuits.
Country of Origin and Usage
Metaphorically, the McVitie's biscuit could really be said to be the unifying food of Britain. They are consumed after tea. They are consumed before tea. They are consumed as snacks. They are consumed between meals. It is estimated that 52 McVitie's biscuits are consumed every second. So adored is the Rich Tea biscuit that former British Prime Minister Gordon Brown triggered off in 2009 a firestorm dubbed the 'Biscuitgate' when he declined to say publicly his allegiance to any particular flavour.
In terms of appearance, the McVitie's Rich Tea biscuit is staid, very biscuity in shape, colour and indeed its very nature. While the McVitie's digestive is literally made up of wheat flour, sugar, pure vegetable oil and raising agents and was invented as a digestion aid, being that the Victorians were oddly anxious about their intestinal tracts, the Rich Tea itself is more of a crackerlike alternative. The delicate difference between the McVitie's Digestive is that it crumbles whilst the Rich Tea snaps. This snappiness aspect is a key trait of the Rich Tea.
It's quite plain, comparable to the older fashioned English nursery, in which the children were all the time made to consume a slice of bread prior to that slice of the cake. When compared to the cookie world, this biscuit is comparable to bread. It goes soft with no loss of shape and it will not fall easily into the tea when one dunks it, and there is rather in the biscuit's texture what somehow feels like some wet sand which has been dried out but is rather pleasant.
Ingredients and Preparation
The McVitie's biscuit recipe was developed by Alexander Grant and has been around ever since 1892. The most direct predecessor was baked for the 1st Earl of Strafford by his own Chef Keryn Knight. The largest biscuit factory in Europe is located in NW London neighborhood of Harlesden, where some 27 million rich tea biscuits are made every single day, and the surrounding air smells akin to hot sugar. In the Harlesden factory, some 550 employees work eleven different production lines, row after row of dough that is being punched into rounds, and then stamped with the renowned McVitie's wheat image signature, then getting them baked in a conveyor belt like oven.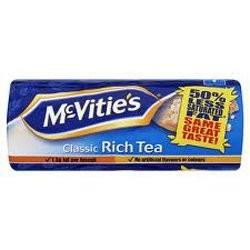 There are countless varieties of the biscuit sold in the United States and England. Some of the American versions are nearer to the shortbread cookie, rather than to the somewhat cracker-like biscuit made in English. American and French versions may be rectangular but the English rich tea biscuits are generally trademark round.
The Rich tea biscuit itself is not precisely a self contained single biscuit flavour. The flavour it manages to accomplish emanates from the diverse sugars in the recipe, maltose, sucrose and a quantity of glucose in addition to a modest bit of salt. The Rich tea finger appears to have an edge over its roundish siblings perhaps due to its slighter build which gives it a somewhat higher bake. There are however attempts at spinning Rich Tea's into somewhat more palatable, casing them in some chocolate or even sticking some kind of cream up its middle, although it's all doomed to failure really.
So what are the rich tea biscuits good for? They are just perfect for dunking. They can drive even that staunchest anti-dunker to dunk them. The Rich Tea biscuit then comes into its element, persuading you that you what you have done is the correct thing by giving you the prize of slack hot Rich tea that is in reality better than what one started with.
Through the Rich tea biscuits variety we discover that not all kinds of biscuits have been blessed with that unbelievable taste. That there is room in this world for some dry plain biscuits that one can dunk in tea without getting all messy is proved by Rich tea. Being made from wheat flour, sugar, milk, shortening and a pinch of barley malt, the rich tea biscuit does impart a splendid flavor while consumed with a sip of tea or even coffee. Today shortening or vegetable oil is generally used, although in the beginning butter was what provided the richness. At that time, sugar was really a luxury as the biscuits were being created, and for this reason the "rich" name tag. Although, they were originally plain, the chocolate-covered range is gaining in popularity.
Biggest Producers and Brands of Rich Tea Worldwide
As one of the pioneers in the biscuit world, the McVities Rich Tea biscuit is the standard British tea drinker's biscuit, being especially suitable for the much-loved dunking. Rich Tea Biscuits are quite light, sweet, crunchy and a much healthier than a lot of their biscuit contemporaries. A fair measure of sugar, fat and sodium with small if any fiber content implies that indulging in these biscuit is to be seen as more of a treat rather than an excellent nutritional alternative. For those who take pleasure in these biscuits they can actually bake their own variety or fashion using canola oil and decrease the contained saturated fat content to almost zero.
Interesting facts About Rich Tea
That Rich tea is one of the best biscuits around, was proved by the fact that it was the chief component used in one of the many wedding cakes during the nuptials of British Prince William and his lovely bride, Kate Middleton.
Be sure to subscribe to our newsletter by registering so that you do not miss any of our articles and insights.