When thinking of fibres, one often thinks of (whole) grains, vegetables perhaps and their related products, such as a whole wheat bread or a digestive-type of biscuit. Already since many centuries it is known that fibres have some kind of benefit for our bodies, but it isn't understood very well. Within the upcoming article(s) we will try to shed some light into this by sharing some of our research, a simple analysis for you to do yourselves, how to interpret data, apply and evaluate upcoming challenges. First of all, we share some background on the type of fibres and their benefits.
Background
Fibres are considered to be carbohydrate polymers, which basically means a combination of several (in this case 10 or more) molecules which are not hydrolysed in our small intestine. They should occur in nature and if isolated they contribute to our health12. Shorter Polymers (with 3-9 units) are therefore under debate and have separate local regulations.
Figure 1 Soluble vs Insoluble Fibre
Fibres are classified by DeVries3 into 5 categories:
Insoluble Fibre
Soluble Fibre (non-viscous)
Soluble Fibre (viscous)
Resistant Starch
Polydextrose
Although for most people they would not recognise certain fibres upon consumption as well as that not all detection methods would recognise most soluble, non to low viscous, fibres. They might recognise that certain foods give them a longer feeling of feeling full or a less need for certain cravings.
Fibres are considered to be soluble, when they can easily be fermented in the colon (of our body) into e.g., gases and other active by-products. Upon dissolving in water, you can clearly see a transparent solution (when no to low viscosity effects) or gels (when high viscosity effects). Soluble fibre binds to bile acids in the small intestine, making them less likely to enter the body; this in turn lowers cholesterol levels in the blood. Soluble fibre also attenuates the absorption of sugar, reduces sugar response (or Glycaemic Response) after eating, normalizes blood lipid levels and once fermented in the colon, produces short-chain fatty acids as one of the by-products.
Fibre does not bind to minerals and vitamins and therefore does not restrict their absorption, but rather evidence exists that fermentable fibre sources improve absorption of minerals, especially calcium. Some plant foods can reduce the absorption of minerals and vitamins like calcium, zinc, vitamin C, and magnesium, but this is caused by the presence of phytate (which is also thought to have important health benefits), not by fibre. In the past this was considered a reduced absorption due to fibres, research over the past years indicate that fermentation in the colon releases bound minerals by gut microflora. Besides that, effect it is reported as well that certain soluble fibres are considered to be mineral absorption enhancers4.
Insoluble fibres are those fibres that are considered to be metabolically inert, they do absorb however water (and oils/ fats) and are creating a bulking effect in our digestion system, which should ease defecation (prohibited of course that you do consume sufficient amount of water/ liquids). So, they do bind water, do not form gels, or are fermented in our intestines. If we dissolve them in water, we see a sediment arising after some time. As insoluble fibres do not aid in viscosity but do bind a lot of water they will compete with other ingredients in the 'matrix' for water binding. This might result in bread doughs in an underdeveloped dough for example or dry and brittle.
Authorities generally recommend that about 30-40 grams of fibre be consumed daily by adults. The average amount of fibre consumed daily is usually less (15-15 grams) because people tend to eat products made with highly refined wheat flour and do not eat many fruits and vegetables. Meat and dairy foods do not contain fibre5. An average serving of fruit, a vegetable, or cereal contains 2 to 4 grams of fibre and should be the part of the diet.
Benefits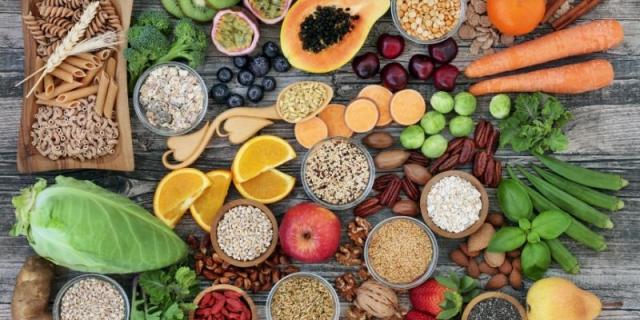 The benefits of fibres can be indicated from a view standpoints:
Health
Product functionalities
Commercial/ Marketing
In certain cases even a combination of these benefits might be present.
| | | |
| --- | --- | --- |
| Type of fibre | Functions | Benefits |
| Both soluble and insoluble fibre | Adds bulk to your diet, making you feel full faster | May reduce appetite |
| Soluble fibre only | Attracts water and turns to gel during digestion, trapping carbohydrates and slowing absorption of glucose | Lowers variance in blood sugar levels |
| Soluble fibre only | Lowers total and LDL cholesterol | Reduces risk of heart disease |
| Soluble fibre only | Regulates blood sugar | May reduce onset risk or symptoms of metabolic syndrome and diabetes |
| Insoluble fibre only | Speeds the passage of foods through the digestive system | Facilitates regularity |
| Insoluble fibre only | Adds bulk to the stool | Alleviates constipation |
| Soluble fibre only | Balances intestinal pH and stimulates intestinal fermentation production of short-chain fatty acids | May reduce risk of colorectal cancer |
In order to claim such a benefit, a sufficient amount should be present. That means:
3 grams per 100 grams of product (Source of Fibre - Europe)
6 grams per 100 grams of product (Rich in Fibre – Europe)
2.5 gram per serving (Good source of fibre – USA)
5 gram per serving (Excellent source of fibre – USA)
With such a nutrient content-based Health Claim you are also allowed to claim a function, depending on what the FDA (USA) or EFSA (Europe) have listed as a claim. The fact however that the wordings are very technical and concise, doesn't mean that a lot of consumers are able grasp its intention: recent research shown its actually the opposite ... they promote distrust6. Functional health effects know to an increase fibre intake are numerous, however check first if you are allowed to make in your marketing efforts78. You should think of:
Increased satiety
Longer fermentation of foods, potentially an increased intake of micronutrients due to this
Appear to alter intestinal microflora
Decrease transit time of (carcinogenic) substances
Increase water content in colon
Reduce blood Cholesterol
The combination of these affects is associated with:
Reduction of type 2 diabetes
CVD
Cancer
A different direction for fibres is when we would consider them as contributors to the textural challenges that we have in our bakery products. If we include shorter polymer based soluble fibres as well. We have soluble fibre opportunities with low to no viscosity effects as bulking agents for e.g., sugar replacement.
When we are looking for more viscosity due to either thickening (e.g., algae or ß-glucan) or perhaps even gelling other soluble fibres can aid, think of psyllium husk or flaxseeds. This implies that with soluble fibres we in theory could replace certain thickeners, gelling agents, stabilisers, etc. However, these hydrocolloids are often designed or treated in such a way that we have an isolated set of functions that we can use; with fibres we sometimes see side-effects: a change in processing results in drastic changes of product quality or the product quality changes relatively more during shelf life.
A nice example comes from replacing sugar in biscuits:
Low viscosity soluble fibres are used frequently as a (partial) replacer for sugar (think of dextrins, fructo-oligosaccharides, etc). As long as the dosage is not too high, dough properties are similar upon processing, but products can become a bit harder and brittle. In order to overcome this, the brittleness can be solved by a fibre giving a bit more viscosity, such as fibres that resemble certain gums (e.g., Fibres from peas or beans). This however solves only part of the problem as another requirement would be to resolve the hardness: very often this occurs in combination with a slightly thinner product as well. By adding an insoluble fibre, we are creating more volume in the dough and finished product: less hard, less brittle, but remaining crispiness.
Insoluble fibres absorb fluids, in particular water and to some extend oil. Our research shows that some fibres prefer a bit more oil over water, some water over oil and other are searching for a 'homeostasis'. This allows us to use potentially them as oil- or fatbinders, but also as humectants without a gelling or waxy effect. Due to their strong binding capacity, this might interfere in products where we need to hydrate proteins for example or create doughs that are becoming dry and brittle and challenging to handle due to this. This often leads to irregular shapes, problems of fragility or flakiness of the finished products and a "doughy" texture in the mouth
So, overall fibres give potential, but also challenges to cope with. As seen in various gluten-free and eggfree formulations they can be part of the solution. They can also play a role in creating more healthier products as part of increasing fibre intake or a perceived healthier product by cleaning the label by removing hydrocolloids with an E-number for hydrocolloids without one (e.g. fibres), sometimes in combination with other solutions (sugars, proteins, etc.).
Classifying fibres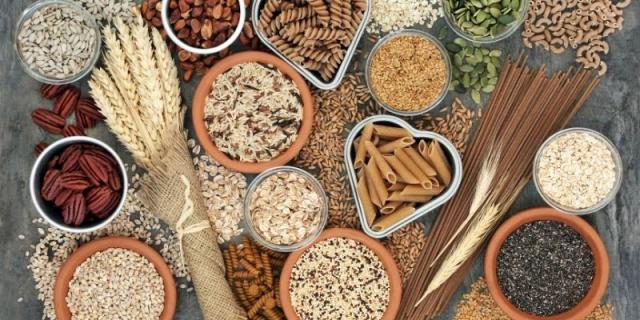 Fibres are classified in literature by Molecular Weight, Solubility, Viscosity and Length. Very often a fibre manufacturer can give some of that information in a datasheet or specification; but as they tend to focus on producing the fibre (e.g., cleaning, isolating and sometimes mechanically treat to a certain length) the information on how to work with such a fibre is often minimally supplied. As with the upcoming plantbased ingredients, they are sometimes just a by product of something else (plantbased milk or protein extraction). We have therefore developed an analysis method to understand a bit from what we received from suppliers/ agents and handlers:
Ingredients
Trial A
Trial B
Fibre source
20
20
Water
500
0
Oil
0
100
Let it rest/hydrate at room temperature for 1 hour
Residue removed via sieve
219
87
Example value
Remaining
301
33
Oil
100
0
Water
0
400
Subtotal phase 2
401
433
Let it rest/hydrate at room temperature for 1 hour
Residue removed via sieve
84
298
Example value
Final remaining
317
135
All ingredients are weighed in grams, and we used local tap water and regular sunflower oil. When using different quality of water and/ or oil your results may vary.
During the execution of these trials, you will see sediments and with that separation of liquid and fibre (that has absorbed some oil or water): these are (predominantly) insoluble fibres.
In the same you will find soluble fibres that could do a few things:
Form a clear solution in water (dissolve completely)
Create a gel
Dissolve completely in oil
Create a lumpy or pulpy gel
Create a suspension with clear separation of water or oil
In the case that the fibre completely dissolves in the solution of water or oil, they are most probably a shorter polymer. We often then look at how much oil or water is minimally required (new trial) to create a pasty solution (soft dough texture). This will create for you indicative values where you can find how oil and water loving a fibre is. We have seen ranges differ based on fibre length as well as on manufacturer, we have therefore listed below those that we tried and evaluated based on free samples given:
Insoluble fibres evaluation by Bakery Academy in 2020 and 2021

Supplier

Fibre 'name'

Oil-Water

Water- Oil

Oil-Water

Water- Oil

Origin

CFF

Sanacel 200 W

1-8,5-0

1-7,5-0,1

905,0%

905,0%

Wheat

CFF

Sanacel 90 W

1-4,6-0

1-4-0,1

215,0%

530,0%

Wheat

CFF

Oat200

1-7-0,4

1-17-0

1110,0%

1565,0%

Oat

CFF

Oat300

1-1,9-1,8

1-0,9-0,4

790,0%

259,0%

Oat

CFF

Oat90

1-4,6-0

1-2,3-0,2

356,5%

384,5%

Oat

CFF

OF200N

1-3,4-0,2

1-1,7-0,04

516,5%

281,0%

Oat

CFF

BF200

1-2,6-0,07

1-3,4-0

385,0%

330,0%

Bamboo

CFF

SC200

1-1,6-0

1-2,8-0,3

248,5%

477,0%

Sugarcane

CFF

WWFC40

1-8,8-0,6

1-8-0,5

1600,0%

1350,0%

Wheat

CFF

WWF200

1-2,6-1,1

1-4,1-0,1

639,0%

580,0%

Wheat

Westfiber

OAT O120

1-3,5-1,2

1-3,7-1,2

440,2%

466,9%

Oat

Westfiber

OAT O200

1-3,5-1,2

1-3,5-1,2

432,3%

428,5%

Oat

Westfiber

OAT O400

1-3,4-1

1-1,3-1,0

343,5%

353,5%

Oat

JRS Rettenmaier

Vitacell 400

1-14,9-0,8

1-11,5-1,1

1254,0%

1329,5%

Wheat

Westfiber

Spelt S120

1-4,5-1,2

1-5,1-1,0

565,7%

557,3%

Spelt

Westfiber

Samix

1-2,5-4,0

1-6,2-1,5

1031,5%

981,0%

Interfiber

Unicell WF200

1-8,3-0,9

1-7,2-1,1

764,0%

827,5%

Wheat

Interfiber

Unicell WF500

1-11,3-1,1

1-9,3-1,3

1295,5%

1217,0%

Wheat

Foodsolutionsteam

Karopro Orange

1-6,1-2,4

1-13,8-1,2

1465,0%

1735,0%

Carrot

Foodsolutionsteam

Karopro

1-3,2-2,7

1-16,5-1,1

871,5%

1890,0%

Carrot
Insoluble fibres evaluation by Bakery Academy in 2020 and 2021

Supplier

Fibre 'name'

Oil-Water

Water- Oil

min. Water

Oil-Water

Water- Oil

Origin

CFF

Sanacel 030

1-0,9-6,0

1-20-0,1

1322,5%

2385,0%

Combinations

CFF

Sanacel FA

1-4, -?

1-12,5-0

0,0%

1360,0%

Combinations

CFF

Sanacel FB

1-15,5-3

1-14,1-0,1

675,0%

1580,0%

Combinations

CFF

Sanacel 025

1-1,5-7,1

1-20-0,2

2015,0%

2440,0%

Combinations

CFF

Sanacel 020

1-1,4-2,3

1-20-0,2

790,0%

2575,0%

Combinations

CFF

Sanacel 026

1-4,3-0,7

1-8-?

921,5%

790,0%

Combinations

CFF

Sanacel 027

1-1,6-0,6

1-4,7-0

420,0%

535,0%

Combinations

Ohlbricht

Cellarom AH

1-2-0,4

1-2,8-0,1

415,0%

430,0%

Apple

Ohlbricht

Cellarom AD

1-3,5-0

1-2,6-1,1

340,0%

285,0%

Apple

AVEBE

Paselli FP

1-4,3-0,4

1-7,8-0

725,0%

860,0%

Potato

Tate&Lyle

Promoat

1-1,4-4,3

1-9,5-0,3

1250,0%

1335,0%

Oat

HIFood

FIB3TEC

1-1,6-1

1-7,5-0,3

515,0%

1100,0%

Combinations

Roquette

Pea Fibre

1-1,3-0,4

1-3,7-0,9

320,0%

900,0%

Pea

Timmers Food Creations

Cream Fibre

1-3,7-0,9

1-18,8-0

911,5%

2060,0%

Citrus

Nexira

Equacia

1-2-6,7

1-20-?

1-0,5

2300,0%

2100,0%

Acacia, Wheat

Nexira

Fibregum B

1-1,7-10,2

1-20-?

1-0,325

3025,0%

2100,0%

Acacia

Lithos Ingredients

Sunfiber ST

1-1,7-?

?

1-0,5

110,0%

2100,0%

Guar

Herbafood Ingredients

Herbacel Cl

1-1,5-0,5

1-2,6-3,2

365,0%

420,0%

Apple

Eurospechim

IMO

1-1,25-4,5

?

1-0,15

1240,0%

2100,0%

Synthetic

Caremoli

Psyllium 99

1-1,1-10

1-20-0,1

2165,0%

2385,0%

Psyllium

Caremoli

Psyllium husk

1-2,2-1,4

1-20-0,1

767,5%

2400,0%

Psyllium

SENSUS

FOS type 2

1-1,4-?

?

1-0,15

1240,0%

2100,0%

Chicory

SENSUS

FOS type 1

1-1,2-?

?

1-0,15

1160,0%

2385,0%

Chicory

SENSUS

Inulin

1-1-?

?

1175,0%

245,0%

Chicory

Tate&Lyle

Polydextrose

1-1,0-?

?

1-0,12

1225,0%

2100,0%

Synthetic

Advanced Ingredients

Fibersmart

1-1,3-?

?

1-0,1

45,0%

2100,0%

Combinations

Roquette

Dextrins

1-3-?

?

1-0,3

0,0%

0,0%

Wheat, Maize

Interfiber

Cocoa fibre

1-2,5-1

1-2,0

289,0%

0,0%

Cocoa

Foodsolutionsteam

Leinpro

1-3,7-1,8

1-14-2,0

701,0%

2750,0%

Flax
With these data we have know gained valuable insight in how we could process our fibre in our product (e.g., dissolve in oil or fat first), we have seen viscosity effects as well as type of gelling mechanisms and have an indication that length does matter. Based on soluble fibres we can think of functionalities such as softness, flow, sugar replacement/ bulk agent or with more viscosity effects of viscosity and slick/ 'cling'. Using insoluble fibres, we can look at reducing breakage/ checking in biscuits and crackers, create volume/ bulk, moisture retention (cakes, frozen doughs), dough relaxation, improve fluffiness and improve shortness in the bite9.
Be sure to subscribe to our newsletter by registering so that you do not miss any of our articles and insights.
---
1Phillips G. O. Cui S. W. (2011b). AACC report: Definition of dietary fibre. http://www.aaccnet.org/news/pdfs/DFDef.pdf (accessed 5 January 2011).
2Phillips G. O. Cui S. W. (2011a). An introduction: evolution and finalization of the regulatory definition of dietary fibre. Food Hydrocolloids, 25: 139–143
3DeVries, J. (2011) Global Fibre Definition and methods. USDA Soft Wheat Research Review Conference, [Online]
4Baye et al. (2015) The unresolved role of dietary fibres on mineral absorption. Critical reviews in Food Science and Nutrition, May 2015
5https://www.who.int/news-room/fact-sheets/detail/healthy-diet, https://www.hsph.harvard.edu/nutritionsource/carbohydrates/fiber/
6 https://www.foodnavigator.com/Article/2021/12/13/Are-health-claims-a-turn-off-for-consumers-Many-manufacturers-don-t-use-health-claims-because-they-are-not-effective?utm_source=newsletter_daily&utm_medium=email&utm_campaign=14-Dec-2021&cid=DM988138&bid=1796483552
7 https://www.efsa.europa.eu/en/topics/topic/health-claims
8https://www.fda.gov/food/food-labeling-nutrition/authorized-health-claims-meet-significant-scientific-agreement-ssa-standard
9Dar et al. (2014), Food texture design and optimisation – first edition, IFT Press Wiley Blackwell. Chapter 10: Addressing texture challenges in baked goods with fibre