How to make chocolate chip cookies? Process for chocolate chip cookies – short cookies with inclusions of chocolate chips or nuts.
very soft doughs which are deposited directly onto the oven band
long baking times with relatively low baking temperatures
all products are baked on steel bands
high humidity is required in the first oven zones to allow the dough to spread on the oven band
Description: Short cookies with inclusions of chocolate chips or nuts
Product specification:
Dimensions: 55 mm diam.
Thickness: 12.0 mm
Weight: 15.0 g
Appearance: Round, irregular shape with chips visible
Colour: Golden brown
Texture: Short
Flavour: Rich with chocolate or nut flavour
Moisture: 2.5 – 3.0%

Formulation
Flour 100.00
Shortening 55.98
Granulated sugar 50.05
Brown sugar 0.76
Whole egg powder 1.24
Vanillin 0.10
Invert syrup 1.24
Salt 0.96
Ammonium bicarbonate 0.29
Sodium bicarbonate 0.67
Chocolate chips 30.00
Water 19.14
Mixing
The mixing is in two stages on a horizontal or a vertical mixer. Good dispersion of the fat over the flour particles is important and there must be a good proportion of solid fat. The following ingredients are mixed gently at the first stage: shortening, sugars, water, salt, egg powder, vanilla, invert syrup and ammonium bicarbonate.
These ingredients are mixed to dissolve the sugar and achieve a creamy emulsion. The water should be cold and the mix kept as cool as possible. The flour and sodium bicarbonate are added for the second stage.
The mixing is continued at low speed for no more than one minute to obtain a homogenous mixture without hydration of the flour and formation of the gluten. The chocolate chips or nuts are added close to the end of the mix and given enough time to disperse evenly through the dough.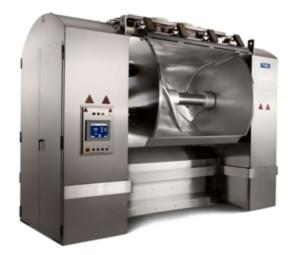 Single Sigma Arm Mixer from Peerless Food Equipment for cookie and biscuit doughs
Forming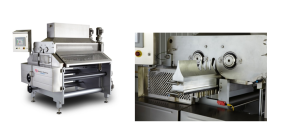 Baker Perkins wire-cut machine
The dough is fed to the hopper of a wire-cut machine. The dough may be fed from a bowl by gravity. The feed rolls of the depositor operate continuously and will extrude the dough through the dies. As the dough is extruded, it is cut by a horizontally reciprocating wire. The cut dough pieces drop directly on to the baking tray or oven baking band.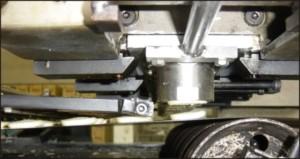 Dough pieces being cut and deposited on to the oven band
Baking
Baking by infrared radiation
Cookies require slow gentle radiant heat to develop optimum texture, volume and flavour. In addition heat is transferred rapidly by conduction from the steel band enabling the cookie to spread to its final size in the first zones of the oven.
The heating system of the Indirect Radiant oven is essentially a closed system and the energy required from the burner is only sufficient to maintain the baking temperature in each zone.
The burners draw in combustion air and this is exhausted through a natural convective flue. This hot air may be used in a heat recovery system ensuring high fuel efficiency.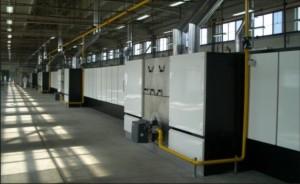 Baking time: 7.0 minutes
Temperatures: 180 – 220oC
Moisture: 2.5 – 3.0%
Cooling
A ratio of cooling to baking time should be 1:1.5
Cookies
I need help to make chocolate chip cookies similar to GRIESSON cookies
Have a question or you would like to learn more? Visit our TechTalks
Be sure to subscribe to our newsletter by registering so that you do not miss any of our articles and insights.