Paprenjaci (roughly translated as Black Pepper cookies) are traditional Croatian biscuits, and their uniqueness comes from the mixture of honey and black pepper.

Biscuit origin and what's it made of?
While the origin story of paprenjaci is unclear, it is known that they have existed in the 16th century, the Renaissance period, and some say it was mentioned as early as the 13th century. The combination of honey and black pepper from which the cookie got its name (in Croatian: papar) might seem odd, but paprenjak proved itself to be a delicious treat.
Paprenjaci are often given as edible souvenirs, even on a Croatian Airline. The main ingredients in paprenjaci are honey or sugar syrup, butter (or fat in some cases), eggs, nuts (walnuts or hazelnuts), pepper and spices including clove, cinnamon, and nutmeg. All these ingredients work together to bring a unique flavour to life, often reminding of winter time.
Throughout the year, or especially during Christmas, paprenjaci have found their way to a lot of Croatian homes as a special treat. Paprenjaci can be decorated with a wooden press, embossing a pattern on the most commonly square-shaped biscuit. In the older days, patterns ranged between pagan and Christian symbols, while today take on other more modern forms such as stars, trees, gingerbread man, etc. These wooden moulds are quite specific to Croatia and you can buy them only there, it's not clear are they're available anywhere else. Of course, when wooden moulds are not available, you can use any cookie cutter. When it comes to its texture, the cookie is soft and chewy with a warm brown colour when baked.
Paprenjak idea
If you're ever in Croatian's capital Zagreb, you can even find a store called Paprenjak. They are market leaders in the category of authentic traditional edible products that draw from Croatian historical heritage. As the originator of the project says, the Paprenjak idea is not only the production of something original and authentic but also the preservation thereof.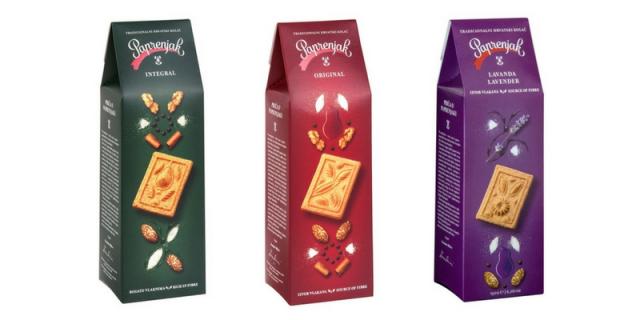 Photo: Paprenjak products
And if you want to venture into making a batch of these delicious cookies yourself, here's an example of a recipe that makes paprenjaci such an amazing snack for any occasion.
Black Pepper Cookies (Paprenjaci)
Servings: 30 cookies
Author: Kitchen Nostalgia
Ingredients
450 g flour 3 1/2 cups
180 g lard or margarine 1 1/2 stick or 1/2 cup + 4 Tbsp.
150 g sugar 3/4 cup
2-3 Tbsp. honey
1 egg whole
3 egg yolks
150 g walnuts ground, 1 1/2 cups
2 tsp gingerbread spice (or your own blend of cinnamon cloves and nutmeg)
1 tsp black pepper
a pinch of salt
Instructions
Combine all ingredients to make a dough. Put in refrigerator for 1 to 2 hours.
Put the dough on a floured board. Roll about 5-7 mm (1/5 - 1/4 inch) thick and lightly dust with flour. Stamp with a wooden mould and cut with a knife. If you don't have a mould, cut cookies with cookie cutters.
Put on greased baking sheet and bake for 10-15 minutes in 200 C (390 F) oven. Serve with tea, cocoa or eggnog.
More: Biscuit Types