Packaging biscuits and cookies in a pack is much more than simply conveying product safely and conveniently to the consumer.
Packaging also allows for the display of information regarding the type, age, price, contents, weight and manufacture of the product which may be a legal requirement. In addition, other more aesthetic attributes that appeal to the customer may be included to tempt sales or allow for easy recognition.
The pack shape will also have a bearing on the manner in which it can be displayed on the shelf in the shop. Round column packs tend to roll off, while packs with fine end seals will typically interlock with the packs adjacent. It is not easy to pile simple bags well for the display, while bags with block bottoms allow for only a single layer of packs to be placed on the shelf.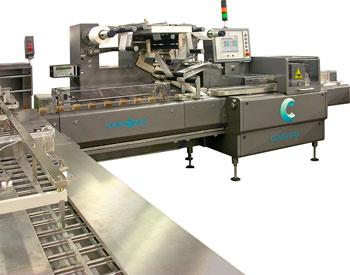 Cavanna Wrapper for biscuits in slugs Zero5NKZ
Collation
The main aim of packaging biscuits and cookies in packs is to collate the correct number or
weight of product for sale
. The biscuits or cookies may be contained single in a pack, in a jumble, single in a column, or side by side in a series of short column or in another arrangement that is less common.
Most manufacturers will package biscuits in firm tight wraps because customers tend to associate these with firm products that are not broken, unlike the floppy film packs. Packaging that uses polypropylene film as a single wrap will not feel as firm as that with multi-ply wraps of paper or cellophane. While both types of packaging may provide equal and adequate protection, thereby making consumer fears unfounded, marketing skills will be essential in eliminating subconscious doubts in consumers.

Labeling
The proportion of biscuits that are purchased on impulse tends to be very high. As such, it is important to ensure that the pack has an attractive color and design, and sufficiently describes the contents. Many markets demand that the "sell by" or "best before" dates are printed onto each pack as a way of reassuring customers that the biscuits or cookies are safe and pleasant for consumption.
Protection from Deterioration
Use a barrier to prevent the biscuits or cookies from picking up moisture from the atmosphere that could lead to their deterioration.
Moisture barriers are available in the form of plastic (polypropylene), plastic-coated papers, as well as a variety of laminates. These barriers are typically heat sealable, and this is normally how the pack will be closed while on the wrapping machine. Properties of the barrier include basic moisture proofing of the materials used, as well as the effectiveness of the seals. Testing the moisture proofness of barriers is an integral part of testing the shelf life of the product.
Change in flavor can typically occur due to chemical reactions that occur in the ingredients, especially the fats. Fat oxidation can cause rancidity, with this being promoted greatly by light, and in particular, ultra violet light. Packaging materials may result in the retardation of the effects of chemical change through the exclusion or reduction of the light intensity and exclusion of oxygen.
Mechanical Protection
Biscuits and cookies tend to be very fragile and will lose a lot of their appeal when they get broken. A tight group of cookies or biscuits offers a lot of self-protection, while also aiding in rigidity. Specially formed trays, base cards or corrugated paper folds help to reduce the chance of breakages in the event that the pack is knocked or it vibrates.
Choose the right packaging materials to hold biscuits and cookies that have sharp edges or rough abrasive surfaces as a result of sugar and other embellishments. It is important to select and handle the materials used to package biscuits and cookies well as these are crucial to the life of the product.

Packaging & Wrapping Machines

Cavanna Wrapper
There is a comprehensive range of biscuit and cookie packaging and wrapping machines available on the market today. These machines are of a superior quality, long lasting and designed to function with utmost precision. The units come in a variety of models to meet diverse packaging and wrapping needs of biscuit and cookie factories.
The visually compelling machines tend to function in a manner superior to the ordinary packaging machines. Some of the features of this machine include perfect fabrication, easy installation, rigid structure, speedy output, and longer service life. The machines are also designed to ensure that they do not leave any air in the pack.
The packaging machine will typically feature a cross conveyor that is attached for purposes of feeding the biscuits and cookies into the in feed chain. The product may be stacked automatically or manually in line on the conveyor, which then feeds the biscuits or cookies into the feeding chain. Fitted with double sealing jaws, the high-speed machine is also able to seal and wrap the product with a seamless finish. This machine is typically user-friendly and fitted with conveyors that are fabricated from food-grade materials as a way of ensuring the preservation of hygienic conditions.
Potential Problems and Solutions
Air Left in the Pack – When the biscuit or cookie packs emerge from the production line with air in the packs, this could be as a result of using low-quality packaging machines. This should be avoided so as to ensure that the product packs are airtight to increase their life.
Broken Product – Broken biscuits and cookies in the packaging may be as a result of choosing the wrong type of packaging for your product. For instance, the more brittle products should be packaged in firm tight wraps as opposed to floppy film packs that may not protect the cookies and biscuits from breakages.
Unattractive Packaging – With increasingly demanding legislation, significant amounts of essential information has to be clearly displayed on packs in a form that is readable. This may sometimes detract from the design aspects of the pack that are considered attractive. It is therefore important to have the product professionally designed such that it is both aesthetically appealing and informative in accordance with legal requirements.
Deteriorating Product – Deterioration of the visual and eating qualities of biscuits occurs in form of moisture pick up, and in few cases, moisture loss. Rancidity and the development of off flavors are other characteristics of deteriorating biscuits and cookies. Deterioration may also occur in the event that insects invade the pack. To solve this, ensure that a barrier is fitted to prevent moisture pick up from the atmosphere by the biscuits or cookies, and to also maintain hygiene.


Related Articles:

How to Find the Optimal Packaging for Your Product
The packaging is one of the largest cost factors. Developing the optimal combination of pack style and material is a challenge.

Total Cost of Ownership on Packaging Machinery
What is the best way to evaluate different suppliers with low or high price differences?

Steps to Determining Packaging
How to make a biscuit packaging? They are a large number of package types, and they are many important things to determine such as materials used to package biscuits.

Biscuit Packaging: Last but not Least
Trends in food packaging. Modern trends impact food and cookies design look. Learn about the packaging of the cookie brand.

Portion Packs – Small but Mighty
Consumers favor smaller convenience packs when snacking on-the-go or saving favorite treats for later

Sustainability and Recyclability of Flexible Materials for Primary Packaging
Plastic packaging yesterday was seen as a friend nowadays is seen as an enemy for its environmental impact.

Importance of a Good Packaging Design
Good packaging design even sets the expectation for the price point of your product. We make assumptions on a product's price point.

The product packed in aluminum foil went rancid
Cookies that have sesame and wheat germ are packed in aluminum foil and went rancid in just 3-4 months. any solutions towards this? should I introduce nitrogen packaging or there some technique to treat these ingredients?

Total Cost of Ownership and Net Present Value
I came across the recent article on Total Cost of Ownership on packaging machinery, very interesting article indeed, however, it did not show clearly how you can evaluate between two suppliers which one has the best option given a more complex real-life situation?

Biscuit Packaging Automations
What kind of automation can be done in the biscuit packaging section right from the oven till the end of the line (packaging)?

Regarding the shelflife
But the biscuits are getting soft after a month of packaging. Though its life is 6-8 months. So is there any chemical I can use to increase its shelf life?

Packaging machines for biscuits
Which machines are the best packaging machines for biscuit packaging keeping in view less workers and machine automatization?

Material combination of Flexible laminated films for biscuit packaging
How can we determine the correct material combination of laminates ( Type of the laminates & thickness of the layers) are being supplied by the suppliers?

Eg : 20 micron BOPP + 25 micron MCPP