The role of the oven in the baking process seems obvious. The formed dough is baked at high temperature and the end result is the biscuit the baker – and the customer – desires.
But, this is only one step in the production of biscuits. It all begins with the flour then the dough mixing and through stages like proofing, cooling and depositing before the baking. A variety of factors come into play during this stage and this is the stage which makes or breaks the end product.
Oven baking methods, for example, can differ. Multi-mode baking, as an example, is defined as using various oven modes to control the baking reactions that determine final finished product attributes through decoupling of conduction, convection, radiant and dielectric heat transfer modes.
For example, microwave, direct-gas-fired and radiant heat mainly impact structure, thickness and texture. Microwave and convection have the greatest impact on moisture and weight.
Finally, colour can be readily adjusted by radiant and direct-gas-fired heat. This approach to baking develops an understanding of the fundamental characteristics and interactions for baking reactions in terms of materials, process and product.
It permits optimised process and oven designs through specific heat transfer data for scale-up from pilot plant to production. These systems came about based on experience and significant research and development investigations and by understanding the fundamentals and characteristic heat transfer properties of the different modes.
Among ideas being looked at is the use of ultrasound in baking. Since late 2011, engineers at the UK's Heriot-Watt University have been researching how ultrasound could be used to improve industrial baking and have received £500,000 in government funding to commercialise the technology.
According to the researchers at Heriot-Watt University, the technique could reduce the processing time and therefore the energy usage of baking, reduce wastage and improve the texture of products in the growing gluten-free market.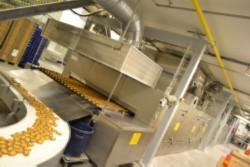 Photo. Spooner Industries
The project will develop and commercialise a patented cutting-edge novel technology that uses ultrasound to improve the quality and nutritional value of bakery products, as well as making their production more energy efficient.
Oven efficiency is the key word in bakery these days but is does not only revolve around effective use of energy. Efficiency, for instance, involves minimal downtime and downtime can be caused by equipment failure and also cleaning.
Give the international rise in emphasis on food safety and hygiene, the downtime for cleaning is important and necessary. But it can be minimized through effective design.
Steve Bailey
, managing director of contract cleaning specialists
Hygiene Group
, says: "Performing an effective clean in line with food hygiene legislation requires cleaning operatives to inspect machinery in minute detail, searching for and removing even the smallest particles of food to prevent contamination, bacteria growth and pests. While production staff are understandably focused on the ingredients and food products, cleaning operatives are concerned only with equipment and surfaces, and so are ideally placed to flag up any potential problems before they reach danger point. And, depending on the approach taken, cleaners may encounter them before maintenance engineers."

Bailey said the sequential approach to cleaning, which is ideally suited to factories which shut down processes consecutively as the product moves through the system, allows lines to be cleaned in stages from start to end.
"This system benefits from following the same pattern each day, allowing cleaners to monitor areas of concern and note any progressive deterioration over time," he said.
Sequential cleaning is not, however, suitable for all facilities, he said and a production plant operating progressive processes will benefit more from a cluster cleaning approach, where each area is cleaned as soon as it falls idle for a short period.
"Not only is this efficient, as food particles have less chance of solidifying onto equipment, it also gives a smaller window of opportunity for bacteria to breed. In maintenance terms, cleaning immediately means potential contamination from component corrosion or lubricant leakage, for example, affects only one batch of product which can be dealt with accordingly, and the problem rectified before the next run of product enters the machinery."
The cluster approach also allows cleaning to be planned around scheduled maintenance, reducing the cost impact by combining maintenance with the type of deep cleaning that requires a machine to be stripped down.
"A final approach, event cleaning, addresses the concern that unnecessarily frequent cleans can sometimes pose a hindrance to maintenance engineers," Bailey said.
"In some facilities, not all areas will be in constant use and therefore will not need the type of regular cleaning made necessary by high volumes of activity on other machinery. The event cleaning approach is based on detailed risk assessments and the judgement of skilled operatives, and aims to cut down on unnecessary cleaning."
Spooner Industries in the UK designs ovens with an energy efficient mode installed. During product change over, the oven temperature and airflow can be automatically lowered, while remaining ready to bake with minimal energy usage.
Integrated energy saving features automatically minimise the combustion air quality and can install easy clean heat recovery systems to capture the flue stack energy and use it to pre-heat fresh air or for bakery hot water heating. The company's ovens also boast adjustable air systems to alter its baking characteristics, providing the ability to adjust heat flux at numerous points throughout the baking process.
Spooner uses various methods of retraction for ease of access, including traditional hinge doors, retracting doors and a complete retracting top half. Specific attention is paid to hygiene throughout the design and also in the manufacturing techniques used in the oven construction.
Spooner design features include ease of cleaning and maintenance, ensuring a hygienic, food safe environment and innovative access designs e giving complete oven access.
German giant, the WP Bakery Group with its GreenEnergy label concept, is taking efficiency seriously.
WP says, quite correctly, that bakeries belong to the most energy intensive business in the artisan field. The operation of the ovens, cooling devices and other electrical equipment, it states, account for 5 per cent and more of total revenue for most industrial bakers.
As ovens have the highest amount of energy consumption WP has developed systems which save and use energy more efficiently.
The Matador oven with its Zyklotherm heating system is a fine example of this as it uses up to 30 per cent less energy than comparable ovens while the energy balance of the WP Pellador ovens is impressive with the C02-neutral burning of naturally finished wood pellets.
"Ovens which are marked with our GreenEnergy label save money for the baker. Energy which has been produced once should not just vanish but be used for further operations," said Ulrich Hirsch, WP's Product Manager Ovens.
Besides GreenEnergy, WP also offers BlueValue is an innovative concept offering bakers a wide range of services for reliable machinery that goes well beyond the usual repair and maintenance agreements.
It offers seven service packages. All aimed at increasing production safety, a better bakery capacity and extended machine life.
Finally, Swedish company Revent see an oven – the heart of any production facility – as an expensive investment which needs to be durable and meet all needs.
Tom Halve, Revent design manager, quite correctly points out: "Smaller bakeries often make different products with higher versatility and bigger, more industrial bakeries sometimes make just one single product.
"We feel that a customer should be able to bake any type of product in a Revent oven. Our ovens' recovery time and their influence on production efficiency have been known for years, but we find that test baking a client's product in our test bakery often gives them more than enough reassurance."
TechTalks Discssion
Changing the type of belt in tunnel ovens
As a former product manager and now a consultant for tunnel oven belts, I would be interested to ask for your experience in changing the principal type of belt used in your tunnel oven and for what reason. Did you change from solid steel belt to mesh belt or (multiple spiral) CB5-belt to Z-belt (rolled baking oven belt)? Or was it vice versa? Or are there intentions and thoughts to do something like this?
Protein oven baked legume snack cracker
I want to make protein oven baked legume flour snack cracker. do u have any experience like that product process or trials? with lentil or bean flour.. minimum 6 months shelf life.
Oven for water cracker
​​​​​​​We are going to buy a new dedicated oven for water cracker, (like Carr's) what are the most suitable configurations of the oven should we looking for? (e.g. heating mode, oven band type, etc.)