These are the most versatile and widely used biscuit oven bands. They are suitable for crackers, hard biscuits and rotary moulded products, in fact all types of biscuits except soft cookies with high fat contents, where the dough will flow into the holes in the mesh. The wire mesh bands allow convective air to pass through, heating the base of the dough pieces.
These wire mesh bands are normally made from carbon steel wire coils which are linked together. The links give a flat surface to the band and good flexibility. Alternative materials are available for special applications, for example stainless steel wire mesh bands may be used where the biscuit making process has very high humidity for products such as cheesecake.
The most popular bands are often referred to as Z47 and Z47R. These designations are from a European supplier, Produits Trefiles de la Bridoire (Agrati Group). Similar types of high quality wire mesh band are F4102 from Steinhaus Gmbh and U66-48-1718 from Ashworth Inc.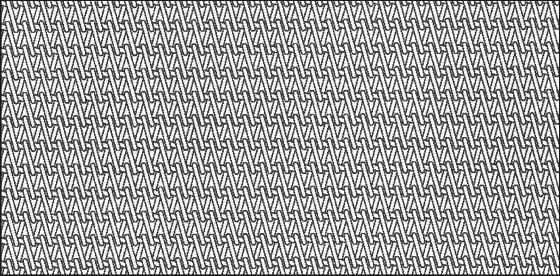 Ashworth U66-48-1718 PGLW – precision ground light weight – Band thickness 5.7 mm Weight 8.20 kg/m2

Agrati Group La Bridoire S.A.R.L.
Metal belts for baker furnaces «Z belt»
Agrati's metal « Z » belts are designed to meet the specific requirements of biscuit makers using feed through
ovens
. They are long lasting and maintenance is quick and simple. Belts are made of carbon steel or stainless steel – on special request – and can be made with a width of more than 1.5 meter and lengths up to 300 meters.
Features and benefits
4 types of belts to meet specific needs of the baking industry
Lightweight, reduced size and thickness
Low heat inertia, good air circulation
High quality, high strength. Edges are looped for greater flexibility and a better contact with drums – even of small diameters. Edge finish prevents the belt from being damaged by side guides and blades.
Innovative manufacturing method that provides a perfect alignment of wires for larger open space into the meshes for the same strength. This is key for providing a quick and even baking and helps to keep the belt cleaned.
Range of metal belts
Z47 is the best in class product used in large installations with high output (speeds up to 30 m/min). Open space in the mesh allows good air circulation during baking process.
Z47R is a Z47 belt featuring an improved shear resistance for a longer life cycle and intensive use. It requires a higher heat during baking process.
Z28 has a reduced wire thickness that requires less heat during baking process for improved savings. High temperature is not recommended. Designed for length of 100 m.
On special demand: Z28R for heavy duty applications. Thanks to the small hole into the mesh, the Z28R belt allows soft dough baking.
www.agrati.com
Ashworth
Guaranteed tracking
Every CB5 Baking Band is pre-tracked and electronically charted at the factory to ensure that you receive a straight running, precision woven wire mesh belt with less than 1/4″ of total waver at the edges.
Consistent heat transfer
The flattened wire surface of the CB5 Baking Band's tightly woven wire mesh offers excellent gas relief with good product support for all but the most fluid dough. The belt density of the CB5 Baking Band maintains even heating for uniform heat transfer to your product across the width of the conveyor belt.
Longer belt life
Ashworth's CB5 Baking Band is precision woven with the tightest industry tolerances designed to minimize belt stretch, preventing edge sag and ensuring longer conveyor belt life.
Control systems
Model I and Model II Control Systems are a key element of your baking band installation. Simple in concept, Ashworth Controls have outperformed the dynamic/shifting roll types of controls in the areas most important to the baker-getting product on and off the oven belt in true alignment!
Ashworth installation services prevents belt failure
Damage to baking bands during installation is the most common cause of premature failure. When paired with appropriate control systems, Ashworth Factory Service guarantees your baking band will be installed properly, without damage and with less than 1/4″ (6.35 mm) total waver at the charge and delivery terminals of the oven.
Ashworth's guarantee
Before leaving our plant, every Ashworth CB5 Baking Band® is factory tested for true travel in sections up to 200 feet long. When purchasing an Ashworth baking band and control system, along with installation supervision, Ashworth guarantees that the CB5 band will operate with less than 0.25″ total waver at the charge and delivery terminals of the oven. Other woven wire mesh belts are guaranteed to operate with less than 0.375″ total waver at termination points. Ashworth is your guarantee for exceptional baking band and woven wire mesh belt performance!

ASHWORTH BALANCED WEAVE BELTS
Friction driven for food processing or industrial applications
Balanced weave conveyor belts are the most versatile and widely used metal conveyor belts, thanks to their characteristics of true travel, good flexibility, excellent strength-to-weight ratio, flat surface and minimal maintenance. These belts are typically friction driven and are popular for conveying a variety of products, particularly those that are small or need a lot of support. Food processing balanced weave belts are typically used in product transfer and in baking applications. Balanced weave conveyor belting can also be used in industrial product processing, transfer and packaging applications.
Precision woven wire mesh
Ashworth produces an almost limitless variety of precision-manufactured balanced weave conveyor belts. These belts are typically constructed with alternating right and left hand spirals joined by a crimped connector. Balanced weave wire mesh belts are also available utilizing double balanced construction, which is an assembly of pairs of right and left hand spirals properly spaced by crimped connectors. Stainless steel or a variety of other metals may be specified. Ashworth Balanced Weave Belts Conveyor Belts provide true travel, uniform conveying surface, and resistance to distortion.
www.ashworth.com

Steinhaus Gmbh
Rolled baking oven belts, also known in the market as net bands or "Z"-belts, made by Steinhaus meet extremely high requirements with regard to steel quality, spiral structure and tolerances. So the following operational characteristics are given:
easy and quick installation
long operational life time with an indication of min. 4 years under normal operational conditions
low risk for repairs
minor maintenance efforts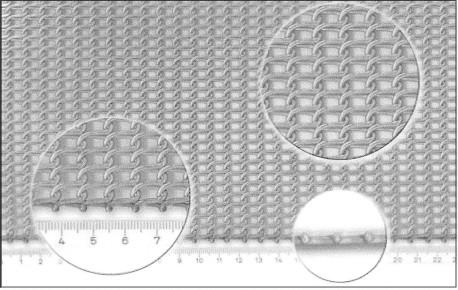 1. Even mesh structure
2. Accurate width
3. Welded edges