The Italian Canestrelli cookies are delightful butter and egg yolk biscuits with a long history and tradition. They trace their origin back to the Middle Ages and have been served for generations in Italy. If you are looking for simple but tasty traditional biscuits, then look no further, we have the perfect snack for you right here.
Canestrelli biscuits: What makes them so good
Hello and welcome back to another Biscuit People article! In today's article I will be taking a look at another Italian biscuit type – the Canestrelli delicious Italian cookies! These authentic egg yolk type of biscuits are a staple of Italian cuisine and are sold and enjoyed all-year long. The Canestrelli type of biscuits are most popular during Christmas time, however, they are perfect snacks for almost any occasion, from family gatherings to afternoon coffee sessions.
We here at Biscuit People love revisiting Italy time and time again. Why? Because Italy has so many types of biscuits to offer that it is almost unbelievable! Over the last ten months or so, we have written a large number of articles on some of the most famous Italian biscuit types.
Some of these types of biscuits are e.g., the Anisette biscuits, the Sicilian Pasticcini di Mandorle or the Pizzelle Traditional Biscuits. All are great examples of the traditional Italian cuisine. Although these types of biscuits are somewhat plain, as is often the truth, less equals more! Sometimes, some recipes can go overboard with the number or amount of certain ingredients. While this may be to some peoples' liking, more often than not, it just creates a saturated taste which you cannot fully appreciate. And these types of biscuits can often be full of fats and hard on the stomach.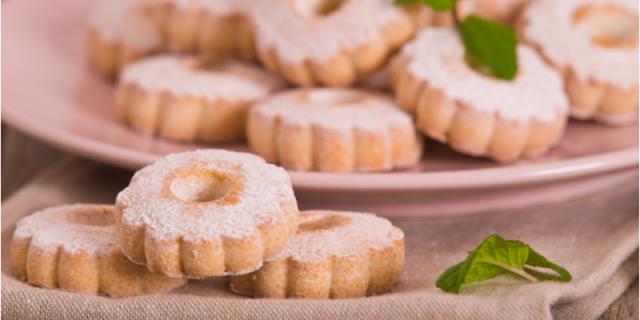 Photo By Miti74/Shutterstock.com
This is not the case with these biscuits. Minimalism, both as an aesthetic and as a way of living, is quite trendy these days, so it is no surprise that biscuit types such as the Anisette, the Pasticcini di Mandorle or Canestrelli are so popular and in such high demand. They are a great source of income for the local bakers in Italy, although there are many who like to bake these types of biscuits themselves. If you are one of those people, then you are in luck! I will provide a sample recipe at the end of the article, so you can try your hand at baking these goodies.
There are many things Italy is known for. Italy has always been one of the largest centres of culture and civilization throughout European history. It was the birthplace of one the largest and most advanced civilizations in the Ancient Times, the Roman Republic and later-on the Roman Empire, which stretched from the shores of Britain to the borders of the Persian Empire in the Middle-East.
The legacy of the Roman Empire is felt even today, as we have adopted their letter system, calendar, laws, architecture and art style. The fall of the West Roman Empire was a monumental event, which is considered to be the turning point that marks the beginning of the Middle Ages. Besides that, Italy, in the Medieval times, was the birthplace of renaissance, a magnificent cultural movement that reignited mankind's interest in science and progress and left us with wonderful works of art and architecture, such as the Sistine Chapel, Mona Lisa by Leonardo DaVinci or Dante's Divine Comedy.
As we can see, the cultural achievements of Italy are advanced, and so is its cuisine and, most importantly for us, its biscuits industry! As we have mentioned, we love revisiting Italy since the country has so many different varieties of biscuits to offer. But Italy is not just famous for its types of biscuits, but for its biscuit brands as well!
The Misura line of biscuits is one such brand. Famous for its portfolio of varied and healthy biscuits, Misura is not only popular in Italy, but in other European countries as well. If you would like to know more about these other types of biscuits, we encourage you to give our Complete Collection of Biscuit Types article a read. Be sure to subscribe to our newsletter as well, so as to always be informed when we release new articles.
Canestrelli biscuits from Italy: A brief history
So, what type of biscuits are the Canestrelli? Canestrelli are butter biscuits, and they trace their origin back to the Middle-Ages. There are many traditions that have withstood the test of time, and contrary to popular belief, not much has changed since the Middle-Ages. For example, just like today, people would bring wedding presents when a new couple was to be wed. What has changed though, is the complexity of the gift. Today, people will often buy expensive gadgets for the wedding couple, while in the Middle-Ages, people would bring biscuits! In our opinion, that tradition should be brought back.
These types of biscuits were not only baked and served at weddings, however. If anything, the people of the Middle-Ages were very religious (or at least, they tried to appear so). Now of course, deviance from the laws laid out in the New Testament were tolerated. If they were not, we would not have the Crusades, or the many wars fought on the British Isles and the continent of Europe. Besides, there was also many taverns with copious amounts of gluttony, and many of these served as brothels. Suffice to say, the people of the Middle-Ages were not some uptight, God-fearing people that obeyed the holy scripture to the letter.
However, religion still played a vital role in most people's lives. Just like today, it offered salvation, meaning and a sense of identity. But before the many kingdoms of Europe came to adopt Christianity, many of them believed in and worshipped pagan deities. They held festivities and rituals in honour of their gods, which were manifestations of natural phenomena. Many of these festivities were adopted by the Christian Church but modified so as to be in line with the teachings of the Church.
This was done so that the pagan cultures would be more willing to convert to their new religion. And as history has proven, this was quite successful, and many embraced the message of love spread by the young Galilean Jew, Jesus of Nazareth. Two of the largest and most important such holidays are Christmas and Easter, which today are celebrated in honour of Christ's birth and resurrection, respectively. However, these holidays had different, although similar meaning and symbolism in the ancient times.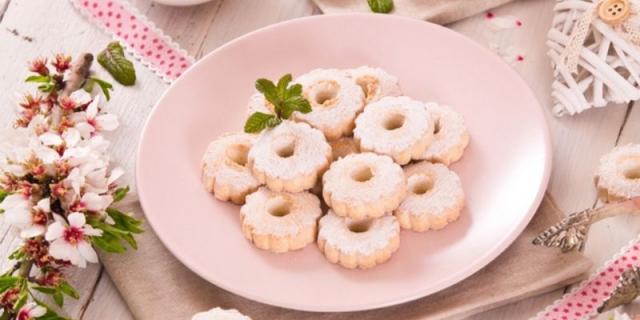 Photo By Miti74/Shutterstock.com
The other pagan holidays were replaced with name-days of Christian saints, and there are many of these as you might be aware. Large festivities were organised on the most popular name-days, and this is a tradition that has survived into the twenty-first century. These festivities differ from the ones we have today. Chivalrous jousts and tournaments were organised, traveling circuses joined the fray and troubadours from every corner of Europe would offer their vocal services.
As you can imagine, these festivals contained large amounts of meat and bear. Even the word carnival is derived from the word carne, which is the Spanish word for meat. In contrast to the heavy meat that would be served, the simple Canestrelli biscuits were an amazing addition to any festivity, and just like in the Middle-Ages, people still enjoy them today!
Canestrelli biscuits from Italy: etymology and different variations
There are many different versions of the Canestrelli types of biscuits, one for each of the many regions of Italy. The most common type, however, is the white, flower-shaped biscuit with a hole in the middle. But as you will soon see, these biscuits can be prepared in a multitude of ways.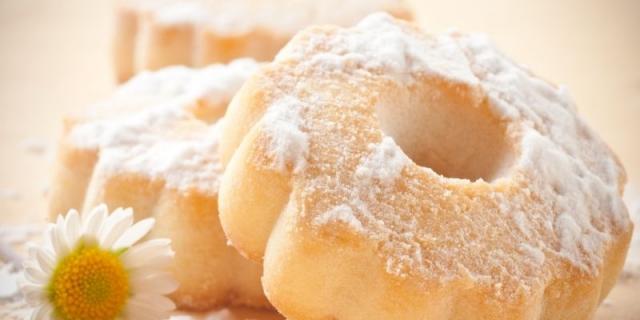 The biscuits' name might be derived from the Italian word canestro. There is no concrete proof for this theory, however, we find it very likely to be true. The term canestro refers to a type of straw basket, the very same straw baskets in which the biscuits were left to cool down after baking. And considering how similar the name of the biscuits and the term are, it could be possible that that is how the biscuits got their name.
The most common type, the one we have described earlier, is made in Liguria. There are several others including the hard, waffle-shaped Canestrelli found in Piedmont, or the one from Biella, made with two thin chocolate wafers with hazelnut cream in-between.
Other types of Canestrelli biscuits include: the Canestrelli di Castagne, Canestrelli Novesi, Canestrelli di Brugnato and the Canestrelli di Taggia.
Why do we think You should give Canestrelli biscuits a try
The Canestrelli biscuits are, as I have said, very simple biscuits. They are light and easy on digestion and are perfect as dessert dishes after heavy meals, especially during holidays etc.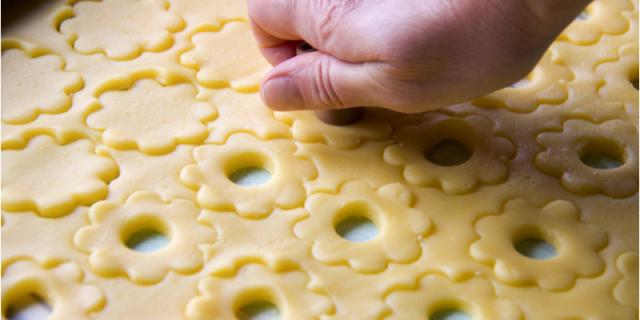 Photo By Raffaella Galvani/Shutterstock.com
The basic ingredients for the Canestrelli type of biscuits are: butter, powdered sugar and hard-boiled egg yolks. Sounds simple enough, doesn't it? I will go into more detail on the ingredients list down in the sample recipe.
As for serving tips, we recommend serving these biscuits with a warm cup of your favourite tea or coffee. You can never go wrong with those beverages!
Canestrelli recipe: How to make the canestrelli biscuits
And now we come to the sample recipe section, courtesy of An Italian in my Kitchen. It is a simple enough recipe for anyone to follow, so do not be afraid to try your hand at baking a batch of these biscuits. If you are still not sure however, then maybe leave the baking to a professional in your family or amongst your friends. Another possible alternative is to check your local bakery to see if they bake these biscuits. Even if they don't, I'm sure they would be happy to use this recipe, for a suitable price.
Ingredients list:
One cup of all purpose flour (around a hundred and thirty grams)
Half a cup plus one and a half tablespoons of powdered sugar (around seventy five grams)
A pinch of salt
Three quarters cup plus two tablespoons of corn starch (around a hundred grams)
Two thirds of cup cold salted butter cut into pieces (around a hundred and fifty grams)
Half a teaspoon of vanilla
Three hard-boiled eggs (just the yolks)
Half of lemon zest
Instructions:
The first step is easy. All you need to do is to boil some eggs, separate the yolk from the egg whites and mash the yolk. In case you do not know how to boil eggs for some reason, here are the instructions. Take a cooking pot and place the three eggs inside. Fill the pot with cold water and put it on a stove. Heat the cooking pot up until the water starts the boil, then leave it on the fire for eight to ten more minutes. After that, take the pot off the fire, release the water into the drain and cool the eggs with cold water. After that, remove the shells from the eggs, separate the whites from the yolk, and mash the yolk with a fork.
We recommend using a food processor for the next step. Place the flour, sugar, salt, corn, starch and zest into food processor and whisk the ingredients together. After you have whisked these ingredients together, add the cold salted butter and vanilla, mix it a little and then add in the mashed egg yolks and then mix the ingredient further until almost combined. Move to the mixture to a lightly floured flat surface and knead it gently. Wrap the knead in a plastic wrap (or parchment paper) and let it cool for an hour or two in fridge.
Preheat the oven to a hundred and seventy degrees Celsius. Line two biscuit sheets with parchment paper.
Take the dough and cut it in half. On a lightly-floured surface, roll the one half od dough to a thickness of one centimetre, take your favourite flower biscuit cutter and cut up the dough. Using a straw, poke holes in the middle. Place the "flowers" on biscuit sheets and bake them for twelve to fourteen minutes. They should not turn a brown colour. After the biscuits are done, let them cool and cover them with powdered sugar.
And that would be it for the recipe! We hope you enjoyed today's article and learned something new about the history of Italy, the Middle-Ages and the Canestrelli biscuits themselves! Be sure to try and bake your own batch of biscuits. Also, be sure to visit the Magazine for some more great recipes.
Be sure to subscribe to our newsletter by registering so that you do not miss any of our articles and insights.
---
Leading image by Miti74/Shutterstock.com
Source: An Italian in my Kitchen
Source: Taste Atlas