There are many flavours and ingredients that complement each other when baking biscuits, and one of those winning combinations is mint and chocolate, brought to fame with popular After Eight confectionery. Even though the main representatives of this mix are not biscuits but the chocolate, the flavour has found its way to the baked goods.

Ingredients side by side
As with sweet and savoury, this is a mix you would think wouldn't work. These treats are perfect to serve after dinner alongside a nice cup of coffee. So, what is it about mint and chocolate that make the combo so irresistible? Let's start with the chocolate part, coming from the cocoa as an ingredient the higher percentage the better (e.g. 70% cocoa). Cocoa solids are what make chocolate, chocolate. If chocolate is sold as 70% cocoa, it means it contains 70% combined cocoa mass and cocoa butter, and the remaining 30% is mostly sugar, as well as maybe some flavourings like vanilla, a pinch of salt and an emulsifier called soy lecithin.
Mint and chocolate cookies are rich in flavour, deep and dark with a soft centre and crumbly texture. Now we come to the mint part. In the baking, the most used form of mint is peppermint extract. An extract is a mixture of an essential oil and a medium, usually alcohol, that helps carry the flavour. This extract is quite powerful, so you should be careful with the doses in your baking. Peppermint extract can be substituted in recipes with peppermint oil (a stronger ingredient primarily used in candy-making) but it's also the more expensive ingredient. Important to mention, this is where you can use fresh mint! The leaves have a warm, fresh, aromatic, sweet flavour with a cool aftertaste.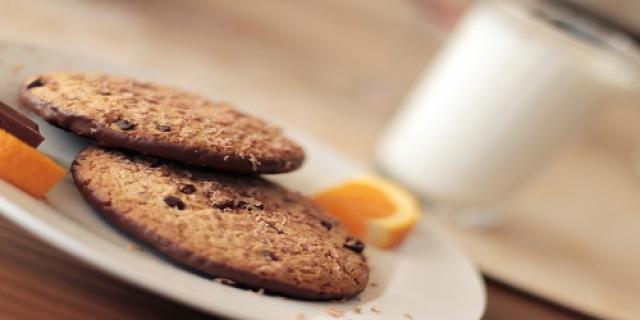 Biscuits after dinner...
Even though for some mint and chocolate cookies are synonymous with Christmas Cookies, it is popular all year round. And one of the original purposes is eating after dinner, but why? It was thought that mint will help with digestion and bad breath, and the chocolate makes a dessert out of it – and goes especially good with coffee (but we're partial to a glass of milk because every cookie tastes better with a glass of milk!).
Check out this recipe for the full baking process info with fresh mint:
Ingredients
1/2 cup (1 stick) unsalted butter
1/2 cup firmly packed fresh mint, roughly chopped
1/2 cup firmly packed dark brown sugar
1/2 cup granulated sugar
1 egg, at room temperature
1 teaspoon vanilla extract
1 1/2 cups all-purpose flour
1 teaspoon baking soda
1/2 teaspoon fine sea salt
heaping 1/2 cup semisweet chocolate chips
Instructions
Place the butter and mint in a small saucepan over medium heat. Melt the butter, swirling occasionally. After about 2-3 minutes, when you can smell the mint, turn the heat off and let the butter continue to steep for 30 minutes.
Strain the butter, pressing the leaves to extract all the butter from the leaves.
Meanwhile, line two baking sheets with parchment paper, and set aside.
In the bowl of a stand mixer, add the butter and sugars. Beat until light and creamy, 3-5 minutes.
Next, add the egg and vanilla and beat for an additional minute.
In a separate bowl, whisk together the flour, baking soda and salt.
Slowly add the dry ingredients to the mixer while running, stopping to scrape the bowl as necessary.
Finally, add the chocolate chips and mix just until combined.
Remove the cookie dough from the bowl, wrap in plastic wrap, and press flat into a disk. Chill for 1 hour.
Preheat the oven to 350.
Divide the dough into 12 equal portions, rolling into 12 balls. Space 6 balls on each cookie sheet (the cookies will spread considerably).
Bake for 11-12 minutes, rotating the pans half-way through.
Let cool on the baking sheet for 2 minutes, and then move to a cooling rack to cool completely.
Visit our Biscuit People Magazine and find more delicious biscuit and cookies ricepies and combination.
---
Leading image: homydesign/shutterstock.com