The future in Food Safety through Metal Detectable conveyor & power transmission belts within the Biscuit industry
Background
Plastic Metal Detectable materials become familiar to the Food industry around the years 2010. Initially just with "easy tools" like writing pens etcetera.
Even the typical dark blue color of detectable plastic, become a recognizable "brand" for metal detectable staff.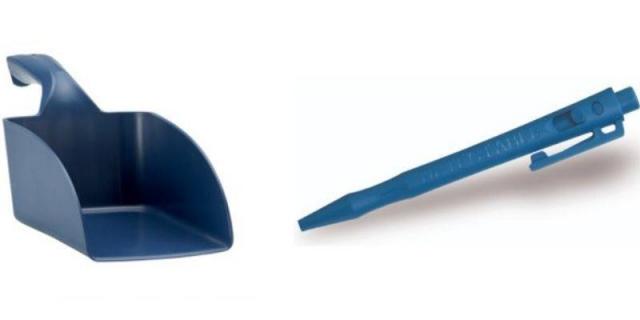 Source: Ammeraal Beltech
There are many plastic detectable parts, tools available worldwide for the Food industry, even the majority is not Food Grade.
At present there not sufficient availability of Metal Detectable conveyor and power transmission belts on the market useful to improve Food Safety as well the detection level its unknown.
Every segment of the Food industry from meat to confectionary it's affected from the risk of foreign bodies with heavy consequences on disruptive claims for the brand reputation including very expensive product recalls. That's why the dream to filter all foreign bodies it's very powerful while the reality explain that the target to filter 100% it's a mission impossible. Anyhow there is a real value on metal detectable belts as they are a big source of pollution and particularly on light weight synthetic fabric processing conveyor belts.
In biscuits mentioned fabric synthetic belts are almost everywhere in every processing lines from dough mixer to packaging.
Foreign bodies risk analysis
Consumers knows that are eating and drinking plastic contaminants every day. Info we got from the main players in the Food industry quantify and qualify claims from Foreign Bodies as following matrix:
| | | |
| --- | --- | --- |
| 1 | Insect | 33% |
| 2 | Hairs | 24% |
| 3 | Rigid plastic | 10% |
| 4 | Flexible materials: film, bags | 7% |
| 5 | Wood | 6% |
| 6 | Stone, rock | 4% |
| 7 | Metal | 4% |
| 8 | Leave, skin, husk, stem | 3% |
| 9 | String | 3% |
| 10 | Nutshell, fruit stone, seed | 2% |
| 11 | Boones | 2% |
| 12 | Glue | 1% |
Source: Ammeraal Beltech
The analysis show that the foreign bodies from metal are always present but in a percentage 4 times below the plastics. Consequently the Food Industry should be focus mainly on plastic detection, not metal that it's much easier to filter. Hunting plastic foreign bodies it's the real challenge in risk assessment from standard HACCP/ISO 22000. The red items 3 & 4, described above are percentages that could be related also to belts.
In between the different belting product families the light weight fabric synthetic belts are the majority in volumes for the processing food lines. From a risk analysis the synthetic belts are together the endless woven belts on top of the list of risks evaluation as more frequently lead to foreign bodies for the miss-tracking problems in a mix of factors related to product design and materials.
Source: Ammeraal Beltech
Considering the quantity of synthetic conveyor belts into the biscuits processing lines with and without accessories there is a ratio of 80-20%, while on the risks to originate foreign bodies the ratio on the opposite it's 20-80% consequently the overall risk it's similar.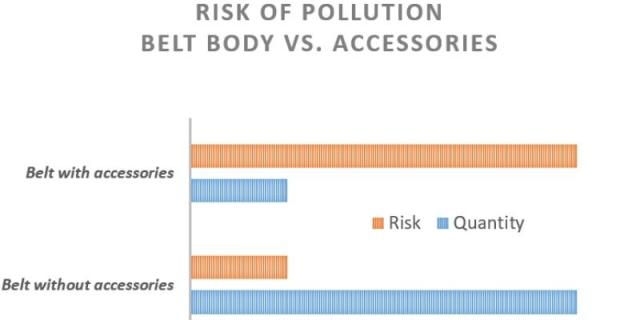 Source: Ammeraal Beltech
Focus on Synthetic belts there is to consider the risks of foreign bodies from belt body and accessories as have a quite different big gap. A risk analysis on the belt body and on belt with accessories with full breakdown of all components it's made. Into the following graphs it's possible to recognize with percentages the weight of pollution through foreign bodies coming from the belt himself and from the belt with accessories. The highest risks are about the edge of the belt and all the accessories.
Risk of pollution
Source: Ammeraal Beltech
To evaluate properly the analysis it's necessary to know that the foreign bodies generated from the belt body are in pieces containing a mix of materials and layers as picture below: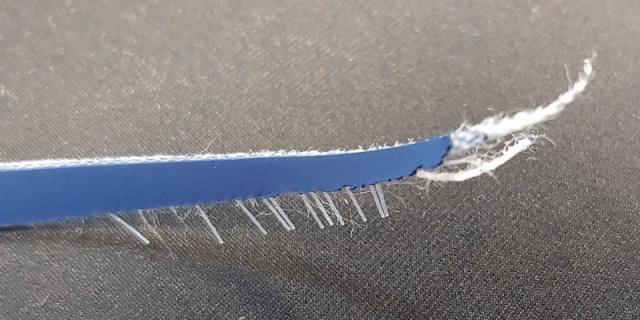 Source: Ammeraal Beltech
Foreign bodies prevention is better than cure
As always conveyors and belts need cleaning and maintenance as prevention is better than cure; preventing miss-tracking extends belt life and increases food safety.
In addition to the possibility to filter foreign bodies coming from the belt body and/or accessories there is another important benefit as if there are too many fragments this is a signal that maintenance it's required.
Test-cards for conveyor belts
Latest generation of biscuit conveyor belts are available with test cards. You could check functionality and even identify the minimum detectable size of belts & accessories fragments that potentially could become a foreign body.