A Marie Biscuits type of a sweet biscuit that is quite similar to English Rich tea biscuit and one of the favorites in The Complete Collections of Biscuit Types

Marie Biscuits are very popular in several countries like, Venezuela, Spain, Mauritius, Denmark, Brazil, Norway, the Philippines, Portugal, Mexico, Costa Rica, Australia, India, Egypt, Sri Lanka, Ukraine, South Africa, Pakistan, Finland and Sweden.Basically, a Marie Biscuits are round in shape and its name is embossed in the center of the top surface with embossed and intricate designs on the edges. Marie Biscuits were originally called Maria, and the name Marie is very popular in Asia.
Etymology

The name Marie is a variation of the biscuit's original name Maria, derived from Russia's Grand Duchess Maria, who married the Duke of Edinburg. The wedding was the inspiration behind the biscuit's birth when an English bakery made a sweet small round cookie stamped with the Duchess name, Maria.
Country of Origin and Usage
The very first Marie Biscuit was created in London, England in 1874 by the Peek Freans bakery to commemorate the wedding of Maria Alexandrovna, Russia's Grand Duchess to the Duke of Edinburg; it was originally called Maria.
The biscuit became very popular all throughout Europe, specifically in Spain where it became the country's symbol of economic recovery after the Civil War. Marie biscuits have been produced in mass quantities in Spanish bakeries during that time due to wheat surplus.
Marie biscuits are dunkable cookies and they are best served with tea. Another way to enjoy these biscuits is by making a sandwich out of two biscuits with either marmite or butter spread in between. Some people also love eating Marie biscuits covered with golden syrup. Marie biscuits are also given to infants and toddlers as first solid food.
The Biggest Producers and Brands World Wide
When it comes to Marie biscuits, there are several brands to choose from and one of the most popular is the Britannia Marie from India. In Spain, one of the biggest brands of the Marie Biscuit is the Maria Cookies. These are large biscuits in golden brown coloring and faint imprint. They are not very sweet, but quite flaky and crisp. Another Spanish brand is the Rio Maria and these are biscuits that are thin, very crisp and very sweet.
In Mexico, the Pagasa Marias Cookies make crunchy Marie biscuits, while according to the Maria Gamesa; they produce the Original Marie biscuits. In the UK the biggest producer of Marie Biscuits is Crawford's, the company that produces airy and light biscuits with vanilla flavor. These biscuits are great to be paired with tea. Crawford's is proud to say that their Marie Biscuits have no artificial flavours and colourings.
In the United States, Marias brand under Goya Foods is a popular Marie Biscuits brand, while the Maria Brand is well-known in Canada under President's Choice biscuit manufacturer. In the Philippines, Fibisco, the country's top biscuit manufacturer, has popularized this biscuit variety as a great starting food for toddlers. There are three Fibisco made brands of this biscuit; Marie, Marie Time and Marie Munch.
In India, Treff Marie Biscuits by Disha Foods is one of the most popular brands. Other popular brands of Marie Biscuits in India include: Mariebon (Bonn Food Industries); Vita Marie (Britannia Industries); and Marie Light (ITC Limited).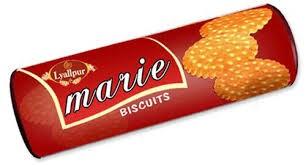 Other globally known producers of Marie Biscuit are: Regal Maria Biscuits (Indonesia); Marriebiscuits (Pally, Holland); Jacobs' Marietta (Ireland); Arcor's Mana Biscuits (Argentina); Arnott's Marie (Australia); Riviana Pozuelo's Maria (Costa Rica); KelsenBisca Mariekiks (Denmark); Nestle Ecuador Maria (Ecuador); Kantolan Kulta Marie (Finland); Patisserie Gunz' Maria (Germany); The Garden Company Limited's Marie Biscuits (Hong Kong); CV Jaya Abadi's Marie Regal Biscuits (Indonesia); Morinaga and Company's Marie (Japan); Muhab Food Co. Marie Biscuits (Libya); Hup Seng Perusahaan Makanan's Marie Biscuits and Coffee Marie Biscuits (Malaysia); NorgesGruppen's First Price (Norway); Sætre AS' Marie (Norway); Verdake's Maria (the Netherlands); Productos Alimenticios Pascual's Maria (Panama); English Biscuit Manufacturers' Peek Freans (Pakistan); Cuetara Triunfo's Bolacha Maria (Portugal); Khing Guan Biscuit Factory's Marie Biscuits and Small Marie Biscuits (Singapore); Bakers' Maries Biscuits and Cappuccino Marie Biscuits (South Africa); Grupo Siro's Maria, Maria Dorada and Maria Clasica (Spain); Cuetara's Maria Oro (Spain); LU-Fontaneda's La Buena Maria (Spain); Maliban Biscuit Manufactories Limited's Gold Marie (Sri Lanka); Goteborgs Kex' Guld Marie (Sweden); Katalina Foods (Syria); Simsek Biscuits and Foods' Gorona ( Turkey); ANI Biscuit and Foods' Marie (Turkey); Kharkiv Biscuit Factory's Марія (Ukraine); Kraft Foods' Maria de Famosa (Uruguay); El Trigal's Maria Rika (Uruguay); C.A. Sucesora de Jose Puig and CIA's Maria Puig (Venezuela); Kinh Do Corporation's Cosy Marie (Vietnam); Lebena's Marie and Lobels' Marie (Zimbabwe);
Interesting Fact about Marie Biscuits
Marie Biscuits are undoubtedly the most popular biscuits in the world. The mere fact that there are biscuit manufacturers from all over the world that produces them is enough to prove that these biscuits have indeed captured the hearts of people from all nations.
Marie biscuits are also enjoyed as sandwich biscuits to be filled with jam, margarine or butter. Others – especially the sweet tooth – spread condensed milk between the cookies while other cover the biscuits in golden syrup or crumble them with jelly and custard for sweet irresistible dessert.
Marie biscuit is considered as a healthy biscuit and it is recommended by dieticians for calorie-conscious people. Due to the sugar and wheat flour content of marie biscuits, diabetics are advised to take them in moderation. People of all ages have enjoyed the delicious taste of the Marie Biscuit, which can be considered as the most popular biscuits or cookies in the world.
See The Complete Collection of Biscuit Types and Marie biscuit process guide