Are they suitable for babies or even dogs? How to make Marie Biscuits at home? Read and learn. If you like classic, traditional and crisp biscuits Marie biscuits is your best choice, but if you are looking for something more unusual – you will pick your favourite treat from the complete collection of biscuit types.
When we lack sugar and do not want to overdo it, or even bring in too much or chocolate, classic biscuits are the best. Simple, small and yet sufficient to satisfy our desire for sweets. These are exactly the English Rich tea biscuits we know in many versions, but they taste similarly.
Speaking of English biscuits, a well-known fact is that the English have their tradition of tea at 5 pm, with biscuits going perfectly. A special taste gives biscuits just one-second dip in coffee.
Some biscuits similar to Rich tea biscuits are exactly Marie biscuits that also go great with coffee or tea.
What do Marie's biscuits look like?
In case you haven't seen them before – here is the description of what do they look like.
The biscuit is round and usually has the name embossed on its top surface, whose edges are embossed with an intricate design as well. It is made from wheat flour, sugar, palm oil or sunflower seed oil and is usually vanilla-flavored in comparison to the rich tea biscuit

Marie Biscuits are very popular in several countries like Venezuela, Spain, Mauritius, Denmark, Brazil, Norway, the Philippines, Portugal, Mexico, Costa Rica, Australia, India, Egypt, Sri Lanka, Ukraine, South Africa, Pakistan, Finland, and Sweden. Marie Biscuits are round in shape and its name is embossed in the center of the top surface with embossed and intricate designs on the edges. Marie Biscuits were originally called Maria, and the name Marie is very popular in Asia.
Etymology
The name Marie is a variation of the biscuit's original name Maria, derived from Russia's Grand Duchess Maria, who married the Duke of Edinburg. The wedding was the inspiration behind the biscuit's birth when an English bakery made a sweet small round cookie stamped with the Duchess name, Maria.
Moreover, these biscuits are sometimes known as María, Mariebon, and Marietta, amongst other names.
History
The Marie biscuit was produced in 1874 by the London bakery Peek Freans in commemoration of Russia's Grand Duchess Maria Alexandrovna's marriage to the Duke of Edinburgh. It became popular in Europe, particularly in Spain where the biscuit became a sign of the country's economic recovery after bakeries produced large quantities to absorb a surplus of wheat following the Civil War.
Country of Origin and Usage
The very first Marie Biscuit was created in London, England in 1874 by the Peek Freans bakery to commemorate the wedding of Maria Alexandrovna, Russia's Grand Duchess to the Duke of Edinburg; it was originally called Maria.The biscuit became very popular throughout Europe, specifically in Spain where it became the country's symbol of economic recovery after the Civil War. Marie biscuits have been produced in mass quantities in Spanish bakeries during that time due to wheat surplus.
Marie biscuits are dunkable cookies and they are best served with tea. Another way to enjoy these biscuits is by making a sandwich out of two biscuits with either marmite or butter spread in between. Some people also love eating Marie biscuits covered with golden syrup. Marie biscuits are also given to infants and toddlers as first solid food.
The Biggest Producers and Brands World Wide
When it comes to Marie biscuits, there are several brands to choose from and one of the most popular is the Britannia Marie from India. In Spain, one of the biggest brands of the Marie Biscuit is Maria Cookies. These are large biscuits in golden brown coloring and faint imprint. They are not very sweet, but quite flaky and crisp. Another Spanish brand is the Rio Maria and these are biscuits that are thin, very crisp and very sweet. Moreover, in Spain, natillas custard is typically served with a Maria biscuit on top.
In Mexico, the Pagasa Marias Cookies make crunchy Marie biscuits, while according to Maria Gamesa; they produce the Original Marie biscuits. In the UK the biggest producer of Marie Biscuits is Crawford's, the company that produces airy and light biscuits with vanilla flavor. These biscuits are great to be paired with tea. Crawford's is proud to say that their Marie Biscuits have no artificial flavors and colorings.
In the United States, Marias brand under Goya Foods is a popular Marie Biscuits brand, while the Maria Brand is well-known in Canada under the President's Choice biscuit manufacturer. In the Philippines, Fibisco, the country's top biscuit manufacturer, has popularized this biscuit variety as a great starting food for toddlers. There are three Fibisco made brands of this biscuit; Marie, Marie Time and Marie Munch.
In India, Treff Marie Biscuits by Disha Foods is one of the most popular brands. Other popular brands of Marie Biscuits in India include Mariebon (Bonn Food Industries); Vita Marie (Britannia Industries); and Marie Light (ITC Limited).
Marie biscuits in Uruguay are served filled with dulce de leche and sprinkled with shredded coconut.
They are soaked in milk in Brazil and then piled in chocolate and vanilla-flavored custard cream layers, with whipped cream on top and crushed cashew nuts to make pavé, a popular Brazilian dessert. The biscuits in Ireland are known as Marietta, and are manufactured by Jacob's. In Malaysia, people mainly use Marie biscuits to make batik cake.
Batik cake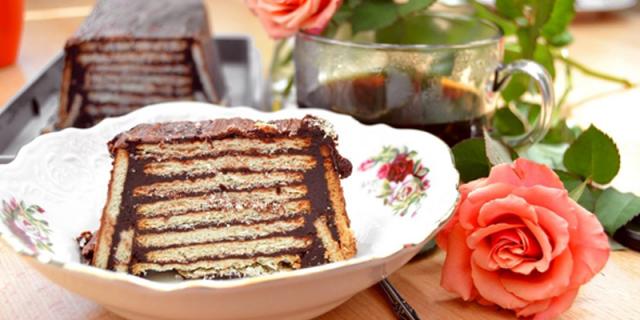 Batik cake (Malay: Kek batik) is a type of Malaysian cake dessert, which is not baked. Mixing broken Marie biscuits with a chocolate sauce or runny custard made with egg, butter/margarine, condensed milk, milo, and chocolate powder has made this dessert. On special occasions such as the Eid al-Fitr and Christmas, the cake is served. The origin of this type of cake is somewhat uncertain; it is similar to hedgehog slice and the new chocolate biscuit cake from Prince William, although it has some different ingredients. Their Batik cake in Brunei is decorated with green toppings.
Other globally known producers of Marie Biscuit are:
Regal Maria Biscuits (Indonesia);
Marie biscuits (Pally, Holland);
Jacobs' Marietta (Ireland);
Arcor's Mana Biscuits (Argentina);
Arnott's Marie (Australia);
Riviana Pozuelo's Maria (Costa Rica);
KelsenBisca Mariekiks (Denmark);
Nestle Ecuador Maria (Ecuador);
Kantolan Kulta Marie (Finland);
Patisserie Gunz' Maria (Germany);
The Garden Company Limited's Marie Biscuits (Hong Kong);
CV Jaya Abadi's Marie Regal Biscuits (Indonesia);
Morinaga and Company's Marie (Japan);
Muhab Food Co. Marie Biscuits (Libya);
Hup Seng Perusahaan Makanan's Marie Biscuits and Coffee Marie Biscuits (Malaysia);
NorgesGruppen's First Price (Norway);
Sætre AS' Marie (Norway);
Verdake's Maria (the Netherlands);
Productos Alimenticios Pascual's Maria (Panama);
English Biscuit Manufacturers' Peek Freans (Pakistan);
Cuetara Triunfo's Bolacha Maria (Portugal);
Khing Guan Biscuit Factory's Marie Biscuits and Small Marie Biscuits (Singapore);
Bakers' Maries Biscuits and Cappuccino Marie Biscuits (South Africa);
Grupo Siro's Maria, Maria Dorada and Maria Clasica (Spain);
Cuetara's Maria Oro (Spain); LU-Fontaneda's La Buena Maria (Spain);
Maliban Biscuit Manufactories Limited's Gold Marie (Sri Lanka);
Goteborgs Kex' Guld Marie (Sweden);
Katalina Foods (Syria);
Simsek Biscuits and Foods' Gorona ( Turkey);
ANI Biscuit and Foods' Marie (Turkey);
Kharkiv Biscuit Factory's Марія (Ukraine);
Kraft Foods' Maria de Famosa (Uruguay);
El Trigal's Maria Rika (Uruguay);
C.A. Sucesora de Jose Puig and CIA's Maria Puig (Venezuela);
Kinh Do Corporation's Cosy Marie (Vietnam);
Lebena's Marie and Lobels' Marie (Zimbabwe);
Will Marie biscuits ruin your diet?
Health Benefits Marie is one type of biscuits that dieticians highly recommend. To calorie-conscious dietitians, it is a decent snacking option. Stick to eating just one or two at a time, though, up to a maximum of three or four a day. But like with everything, be balanced and don't eat too much just because they are healthy.
How To Make Marie Biscuits
In order to make perfect biscuits, you should know something about the ingredients you put in your dough. What should you keep in your mind? 'Level up' your Marie biscuits process guide with our tips.
Ingredient specifications
Flour The flour shall be milled from good quality soft wheat, free from infestation and impurities, especially pesticides. The flour shall not be treated with enzymes and shall not contain chemical additives. The appearance shall be a good white color, free from bran particles. The odour shall be free from mustiness and foreign odours.
Dough fat / Shortening
The fat for biscuits shall be free from impurities and appear clean and bright when melted. The fat should be odourless, free from rancid and foreign flavors. The fat should be produced from good quality crude oils by a process of refining, bleaching and deodorizing. It should be made primarily from vegetable oils, but it may contain hydrogenated fish oils.
Butter
Dairy fat solids obtained from milk and plasticized with 16% water.
Make your own at home!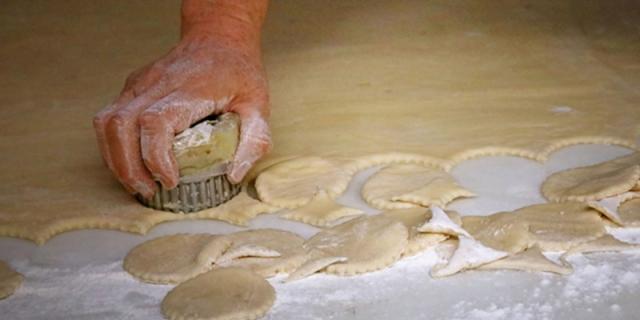 Ingredients:
Unsalted butter 60 gms
Milk 60 ml
Maida (All purpose flour) 300 gms
Sugar 80 gms
Baking soda – half teaspoon essence
Half teaspoon vanilla
Pinch of salt
Preparation:
In a saucepan, heat milk, sugar, and baking soda
Cook until sugar melts and everything merges perfectly as a cream. Take it off the heat and put aside so it could cool.
Preheat your oven to 160 degree
In a large bowl, mix flour, butter, and salt. After that rub the butter into the flour (with a fork)
Add the liquid and form into a dough
Little parts of dough roll thin so you could shape a cookie
Cut it using a round cutter
Arrange formed cookies in a baking tray which is lined with parchment paper and bake for 8-10 mins
Remove and cool on a wire rack completely.
Bisca Marie Biscuits
The charming Marie has been a part of Bisca since 1922.
Ingredients
Wheat flour,
sugar,
vegetable fat (palm),
wheat starch,
inverted sugar,
raising agents (E503,E500),
salt,
emulsifier (E472e),
flavoring (vanilla)
May contain traces of egg and milk.
Nutrition facts 100 g
Energy: 1803kJ (429 kcal)
Fat: 9.3 g
– of which saturates: 4.1 g
Carbohydrate: 78 g
– of which sugars: 16 g
Dietary fiber: 1.6 g
Protein: 7.5 g
Salt: 1.1 g
About Bisca
Bisca company leads us to a creative story they had shared on their website. Duckling and a swan – sounds like a fairytale... It is, like their biscuits today!
Once upon a time ...
Like the sad duckling from H.C. Andersen's well-known fantasy, a young lady named Karen Volf was brought into the world a typical rancher's girl in the Danish wide open in 1864, her destiny bound for hard work and little, assuming any, success in her future. Be that as it may, Karen grew up to be a swan.
She became one of the first influential and independent businesswomen in Denmark, naming the famous Karen Volf Danish butter cookies and cakes sold worldwide today under the brand name Bisca.
Karen Volf's baked goods took the socialite Danes in Copenhagen by surprise in the early 1900s, and Karen established a prosperous baking company that covered the entire country in the following years.
Bisca still bakes with some of her recipes today and her cookies are known worldwide for their good taste and quality. The bakeries Bisca are situated in the lovely Danish island of Møn.
In Denmark, Bisca is not only a bakery but a cultural institution known by every citizen.
Interesting Fact about Marie Biscuits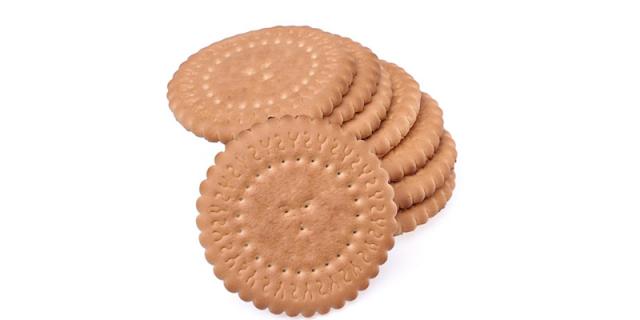 Marie Biscuits are undoubtedly the most popular biscuits in the world. The mere fact that there are biscuit manufacturers from all over the world that produces them is enough to prove that these biscuits have indeed captured the hearts of people from all nations.
Marie biscuits are also enjoyed as sandwich biscuits to be filled with jam, margarine or butter. Others – especially the sweet tooth – spread condensed milk between the cookies while others cover the biscuits in golden syrup or crumble them with jelly and custard for a sweet irresistible dessert.
Marie biscuit is considered as a healthy biscuit and it is recommended by dieticians for calorie-conscious people. Due to the sugar and wheat flour content of Marie biscuits, diabetics are advised to take them in moderation. People of all ages have enjoyed the delicious taste of Marie Biscuit, which can be considered as the most popular biscuits or cookies in the world.
If you also enjoy the delicious taste of Marie Biscuit and want to make them at home, follow our recipe, bake and send us photos of your work.
We hope you will master these Bisco Misr's cookies, and if you use our recipe, please send us your photos at contact@biscuitpeople.com and we will share it on our social network or even include in this blog post.
Be sure to subscribe to our newsletter by registering so that you do not miss any of our articles and insights.
Related article:
>Marie Biscuit Recipe and Process Guide
---
Leading image: By arfa adam/shutterstock.com