The ladyfinger cookie is a small sponge cake shaped in the form of delicate ladyfingers and regarded as a popular snack in the complete biscuit collection especially in England.

Etymology
The favourite cookie draws its name from the shape in which the cookie comes. Quite possibly the oldest and most delicate sponge cake there is, this cookie dates back to the 11th century in France. In Italy, it is known as Savoiardi, which translates into "from Savoy", and this is believed to have been influenced by the earliest ladyfinger cookie manufacturing plant in France; which was House of Savoy. There are a couple of stories that attempt to explain where and how this cookie was invented; as shall be seen in the next section.

None of them though, explains how the finger shape came to be. What is certain though is that there must have been something that prompted the then bakers to use such a shape instead of the customary round flat shape in which most cookies come.
Country of Origin and Usage
The cookie has generally been accepted as a French invention, but there are 2 folklore tales behind the invention of this pastry. In the first instance, it is said that the ladyfinger cookie has its origin in the late 15th century at the court of the then Dutch of Savoy. The creation was in honour of the king of France when he had gone visiting and from then on, it was known as the official court cookie. In the second theory, the cookie is thought to hail from the Piemontese region of Italy.

The lady finger cookie is best eaten warm accompanied by warm wine making it a choice finger food during cocktails. Besides that, it is eaten as a dessert after meals and is also used for teething babies seeing as it is firm yet soft. Another use is in the making of piecrusts; to create tiramisu, charlotte russe and trifles.
Sample Lady Finger Cookie Recipe

The recipe for ladyfinger cookies is very basic, and this is what contributes to its suitability in being a choice food for teething babies.
Ingredients

• 2 ½ cups of multipurpose flour
• 2 sticks of butter
• ¼ cup of the granulated sugar
• 1 cup nuts of very finely chopped nuts
• 2 tablespoonful vanilla
• Sifted powder sugar

Preparation
1. Preheat your oven at 350⁰F and line baking sheets with parchment paper.
2. Cream the butter and granulated sugar together.
3. Add the flour, vanilla and chopped nuts and mix well.
4. Form the dough in finger shapes. This can easily be done by piping the mixture.
5. Dust with some powdered sugar to soften the crust.
6. Bake in the preheated oven for 30 minutes or thereabouts.
7. Roll the warm cookies in powdered sugar.
8. Allow to cool on wire rack.
Variations
After the basic finger cookies have been made, there is a variety of recipes that use the cookies such as:
• American strawberry shortcake – a ladyfinger cookie is topped with a strawberry and whipped cream, covered with another finger and topped with more whipped cream.
• English trifles – the lady fingers are soaked in wine or flavoured liquors. This is then layered with cream and glace cherries and almonds are sprinkled on top.
• Zuppa inglese – the fingers are soaked in kirsch then layered with whipped cream or custard of any flavour of preference.
• Tiramisu – literally translating into 'lift me up' in Italian this is made by soaking the lady finger cookies in coffee or brandy. They are then layered with mascarpone cheese and topped with grated chocolate
• Charlotte Russe – created by soaking fingers in wine and topping it with Bavarian cream
Lady Finger Cookie: Fun Facts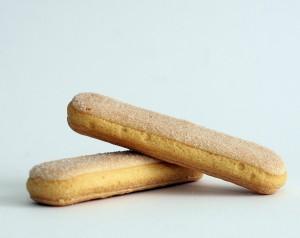 There are a couple of interesting stories surrounding the lady finger cookies. One such story states that Czar Peter, then known as the Great of Russia together with his wife, the peasant empress Catherine went to visit Louis XV of France. They were served with lady finger cookies which they enjoyed so much that they decided to buy the baker and then sent him to St. Petersburg so that he would keep making the famed delicacy.
The lady finger cookies are also a famed treat during festivities, seeing as with a little decoration, they can be made to resemble actual finger with nail polish. This makes them suitable party treats as well as just general themed parties. The shape of the cookie themselves can be piped to actually resemble the sections of a human finger. Contrary to what may be expected though, they are not such a famed Halloween treat.
Popular Large Brands
The specialty Bakers Inc. stands at being the biggest producer of ladyfinger cookies. Located on the banks of river Susquehanna, the company has been making quality finger cookies since 1901.
Danesita Lady Fingers - "Inspired by the traditional Italian recipe, our ladyfingers are the secret to complement your moments of inspiration. Delicious on their own and also as an ingredient, they balance their texture and density in a unique and perfect way. They are the perfect love blend!"
Would you like to present your Lady Finger product? Contact us: contact@biscuitpeople.com