BiscuitPeople asked Amanda Hicks, Co-CEO of Auto-Bake, about her company's success and its plans for the future.
Auto-Bake's success can be directly attributed to the Serpentine which was designed by your father. What made this piece of equipment so special and world-conquering?
Auto-Bake's success is that we were users of our technology prior to becoming suppliers, thus we empathise and so optimised this unique, compact but flexible baking system. This ability to understand projects from the customer's standpoint, and then transform their requirements into a unique solution, has allowed us to supply manufacturers in every continent with very evolved baking solutions.
Innovation is a key word in many businesses the world over. Has this been integral to Auto-Bake's success?
This is in our DNA. It is only through providing a totally new methodology that we have succeeded in replacing previous linear concepts. Due to our reputation for innovation, both our existing and new clients challenge us with new ideas on a daily basis – which we relish. This has resulted in our expanding beyond traditional baking into new fields such as ready meals, non-food thermal applications, etc., and we are sure our horizons will continue to expand.
From a small start-up in Melbourne to a global entity, Auto-Bake has had remarkable growth in its life. What are seen as major growth markets? Do Latin America and the Middle East and Far East feature in your plans and why (or why not)?
When you look back over 55 years to our origins, it may seem remarkable, but it was a 'steps and stairs', 'country by country' effort. We are currently already supplying Latin America and the Middle East, while Asia has been our home market for decades. We believe all growing markets are our markets.
Trade shows seem to serve a purpose in being a vehicle to show off new equipment and technology. What major events will Auto-Baker be at this year and what is new in your line-up?
We will be exhibiting a working line at iba in Munich in September, but also meeting our friends from the industry at Gulfoods, HISPACK, Bakery Moscow and Baking China. Plans are already underway for IBIE in the USA in 2016.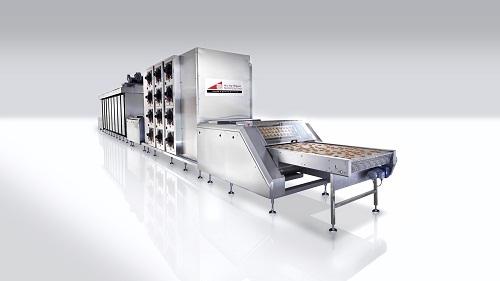 Talking biscuits (or cookies) specifically, how do you see this market sector developing world wide? Is the indulgent market still viable or is the healthy eating issue having an effect?
As with all foods high volume product/high value product [indulgence], healthy and niche [e.g. nutraceutical ] are all developing concurrently. In addition we supply many of our clients with systems that can manufacture a range of café ready product, such as cookies, muffins and scones from the same continuous process.
With bakery in general, what trends do you see being major factors for the coming year?
We continue to see growth in snack and proofed products – most in individual packs. As mentioned earlier, the continued growth of the café and casual eating market provides opportunities for our clients to manufacture a range of products for this growth sector.
Looking at Auto-Bake itself and its social responsibility, what does the company do in terms of sustainability and the environment and what further plans are there in this regard?
Auto-Bake, as a company, has active sustainability goals and has instituted a number of energy and material savings initiatives – most importantly we have designed, for many years, systems that require far less energy to produce the same output, thus providing long-term viability and sustainability for our clients.
You are one of two CEOs at the company, what role does each of you play in terms of responsibilities?
Due to our global footprint we believe the Co-CEO arrangement allows us to be with our customers without neglecting our team at Head Office – always allowing for one of us to be on site at Head Office.
Is being a woman in this industry an advantage or handicap? Have opinions changed over the years?
The bakery industry has a long history of female involvement, both as founders, suppliers etc. As one of the most gender-neutral industries any young woman could want to enter, they will find the participants are all very willing to share their knowledge and support.
Who are your role models in the industry and why?
I must say that my parents, as founders of Auto-Bake across retail, wholesale and engineering in the bakery industry, are my foremost role models – but I have also been fortunate to work with outstanding colleagues, clients and distributors for a number of decades and would hesitate to nominate one over the other.
About Auto-Bake:
Auto-Bake is a global designer and supplier of fully automated industrial baking ovens and systems. Internationally renowned for its innovative Serpentine technology, Auto-Bake's compact, cost-efficient, continuous baking solutions are custom-configured for a diverse range of baking applications.
The company has been in the business of baking since the 1950s, when founder Kevin Hicks built his first bakery in Melbourne, Australia. Since then, the business has evolved into an international enterprise, with successful installations on every continent and a service and support presence in the USA, Europe and Asia. While the Auto-Bake product range encompasses 'upstream' and 'downstream' equipment to complement its core oven technology, the company also has proven partnerships with ancillary equipment suppliers. This modular approach enables Auto-Bake to provide individual equipment elements as needed, or fully customised turnkey baking system solutions using the best available components.