The season of autumn is here and to many more importantly, we're inching closer to another Halloween.

Cosy autumn spices
As with the season it is in, Halloween cookies draw inspiration from autumnal offerings where stronger spices prevail upon late summer's freshness. This is the comfort food which takes you in with its smell and cookies are leading its way into the Christmas time. When mentioned Halloween, what is the first food, that is also used as a flavour, that pops into your mind? We bet it is pumpkin! All kind of pumpkin treats and drinks make their appearance in autumn. Not only one of the most recognizable trademarks of the holiday with its many hollowed versions, but also all popular spice.
Among the most common autumn spices leading up to the Halloween, cinnamon, ginger and cloves seem to be firmly associated with the season, showing up in many of the recipes we associate with this time of year. The flavour of cinnamon is due to an aromatic essential oil; prepared by roughly pounding the bark, macerating it in sea water, and then quickly distilling the whole. Ginger produces a hot, fragrant kitchen spice. Powdered dry ginger root is typically used as a flavouring for recipes such as gingerbread, cookies, crackers and cakes, ginger ale, and ginger beer. Cloves are the aromatic flower buds of a tree and are commonly used as a spice – it pairs wonderfully with vanilla.
A Halloween sweet treat
So, combining all these wonderful spices and flavours, what do we get for Halloween? Add apples and abundance of chocolate and you've got yourself ideal mixture of flavours for autumn and Halloween delights. Here's just one of the recipes we find horrifically tasty. Wonderful spicy iced pumpkin cookies that both kids and adults love! Enjoy them for dessert, afternoon tea or elevenses.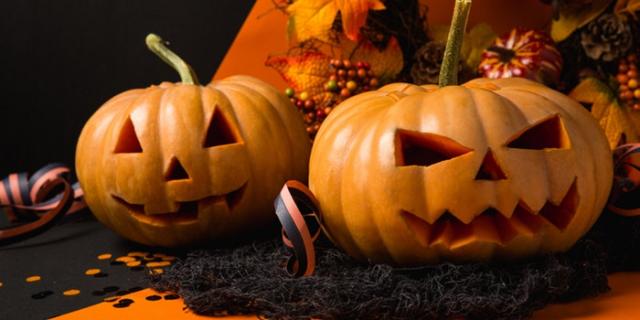 Iced Pumpkin Cookies
2 1/2 cups all-purpose flour
1 teaspoon baking powder
1 teaspoon baking soda
2 teaspoons ground cinnamon
1/2 teaspoon ground nutmeg
1/2 teaspoon ground cloves
1/2 teaspoon salt
1/2 cup butter, softened
1 1/2 cups white sugar
1 cup canned pumpkin puree
1 egg
1 teaspoon vanilla extract
2 cups confectioners' sugar
3 tablespoons milk
1 tablespoon melted butter
1 teaspoon vanilla extract
Preheat oven to 350 degrees F (175 degrees C). Combine flour, baking powder, baking soda, cinnamon, nutmeg, ground cloves, and salt; set aside.
In a medium bowl, cream together the 1/2 cup of butter and white sugar. Add pumpkin, egg, and 1 teaspoon vanilla to butter mixture, and beat until creamy. Mix in dry ingredients. Drop on cookie sheet by tablespoonfuls; flatten slightly.
Bake for 15 to 20 minutes in the preheated oven. Cool cookies, then drizzle glaze with fork.
To make glaze: combine confectioners' sugar, milk, 1 tablespoon melted butter, and 1 teaspoon vanilla. Add milk as needed, to achieve drizzling consistency.
Make these cookies special for Halloween, melt some dark chocolate or take prepared decorations, so you could weave your own spider web which goes perfectly with the light glazing. Have a scary, but fun Halloween and enjoy these sweet treats with your friends and family!