The gingerbread cookie is a type of cookie that utilizes ginger as the main ingredient. Other ingredients are molasses and honey, instead of just sugar, which makes this a very sweet treat. The characteristic ginger taste though, is what has earned this biscuit its widespread popularity.

Etymology

The term gingerbread is borrowed from the old French term – gingimbrat / gingembras (meaning 'preserved ginger') which was borrowed from medieval Latin term gingiber (meaning 'ginger that probably has some kind of medicinal use for preparation of some medicines'). Gingerbread is now used a translation of pain d'espices – French for 'spice bread'; and lebkuchen – German for 'pepper cake' / 'pepperbread'.
Country of Origin and usage
There is a vast wealth of information concerning the speculated origin of ginger bread, and a few different conclusions have been made. Earliest document have linked use of ginger to the Greek and Egyptian ceremonies involving preservation of mummies among others. In Europe, history shows that 11th century crusaders coming from the Middle East introduced gingerbread. To be specific, it is said that in 1992, Armenian monk Gregory Makar brought the bread to Europe. Upon arrival, he resided in Bondaroy, France where he taught French Christians how to bake gingerbread. Although short-lived, since he died 7 years later in 999, the gingerbread influence lived on.
In Sweden, it is believed that the German immigrants brought the gingerbread with them during the 13th century. The gingerbread was prepared by Swedish nuns to ease indigestion; as records from 1444 show. Records of gingerbread biscuits trade date to the 17th century whereby the bread was sold in monasteries, town squares and pharmacies. With time, around the 18th century, ginger and other spices became more affordable and so this enabled gingerbread to spread as more people could now afford to make it not only for medicinal use but also just as a snack.
Initially, gingerbread was used medicinally to solve problems such as indigestion. Later though, it's widespread popularity saw it being adapted for more recreational purpose such as it being a snack accompanied with tea; or being eaten as desserts after a meal.
Sample Gingerbread Recipe

Ingredients

• Two cupfuls of multipurpose flour
• Half tablespoonful of baking soda
• Quarter tablespoonful of salt
• One tablespoonful of ground ginger
• One cup firmly packed sugar – brown
• One cup of unsulfured molasses
• One stick of unsalted butter
• One large egg – beaten
Preparation
1. In a large bowl, baking soda, the flour, salt and ginger are sieved together.
2. In another bowl, a mixer on medium speed beats the butter, brown sugar, and egg. Next, the molasses are added and the mixture beaten again till fluffy; probably around 2 minutes.
3. The flour mixture is then stirred in, one cup at a time; blending carefully to ensure even mixing until the result is smooth. The dough at this stage should have gathered into a firm tacky mass. If this is not the case, add water or flour as needed.
4. Working on a surface that is lightly floured, the dough is removed from the bowl and divided into half. The two halves are flattened into disks and refrigerated wrapped in cling film, for at least 2 hours or even up to 1 week.
5. Preheat the oven to 350⁰ Fahrenheit, line the baking sheets with parchment paper or grease lightly.
6. The dough is rolled out to an even thickness of about 1/8 inch. Cookies are cut out using a cutter of desired shape and size. Transfer the cuts to the baking sheets ensuring they are spaced and not crammed close together.
7. Baking is done for about 11 minutes or until cookies are golden in colour and firm to the touch. Remove from oven and cool for 3 minutes, before transferring to a wire rack for complete cooling of the gingerbread cookies.
Variations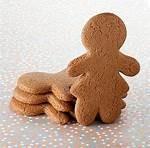 In different countries, the gingerbread takes many forms and variations and one would find that what a certain country refers to as gingerbread, may be a cookie; while in another, the same could refer to a biscuit. Focusing on the cookie variations though:
Romania – gingerbread has a sugar-glazed coating on top.
England – gingerbread commonly takes the form of 'gingerbread men' – a common variety of gingerbread cookie cutters. In addition, the gingerbread man cookies are a favourite delicacy around Christmas time.
German – gingerbread cookies are further decorated with icing and sweets
Bulgaria – the gingerbread cookie is big in size, perhaps the size of the palm of the hand; but round ad flat. Besides ginger, cinnamon, honey and dried clove are additional ingredients used; and the cookie is covered with a layer of chocolate.
Gingerbread Fun facts
Like most pastries in America, gingerbread too has its holiday on the 5th of June. As if one day wasn't enough, the 21st on November is also marked as National Gingerbread Day.
Among the Swedes, there is a popular tradition claiming that gingerbread can be used to make a wish. The gingerbread is clasped in one hand and the wish made. Then the other hand is used to crush the gingerbread and you are assured of the wish coming true, if the gingerbread divides into 3.
One of Sweden's popular kings – King Hans had depression and the doctor prescribed gingerbread to him as a cure.
Biggest Producers and Brands World Wide
• Griffin's – arguably the largest gingerbread brand, the company records annual sales of 60 million.
• Beth's ginger snaps
• Nabisco
• Country choice
Related articles:
Gingerbread Men: How Did They Come to Life
Would you like to know more about Gingerbread Man and the recipe?
Discover more biscuit types in our Complete Collection of Biscuit Types