Treat that we know as fig roll proves that not everything is about chocolate or cream filling. Biscuits can be as sweet and as good when they're complimented with fruit, in this case, figs. This delicacy is known all over the globe, but did you know it's presumed it dates to ancient Egypt?
Are fig rolls healthy?
The fig has been considered as a healthy food for a long time, and it was just a matter of time when people realised they can make a delicious biscuit out of it. The fig roll has all the goodness of figs and the convenience of conventional biscuits.
What is in a fig roll?
This roll is special because of its filling, the fig paste, made of the worldwide popular snack food. Figs are most popular in the Mediterranean, and setting its sweet legacy everywhere starting with ancient Egypt. The rolls were made popular with the rise of baking which made possible to bring certain foods on a longer trip, one of those foods being fruit. Figs are a rich source of concentrated nutrients, including calcium, iron, and potassium. They also have a lot of fibre, no sodium, no fat, and no cholesterol. When we spoke about Egyptian famous types of biscuits, we should also mention Kahk biscuits.
As the story goes, Christopher Columbus devoted a complete page to what a wonderful time it would be when he would be able to gorge himself on figs in the orient, while Marco Polo described women in association with the beauty of figs.
Fig roll biscuit origin and history
Fig rolls were hand-made up to the point of industrial evolution where its mass production started in Philadelphia in 1891, by an extrusion process. Charles Roser, in 1892, was awarded a patent for a machine which inserted fig creme into a cake-like dough: classical fig rolls are encased in a more pastry-like covering, creating a chewy experience. This product turned into Fig Newton, which are produced to this day as Newton, now under the helm of Nabisco. These guys are also responsible for the shape we now mostly know fig rolls by.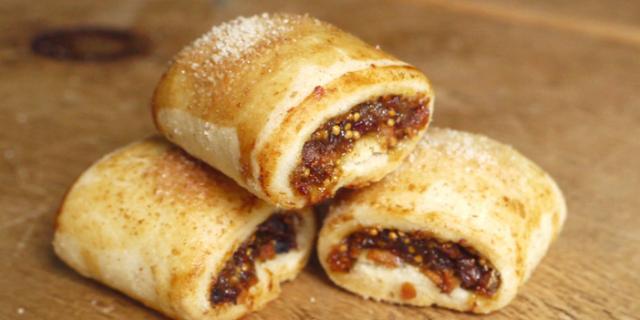 There are different ingredients that can be added to the figs to make the taste more distinctive, ranging from dates to honey and nuts. A variety of seeds and spices can also be added to a fig roll, such as cinnamon, cardamom, and nutmeg. When the fig rolls first appeared, dough part was pastry-like flatbread, but today's versions are more tender in their biscuit form.
Some of the other brands that harness the goodness of the fig in rolls are Sainsbury's, Jacobs, French Figolu, Scottish Crawfords, and Asda.
To conclude, if you like biscuits, as we all do, then fig rolls are a great way to go because they have half the fat and contain other healthy elements such as fibre. The figs are sweet by themselves so there is no need for added sugar, at least, it's in much lower quantities.
For breakfast, lunch or dinner, fig rolls are a treat that never disappoint. If you still haven't tried them, we strongly recommend these delicious treats and we dare you – try to stop at one (virtually impossible).
Read more about different Biscuit Types
Be sure to subscribe to our newsletter by registering so that you do not miss any of our articles and insights.