BiscuitPeople asked João Costa CEO at DanCake (Portugal), SA, some questions about the biscuit industry and how he saw the market for the year ahead.
What do you see as the opportunities and threats for the European biscuit market for 2015 and beyond?
As the European market is relatively stagnant, I see opportunities to: work more efficiently to become even more competitive, continuing to offer great quality products; continue to improve the service level to our customers; and expand beyond Europe geographic boundaries.
With specific interest is DanCake, what are further export opportunities and growth plans the company will look at for the future?
We are looking at expanding our footprint in key markets in Asia, Middle East and Africa.
Do you see the growing 'healthier eating' trend having an impact on the biscuit market?
It is impacting the overall food industry, and obviously our categories as well. We are working hard to find solutions to address these trends.
What can biscuit manufacturers do to cater for this and other trends, like gluten-free etc?
Invest in R&D to improve the nutritional profile of their products without sacrificing taste and develop new products and recipes.
As costs grow and economic times get tougher, do you see changes in the global biscuit market with, perhaps, more companies forming strategic alliances?
The market is still very fragmented, so there is further opportunity for concentration.
What are the opportunities for DanCake in its home market?
We had a spectacular year in Portugal in 2014 with DanCake brand. The brand has a strong emotional tie with the consumers and with some investment and innovation we are able to get back in consumers top of mind. Our plans for 2015 go in that direction.
With a production line up that varies from cakes and toasts to biscuits, do you think more companies will be diversifying their products to stay competitive?
Innovation is critical to develop the business. We see companies diversifying products and also markets to stay competitive.
How has DanCake coped with market changes over the past five years?
Through lots of resilience, team work and the courage to implement very profound changes in its organisation and processes.
Who is your role model in the baking industry and why?
We don't have one sole role model. There are different companies, in different segments, which are good examples of well-fit organisations.
Finally, what would your Christmas/New Year wish be for your company?
All the staff have been doing a great job. 2015 will be a key step towards our 'From Ambition To Achievement' journey. I thank them for their great commitment and I wish peace and happiness for their families.
DANCAKE
DanCake Portugal is a Portuguese based company founded in 1978, which operates in the baking industry producing and selling biscuits, cookies, toasts, cakes and other pastry products. It had a turnover of 43M€ in 2014, with 73% exports to 80 countries. It has two main production facilities in Portugal, located in Lisbon and Coimbra, with 450 employees and a production capacity of approximately 55 thousand tons.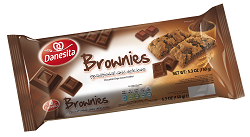 Being one of the largest producers of Danish Butter Cookies, the strengthening of the product portfolio corresponding to the changing needs of the consumer has been the principal concern of the company.
DanCake operates in three market segments: Own brands (DanCake and Danesita); Private label for main worldwide retailers; and co-packing for other bakery players. DanCake Portugal is renowned worldwide by its quality standards: it has a'Higher Level' certification by British Retail Consortium (BRC) and International Food Standard (IFS), and it is annually audited by several global retailers.
Challenges are met with ambition and dedication, balancing flexibility with efficiency. With the acquired know-how throughout these years and optimizing the technological development, Dan Cake invests in the improvement of its product portfolio, with the objective of keeping alive the traditional brand and continuing to offer the sweetest moments to consumers worldwide.