Each state has specific biscuit types that are characteristic of its tradition. In some places, these are the most unusual biscuits in the world and sometimes plain traditional ones that are passed down from generation to generation. Greece is special in terms of its traditional biscuits that everyone would like regardless of age. In this article, we are talking about the most famous one!
Greek cuisine is part of the culture of Greece and is recorded in images and texts from ancient times. Its influence spread to ancient Rome and then throughout Europe and beyond. The Mediterranean is the word associated with Greek cuisine so indulge in the Greek adventure of the Mediterranean, the warm rays of the sun, and fragrant biscuits - get to know Kourabiedes, biscuits created for celebrations, especially weddings. Celebrate your most special day in life with a delicious dessert!
Get-to-know Kourabiedes
Place of origin: Greece
Region or state: Greece, Cyprus, Greek diaspora
Associated national cuisine: Greek
Main ingredients: Butter, flour, sugar, almonds, powdered sugar
Ingredients mostly used: Baking powder or baking soda
Similar treats: Quarbiya, Ghoriba, Kahk
Kourabiedes or Kourabiethes are almond biscuits or treats that are popular in Greece, Cyprus, and Greek people groups in Anatolia, just as across the Greek diaspora. They are identified with different cookies known as qurabiya or comparable names found in Ottoman and Persian food.
How did Kourabiedes get their name?
The Greek word kourabiedes comes from the Turkish word kurabiye, which is related to qurabiya, a family of Middle Eastern cookies.
Moreover: Kourabiedes (also known as Kourabiethes and sometimes Kourambiedes) is a traditional Greek food, whose name comes from the Arabic for 'cookie'.
Kourabiedes are a kind of shortbread with almonds. They are not much different from other shortbreads; having almost the same other ingredients such as butter, flour, sugar, salt, and possibly vanilla or brandy.
The most common flavoring is vanilla, but other variants include Greek brandy (Metaxa is the best-known brand), mastika, or rose water. In some regions of Greece, each Christmas kourabiedes is topped with a clove.
During the biscuit baking process, kourabiedes are shaped either into circles, crescents or balls, then baked till slightly golden. Immediately after removing the cookies from the oven, the Kourabiedes are rolled in confectioner's sugar (icing for biscuits) and left to cool. They are typically then rolled in powdered sugar again once cooled. however, you can likewise experiment and make little stars or hearts. They are heated until light brilliant and afterward tidied with powdered sugar while still hot, which makes the ideal covering.
Also, if you don't like almonds much or you are just feeling adventurous, you can try to put pistachio instead of almonds.
How is rose water utilized for preparing Kourabiedes?
After they are heated, they are daintily showered with bloom water and afterward tidied with overflowing measures of powdered sugar. Loads of powdered sugar (don't be apprehensive, discussing this kind of treats you can't exaggerate with powdered sugar). Try not to stress about putting a lot of sugar, we won't consider calories now, later we will specify nutritional facts for Kourabiedes.
In any case, to be explicit, there are a couple of functional properties of sugar in biscuits. Sugar is a major ingredient for biscuits used in various types of biscuits, apart from imparting a sweet taste it also serves various functional properties in the processing of the biscuit dough as well in the structural and organoleptic properties of the baked biscuits.
In this case, the functional properties of sugar is primarily used for decoration. The sucrose crystals dusted onto the surface of the dough pieces adhere strongly to the surface of the biscuit and remain visible on the surface of the biscuit after baking. Different sized sugar crystals may be used depending on the desired visual effect.
Much the same as some other customary Greek formula, each family has its variant. In Greece, numerous individuals use goat or sheep spread rather than cow's milk butter. It's entirely expected to shower the treats with rose or orange bloom water before covering them in confectioner's sugar. Also, in certain pieces of Greece kourabiedes are enhanced with mastiha (mastic resin).
How to make Kourabiedes?
We bring you a recipe and numerous tips on how to make Kourabiedes cookies. Almost all the experts best at making Kourabiedes biscuits agree that they are a bit demanding to make, but nothing that can't be done very craftily with a little effort, creativity, and patience. Also, with our tips for choosing specific ingredients such as types of almonds and flour, there is no doubt that you will make the best biscuits ideal for holidays or wedding day parties. So, let's get to work.
Ingredients
250g butter made from cow's milk, cold (9 ounces, 1.1 cups) (Lurpak unsalted)

150g almonds, roughly chopped or almond slivers, roasted (6 ounces, 1 1/4 cups)

50g almonds (whole) or almond slivers, raw (1.8 ounces, 1/4 cups)

75g icing sugar (2.7 ounces, 1/2 cups)

1 tbsp rose water

1/2 tsp vanilla extract

1 tbsp baking powder

a pinch of salt

400g all-purpose (plain) flour (14.2 ounces, 3 1/5 cups)

lots of icing sugar for powdering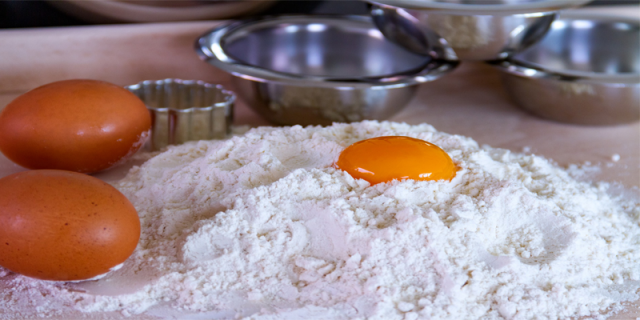 Guidelines
Preheat the biscuit baking oven to 200C/390F. To set up this kourabiedes recipe start by broiling the almonds. Spot the generally slashed almonds (150g/6 ounces) or almond silvers on a preparing plate and sprinkle with some water. Prepare them for 7-8 minutes, until cooked, being mindful so as not to consume them. Put in a safe spot or put in the cooler to cool.
In a blender, add the crude almonds (50g/1.8 ounces) or the pistachios and mix, until powdered. Put in a safe spot.
In a food processor, add the cold butter and sugar; blend for around 10 seconds, until the margarine 'breaks' and is broken up. Add the powdered almonds, a spot of salt, the rosewater, and the vanilla concentrate; blend for 10-20 seconds, until joined. Toward the end, add the heating powder and flour and blend again for 10-15 seconds.
Spot the combination in a huge bowl and add the cooked almonds; mix daintily with your hands. For the kourabiedes to stay cushioned, it is significant that the adulate doesn't warm and dissolve. So sit tight for some time for the broiled almonds to cool, before adding them to the spread combination.
Preheat the stove to 170C/340F. Layer the lower part of the 2 heating plate with material paper and structure the kourabiedes.
Move 1 tbsp (about 30g) of the mixture into a ball, place on the heating plate, and push with your finger in the center, to frame a little dimple. Proceed with the remainder of the batter. Spot in the refrigerator for 5 minutes until you set up your next plate.
Spot the preparing plate with the kourabiedes in a second and fourth rack of the stove. Prepare for approx. 15-20 minutes until they have an extremely weak brilliant color and are cooked through. Be mindful so as not to overbake them.
Leave the kourabiedes aside to chill off for some time. Be careful: If you attempt to lift them, while still warm, they will break!
Splash the kourabiedes with rosewater and filter with icing sugar. Enjoy!
Recipe from: MyGreekDish.com
How to pick perfect ingredients for Kourabiedes? Details matter!
One blogger bakedambosia.com shared her tips for ingredients and how to prepare them exactly for baking. Even though there is no specific 'philosophy' on making Kourabiedes, in every version they will be tasty but if you can make them flawless, why not follow these tips?
Butter: Bake with salted butter. It doesn't contain any flavorings that unsalted spread has. Only two fixings; cream and salt. You can utilize unsalted spread on the off chance that you like, you may simply have to build the ocean salt by ¼ tsp in the formula! Ensure that the margarine is at room temperature.
Egg Yolk: Make sure that your egg yolk is at room temperature for the best outcomes.
Vanilla Extract: Always use pure vanilla extract (not imitation) for the best tasting prepared treats!
Fragmented Almonds: Slivered almonds are the awesome kourabiedes because they have been cut into little sticks. If the almonds are not previously cooked, ensure that you dry dish them in the broiler at 350 degrees F for around 10-15 minutes, or until light earthy colored and fragrant.
Universally handy Flour: Recommend: Unbleached generally useful flour in preparing. You can likewise utilize baked good flour or universally handy gluten-free flour with incredible outcomes too!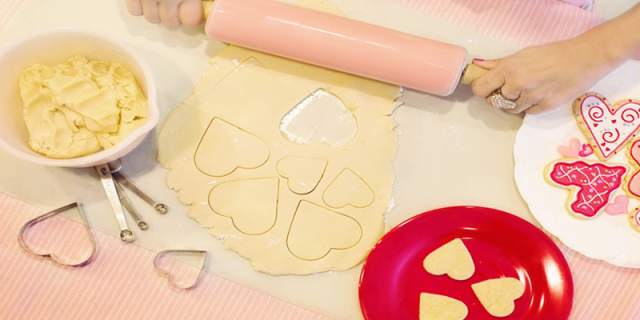 Will Kourabiedes ruin your diet?
Serving Size: 1 cookie
Calories: 196kcal

Sugar: 8g

Sodium: 95.5mg

Fat: 12.2g

Saturated Fat: 5.4g

Unsaturated Fat: 6.2g

Trans Fat: 0g

Carbohydrates: 19.6g

Fiber: 1.4g

Protein: 3.1g

Cholesterol: 21.5mg
A little Q&A about Kourabiedes: Storing, freezing, sharing
If stored in an airtight container in a cool, dry place, Kourabiedes can last up to 1 month.
To store kourabiedes, keep them covered with plastic wrap or in an impermeable compartment at room temperature. You can likewise freeze kourabiedes for as long as 3 months. Defrost them at room temperature and give them another cleaning of the confectioner's sugar before serving.
Could these be made early?
Truly!
Allow them to cool totally and store them in an impermeable holder in the cooler. We as a whole realize that the special seasons are a period of giving, and is there much else wonderful than giving your friends and family delectable, natively constructed treats to improve up? At the point when you're prepared to give them as a blessing, pop them in a 300-degree broiler until they're warm once more, at that point coat them in powdered sugar and let them cool before bundling them up or serving.
You can likewise freeze them in an impenetrable compartment for as long as a half year. Once more, freeze them without powdered sugar and coat them not long before serving.
Kourabiedes tradition: Share them for weddings and holidays!
Holidays - perfect time for exchanging gifts, even if those are Christmas biscuits or other ''party biscuit type'' such as sparkly and colorful Funfetti - did you know that kourabiedes are also perfect for sharing?
Customarily, alongside other Greek pastries like melomakarono (or melomakarona), these spread treats are filled in as wedding sweets, for absolutions, and other comparative uncommon events, similarly as their name proposes!
Kourabiethes recipes arrive in a couple of shapes, including circles and sickles. Regardless of which shape you like to make your treats, this kourabiedes formula remains the equivalent.
Yet, you may have to heat them for a couple of additional minutes if you structure them in a huge ball shape since they will probably turn out bigger than the bows.
Greek food adventure: What makes Greek cuisine specific?
Every country has its special treats specific for that part of the world, for example Italian Cantuccini biscuits - perfectly match with wine.
Greek food is the cooking of Greece and the Greek diaspora. In the same manner, as numerous different foods of the Mediterranean, it is established on the ternion of wheat, olive oil, and wine. It utilizes vegetables, olive oil, grains, fish, and meat, including pork, poultry, veal and hamburger, sheep, hare, and goat. Other significant fixings incorporate pasta, cheeses, lemon juice, spices, olives, and yogurt. Cookie made of wheat is universal; different grains, outstandingly grain, are likewise utilized, particularly for paximathia.
Regular sweet fixings incorporate nuts, nectar, natural products, and filo cakes. It proceeds with conventions from Ancient Greek and Byzantine food while joining Ottoman, Middle Eastern, Balkan and Italian impacts.
Wanna explore something more ''exotic''? Don't miss a chance to explore Brazillian sequillhos that will enrich your morning coffee treat.
Do you like Kourabiedes? Find out about other traditional Greek biscuits
Melomakarona
Diples
Glyka tou koutaliou – ''spoon sweets''
Galaktoboureko
Bougatsa
Revani
Halva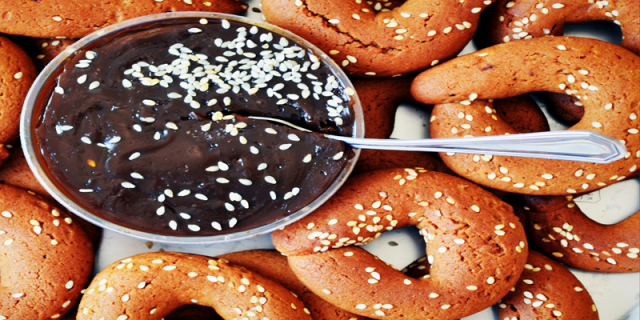 Feeling like a movie star? My Greek Wedding
You liked the movie, didn't you? Amazing comedy accompanied by a traditional wedding. Still, we're not here to talk about the film, although we recommend it if you haven't watched it :) However, we mentioned that Kourabiedes are ideal for weddings so let's learn a little more about Greek weddings and traditional desserts.
Wedding traditions – including Kourabiedes
Bonbonniere
Odd quantities of Koufeta (glossed over almonds) perfectly bundled are given to visitors just after the wedding function. They represent virtue, richness, and the perseverance of marriage.
Symbols of best of luck
Setting a piece of sugar inside the lady of the hour's glove is said to guarantee a sweet life, and adding a gold coin to within her shoe will bring great monetary fortune.
Iron is said to avert abhorrent spirits for the day. So the lucky man should place a piece in his pocket!
Couples welcome an odd number of visitors and welcome an odd number of specialists to remain adjacent to them as odd numbers are viewed as best of luck. Odd numbers can't be divided!
Kourabiedes: Wedding symbol of good luck
The complete collection of biscuit types offers so many different treats, but one is certain – Kourabiedes would make your Greek wedding perfect and it couldn't go without serving those biscuits on the table. Even if you are not even from Greece and not planning the wedding, why wouldn't you treat yourself after a busy day with these beloved cookies? 15 minutes of preparing and voila – you have the most delicious treat that melts in your mouth.
Did our recipe help you? If you have other questions, feel free to text us at contact@biscuitpeople.com and look at our magazine for more delicious recipes that will light up your day.
---
Leading image source By mpessaris/Shooterstock.com