Possibly one of the most popular biscuits in the United Kingdom and in The Complete Collection of Biscuit Types, digestive biscuits are a semi-sweet variety of biscuits, made mainly from coarse whole-wheat flour. The biscuit is firm but soft and crumbly in texture.

Etymology
The biscuit draws its name from the main leavening agent used in manufacturing it – baking soda. In the past, sodium bicarbonate was used to ease with indigestion problems and so when the digestive biscuits were invented, they were deemed to have the same relieving property. Although this fact later on came to be refuted because after undergoing coking, the sodium carbonate was sure to lose its healing power. Nonetheless, the name still stuck and continues to be used even in the current times. The sodium carbonate used to manufacture the digestive biscuits may not be active in helping with digestion issues, but having been made from whole-wheat, the biscuits have some fair amount of fibre to aid in digestion. How the Macronutrient Makeover Trend Changes the Biscuit Industry? We will be eating healthier, more nutritious since many marketers are following the macronutrient makeover trend which is more and more present in every industry.
Country of Origin and Usage
Digestive biscuit is a type of rotary moulded biscuit. Priding in being a British invention, the digestive biscuit is said to have been invented by one Mr. Alexander Grant in 1892., making it it's 125th anniversary this year. The recipe has been kept a secret and hasn't changed much all this years. At the time, he was working for McVitie's – one of the world's largest producers on the digestive biscuit.
Seeing, as the digestive biscuit became such a popular success, the chocolate covered digestive was created in 1925 with the initial name: Home wheat chocolate digestive. The inspiration behind the term 'home wheat' resulted from the fact that McVitie's competitors were producing their digestive biscuits using imported wheat, while McVitie's was using wheat grown in Britain. Later on, the 'home wheat' was dropped from its name but the biscuit has continually been a favourite snack especially in the regions of Australia and the United Kingdom. Unlike other chocolate biscuits, this one actualy has chocolate on the bottom. The biscuits have been eaten: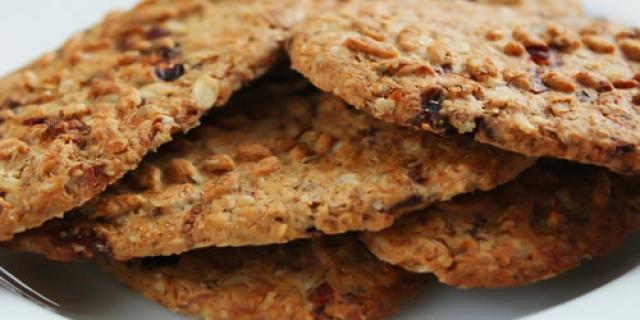 a) As an accompaniment for tea or coffee
b) Dunked into tea then eaten
c) Topped with cheese
d) Spread with butter; as a substitute for bread
e) As a base for desserts such as cheesecakes
f) Washed down with a glass of milk
Sample Digestive Biscuit Recipe
Generally, the digestive biscuit recipe is simple and there are not many variations that are made to the original recipe. Normally, in America, foods are manufactured using high-fructose sugar syrup; but seeing, as digestives are not manufactured in the USA, the biscuits are made using natural sugar.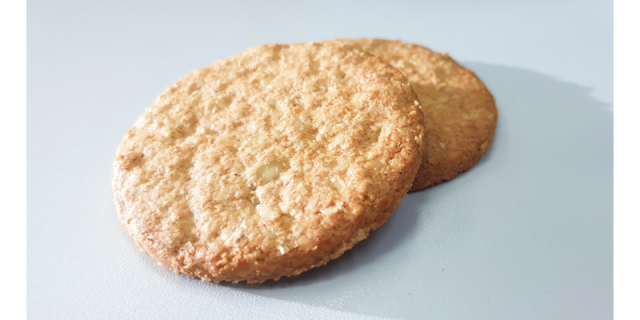 • 150g of whole wheat flour
• 50g of soft white flour
• 30g of medium oatmeal
• 20g of bran
• 1 tablespoonful of the bicarbonate of soda
• 50g of unsalted butter
• ½ tablespoonful of salt
• 100g of packed sugar- brown
• 4 tablespoonfuls of milk
How to prepare Digestive Biscuit?
1. Sift the flour, baking soda and salt together in a bowl. Bran, oatmeal and sugar are then added to the flour mix and combined well.
2. Rub the butter finely into the flour until the result is crumbly. Making a hollow in the middle, half the milk is added and mixed together, if still dry; add the remaining milk as required.
3. The dough is then turned out onto a greased surface and worked into a long ribbon. Wrap in cling film that seals the dough completely then refrigerate for about 4 hours.
4. Preheat oven to 190⁰C (375⁰F) and line the baking sheets with parchment paper
5. Roll out the dough to a thickness of 1/3 inch (3mm) and cut out biscuits using a cutter. Place the cutouts on a baking sheet.
6. Bake for 12 minutes or until light brown in colour. Cool on a wire rack and package in an airtight tin.
NB: the Digestive cookie dough can be chilled in the refrigerator for even up to 2 months, provided it is well wrapped in cling film.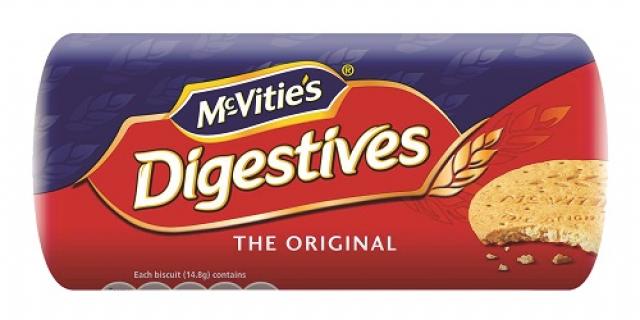 Variations
a) Chocolate-flavoured digestives
b) Regular-flavoured digestives with coatings of mint-chocolate, caramel, pure chocolate (dark, regular or white) or orange-flavoured chocolate
Health benefits
Whole grains are beneficial to our health, especially for the heart and cardiovascular system. And because of the high sodium level, digestive biscuits are suitable for low blood pressure sufferers and those that need relief from heartburn or abdominal pains. They also manage diabetes and help with weight control because they keep us full for a long period of time. Losing weight and staying in shape while eating biscuits? It is possible! The sodium in them also boosts your energy levels. As their name says, digestive biscuits help with constipation problems. Some pregnant women claim that this biscuits help them with morning sickness.
Digestive Biscuits: Fun Facts
Citing that digestive biscuits lack any digestive properties whatsoever, the tasty treat is banned from the USA. To purchase them in America, one has to look under the 'International' aisle sections in supermarkets. Local retailers stopped selling the biscuit variety.
In 2009 and 2010, the popular original McVitie's recipe underwent changes in two stages. They removed the use of palm oil and instead substituted it for sunflower oil with reduced saturated fat. However, upon complaints from the consumers, they restored their original recipe – the old classic recipe.
A survey conducted in 2009 in the UK estimated that 25 million adults have been injured while eating during a tea or coffee break - with at least 500 landing themselves in hospital. Almost a third of adults said they had been splashed or scalded by hot drinks while dunking or trying to fish the remnants of a collapsed digestive.

Source: The Telegraph
In 2012, Elliott Allen set a world record for breaking 18 digestive biscuits with one karate chop.
Popular Brands and Manufacturers
Among the top grossing brands of the digestive biscuits are:
• McVitie's: The United Kingdom's Premier Biscuit
• Cadbury – owned by Mondelez International
• Hovis – owned by Premier Foods
As far as the figures are concerned, the sale of digestive biscuits is said to estimate around 70 million packets sold annually; with half of these sales being registered in the United Kingdom. Broken down, this would mean that every second, 52 digestive biscuits are consumed and the number is said to be increasing every year.
Read more about different type of biscuits in The Complete Collection of Biscuit Types
Be sure to subscribe to our newsletter by registering so that you do not miss any of our articles and insights.