What can be problematic in Cream Cracker making and how can we fix it?

1. Cracker becomes too hard and flinty if;
I. The flour is too strong
II. Less shortening in the dough
III. Over mixing
IV. Chemical imbalance in the recipe
V. Too long, bake time
2. Cracker become very fragile and bake easily when the;
I. Flour is too soft
II.Too much shortening in the dough
III. Excess Ammonia
3. Checking or hairline cracker due to;
I. Fast cooling
II. A cool draft blown on the hot cracker or too strong or too weak flour also cause checking
III. Less shortening can cause checking
IV. Little glycerin or syrup should remedy the problem and little slower baking
4. The height of a cracker is reduced with less spring puffing cracker become thin when;
I. Flour is too soft
II. Over fermentation
III. The dough is being too hard with insufficient water
IV. Apart from the above main cause could be insufficient bottom heat of the feed end and 1st zone
5. Cracker may shift open in two layers;
I. Whether too much dust in the laminator
II. Is Sponge fermentation fast there is too much water in the sponge
III. The temperature of the atmosphere too high
IV. Cracker dough become sour and collapse when the dough is over fermentation.
V. Sponge and dough crusting due to excessive heat can cause a hard spot on the cracker. To prevent this, dough container should be kept cover with thick cloth cover
6. Cracker become flat and soggy when;
I. The sponge is kept more than 20 hours turned in to dough (over ripe sponge) a sponge should be processed in to dough 30 minutes early or 30 minutes late if not after 18 hours
II. pH of the sponge and dough after fermentation - 6.3%
Baking of the Cream Crackers
There is correct baking time for each combination of dough and oven condition. Too long and too short bake will effect adversely all the desirable characteristics of the cracker forms (spring, Blister, tenderness, etc.) A very hot oven and quick bake is required. It is important to have the cracker falling on to a preheated oven band before the cracker enters the baking chamber (the oven band temperature of 230 °C).
The temperature of the first zone has to be higher than the rest of the oven.
The coloring of the cracker could be done at the last zone.
Damper Setting
I.1st Zone-Keep moisture damper fully closed
II. 2nd Zone-Damper ½ open
III. 3rd Zone- Damper ¾ open
IV. 4th and 5th Zone - amper fully open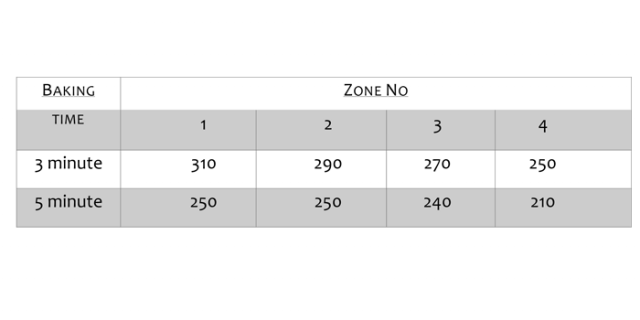 FAULTS
Blisters are too pronounced due to too hot and oven
Poor lamination

Post Baking and Cooling
These biscuits should be cooled gradually before packing. It could contain moisture of 2% -3%. While packing; biscuits should be packed at body temperature at 30°.
pH of baked crackers – 6.5% - 7.3%
Cream Cracker Mixing Method
1. Sponge 16 –18 Hrs. Fermentation
Dough 4 Hrs. Fermentation
2. Overnight 16 Hrs., All In Mix
3. Sponge 4 Hrs. & Dough 4 Hrs
4. 4 Hrs. All In Mix (Straight Dough)
5. 2 Hrs. Sponge & 2 Hrs. Dough
The Most Accepted Method Is The 18 Hr. Sponge & 4 Hr. Dough Method. Such Crackers Give Good Flavour. They Are Flakier & Give Good Colour.
Sieve Flour before Use
1. Flour (for the sponge) Rather strong flour with gluten content 8.5% - 10
2. Flour (for the dough) Medium flour with gluten content 8.0% - 9.0 is required
3. Flour slightly old is better than very fresh flour. If flour is very fresh, a little soda will give better results
Shortening
1. 13% - 18% of fat on flour base could be used.percentage 14 % - 15% is excellent.
2. The flavour taste, colour, and shelf life depend on the shortening selected. As cracker contains very little sugar, it could become rancid taste if an inferior fat is used. Quantity of fat is determined by its source. For spraying of cracker, 76% RBD coconut oil or palm kernel oil is best. [RBD = Refined, Deodorized, & Bleached].
Yeast
1. Active dry Yeast
Normal dry yeast is used for fermentation. This could be sprinkled on flour or dissolved in water according to instruction on pack. Should never be mixed with salt or very warm water.
2. Non – Active Dry Yeast or Autolysis Yeast
It is heat-treated and the fermentation properties are lost .it gives a good flavour, improves the dough character and extends keeping quality. This also supplies Vitamins and Amino Acids. It gives a tender cracker with no buckling or cupping. This has to be used with very strong flavour because this can damage the gluten. Could be used in the sponge.
Salt
1-13/4 % flour base or according to taste should be dissolved and strained before use.
Sugar
1-1.5 % on flour base could be used. Brown sugar gives extra flavour and added colour. It is used as a yeast food. Powdered sugar is best.
Malt
Non-Diastatic Malt should be used in cream crackers. It is yeast food and gives colour and flavour. Diastatic malt should not be used as this can affect the gluten.
Invert Syrup
It is a yeast food, which gives colour and flavour, and may inhibit checking.
Water
The quality of the cracker may vary from location to location according to the type of minerals available in the water. Any water supply that is satisfactory for drinking purposes could be used for cracker satisfactorily.
Sodium bicarbonate
Is used to control the pH of cracker, make it tender, and to do obtain a good colour. It will increases the height. Its recommended to use be used according to the acid level of the dough. It should be sifted on the floor while mixing the dough.
Ammonium Bicarbonate
Ammonia gives light and tender cracker. Too much ammonia will give out an off taste if not properly baked. Ammonia should be dissolved in part of the dough water.
Sodium Metabisulfite (S.M.S)
This should be dissolved in the part of the dough water and sprinkled on top of the flour while mixing. It extends the gluten and gives a smooth finish.
Milk Powder
Milk powder is generally not used in cream cracker as certain enzymes in the milk powder could destroy the gluten properties in the flour. 7% full cream milk powder could be used when making special "Milk Cream Crackers". If it is necessary to achieve a milk flavour and good colour, skim milk powder should be used. Whey powder helps to make a tender cracker with good colour and extended shelf life. When used savory varieties, it increases the flavour. It could be dissolved in part of the dough water.
For 100Kg flour, 1- 2% of whey powder could be used.
CREAM CRACKERS – Formulation 1

STRONG

75.000 Kg

Sponge Mix -2min

YEAST

0.800 g

SUGAR

2.500 kg + 2 kg of Water

Water

26.5 L approximate

Ferment 16 hours

Add the Following Things to the Fermented Sponge

MEDIUM

75.000 Kg

Dough Mix 5 – 6 Min

SHORTENING

21.000 Kg

MALT EXRACT

1.000 Kg

SALT

2.700 Kg + Dissolve 2 liters

WHEY

2.700 Kg + Dissolve in 4 liters

SODA

0.700 g

AMMONIA
0.275 g + Dissolve in 1 liter

SYRUP

0.600 g

S.M.S

0.015 g + Dissolved in

WATER

11.000 L

Ferment 4 Hours again

LAYER DUST

Soft Flour

31.000 kg

Mix thoroughly

Salt

0.600 g

Shortening

7.500 kg

Mix again
About 2Kg of dust is required for 20 Kg of dough
pH of Cracker 6.5 – 7.3%
Moisture 1 – 2 %
Short Fermentation Cream Crackers (Straight Dough)
Shortening

22.500 kg

Mix for 4min

Malt

1.630 kg

Sugar

0.800 g

Salt

2.600 kg

Soda

0.500 g

Ammonia

0.340 +500 ml water

Add the following ingredients

Ascorbic Acid

0.011g

Mix for 3 Min

S.M.S

0.015 + 1 L water

Yeast

1.700kg + 5 L water

Water

16.000 L

Weak Flour

75.000 kg

Strong Flour

75.000 kg

Water

27L Approximate

Mix for 6 min

Ferment – 3hrs

Cracker Dust

Weak Flour

11.000 kg

Mix 3 Min

Salt

0.170

Soda

0.005 g

Ammonium Bicarbonate

0.008 g

Corn Flour

4.000 kg

Shortening

6.000 kg

Mix 6 Min. & chill
2 Kg of dust for 20Kg Dough.