Coyotas are large and flat sugar cookies which are filled traditionally with brown sugar. These cookies originated in El Fuerte in Sinaloa, Mexico in the 19th century.

The version that is most commonly available today was originally produced since 1954 based on the preparation popularized by the Villa de Seris in Hermosillo, Sonora, in Mexico.
These flaky treats are also being served in Mexican restaurants as great companions for carne asada dinners. Coyotas have now evolved into a dessert treat from being just a hearty snack, due to the different variations that have been created. Coyotas are now being stuffed with fruity fillings like pineapple, apples, quince paste and dates. Coyotas are big cookies that are sometimes shaped like turnovers, and sometimes compared to empanadas.
Etymology
The term Coyota means a Mestiza or a daughter of Indigne (or a girl of mixed Spanish and Indian heritage), and in Spanish it means dark skinned sweet and full of grace. Literally, the term coyote means a female coyote.
Country of Origin and Usage
Coyotas have originated from Mexico and it is now being enjoyed all over the world. In the UK, these modern-day empanadas have been enjoyed since 1862. In the United States, these treats are available in Tucson bakeries and in almost all Mexican supermarkets.
These treats can now be found in almost every Mexican store all over the world. They are eaten as desserts and most Mexican and Spanish restaurants serve them as well. The Coyotas are great regional treat and they are so good because of their versatility. Coyotas are good to be eaten with coffee at breakfast, and they are also great as companions for savory spicy dishes like chorizo burritos, carne asada and machada. As desserts, they are perfect with tea or coffee or topped with ice cream. As snacks, coyotas are perfect when dipped in a glass of milk.
Ingredients/ Preparation

Typically a batch of coyotas yields biscuits that are bigger and flatter than other types of sugar cookies. These are traditionally flavored with brown sugar instead of granulated white sugar.
The most basic ingredients of Coyotas are: all purpose flour, water, salt and shortening. Traditional recipe requires the use of panela, a Mexican brown sugar made of molasses that is cooked until crystallized. Coyotas recipes also require using leaf lard, but other bakers like substituting margarine or vegetable shortening. Mixing lard results in richer textured sugar cookies. In the preparation process, once the dry ingredients are blended together, shortening are slowing kneaded into the mixture until the dough reaches the necessary consistency. Water is added to prevent the dough from turning too thick.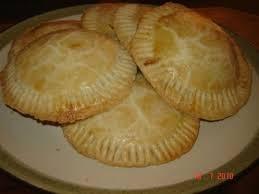 Before baking the coyotas dough, each dough ball is filled with crushed panel (in a small handful amount). While the cookies are being baked in the oven, the brown sugar concoction will start to liquefy to give flavor to the cookie. Baking at 375° F usually just takes about 15 minutes.
Different variations are now being enjoyed in different parts of the world. Coyotas are now available with different fillings aside from the original piloncillo or brown sugar. Other flavors include: jamoncillo (burnt milk caramel filling), cajeta (caramel filling), datil (dates), guyaba (guava), higo (figs), durazna (peaches), piña (pineapple), and membrillo (quince). Some people are fond of comparing Coyotas and Empanadas. Though there are places that call the coyotas as modern empanadas, there are distinctive differences between the two treats. Though both are stuffed pastries and turnover-like in appearance and made of flour, the Coyotas are bigger, flakier, flatter and definitely harder.
Popular Producers of Coyotas
One of the most well-known makers of coyotas is the La Estrella, a popular bakery in Tucson managed by Erica Franco. This bakery produces coyotas in the shape of Napoleon's hat and with fancy ruffled crimped crust. According to Erica, the recipe of their coyotas is well-balanced, and the result has a texture that balances between an empanada and a hard cookie.
Dolce Pastello, also in Tucson, serves Coyotas with different fillings like dates and caramel. These Coyotas are made Hermosillo-style and bear the name Dona Ofi, the mother of the owner of the bakery/restaurant. Coyotas Lulu (Obregon, Sonora, Mexico) is another commercial producer of the famous Mexican coyotas. Although the coyotas produced by this company come from the original Sonoran recipe, they taste more delicious justb because of the homemade touch that is very much distinguishable throughout the country. What makes this company really popular is because their mission is to provide their customers with products that will be highly appreciated. All ingredients have been carefully selected and then processed under very strict quality standard. Coyotas from this company is being distributed all over Mexico and also in Mesa, Arizona.
Las Coyotas Originales is a brand that manufactures and distributes coyotas, and other known producers include; the Coyotas Mozas Cartelera; the Panaderia Coyotas Las Granjas
Interesting Facts about Coyotas
Coyotas are great to eat even when still unbaked. The batter is just so enticingly delicious looking that some bakers did try to taste them before popping into the oven. The most famous Coyotas recipe is the Coyotas De Dona Maria Villa De Seris Recipe, the original recipe from Sonora, Mexico.
Children love eating coyotas dipped in either hot chocolate or whipped cream. In Mexico, Coyotas are often exchanged between friends, families and neighbors. Another popular filling used by Mexican restaurants for their Coyotas is jamoncillo. Jamoncillo is a traditional candy with fudge like appearance.