The cookie roll is a kind or crisp cookie or wafer, rather, which is very sweet and is rolled to have a hollow center

Etymology
The cookie draws its name from its made of preparation in that making use of the basic cookie recipe, the resultant dough is then rolled out thinly and then formed in a spiral manner with a hollow in the middle. This is what makes the cookie crunchy. By appearance, the cookie roll very easily identifies with its name, and depending on how it is rolled, in terms of the length of the roll, they are sometimes referred to as love letter in some parts of the world. To others, they may know it more commonly as biscuit roll. The basic recipe for the cookie roll had just a few basic ingredients i.e. flour, sugar, egg whites and butter

Country of Origin and Usage
The cookie roll is known by various names in various areas. In the regions of Guangdong and parts of Hong Kong for instance, it is known as the Chinese egg roll. In parts of Spain and the Philippines, it goes by the name barquillos, and in parts of England; it is called the biscuit roll. On where the snack originated from, there is some slight controversy between Asia and Spain being the home place of the cookie roll. It is a popular snack in Asia, and finding the pastry being made along the roadside is a common practice, but it is claimed to be a Spanish invention all the same.

Not being an overly popular biscuit variety, the New Territories is one region that deals with manufacture and worldwide distribution of the cookie roll. Ideally, the cookie roll is normally cooked while hollow and so the cooked biscuit makes for a great snack dipped in chocolate dip or taken with a beverage. This enables the snack to have a variety of uses such as being eaten as a dessert, being eaten during high tea with a sweet or savory feeling, or even taken plainly accompanied with tea.
Also, cookie roll makes for a great accompaniment when dipped in ice cream and could even make for a healthy snack hen taken with a healthy dip such as avocado dip or spinach dip.
Sample Cookie Roll Recipe
Ingredients
• 2 thirds cup of multipurpose flour
• ½-cup of butter
• ½-cup of white sugar
• 1 tablespoonful of the vanilla extract
• Egg whites – 2 in number
Preparation

1. Preheat oven and line your baking sheets with the parchment paper. You can also grease lightly if you do not have parchment paper.
2. Cream the sugar, vanilla and the butter together in an electric mixer.
3. When smooth, add your egg whites singly and keep beating the mixture all the while
4. Next, add the flour to make a soft smooth batter and you may add water to achieve the right consistency.
5. Drop full spoonfuls of the batter onto the greased baking sheets, spreading it out into medium-sized circles.
6. Bake your cookies for around 4 to 5 minutes or until you see the edges turning brown.
7. Remove from the oven one by one. Wrap the wafer around a wooden spoon then place it seam-down onto the cooling rack and allow cooling until crisp.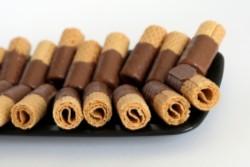 Tips and Variations
In Spain, these wafers are cooked on to the authentic wafer pan known as a barquillera and it is this variety that can commonly be found being cooked by the roadside. Due to their thinness, they are bound to cool and become crisp fast, which is why they should be worked one by one while the rest are still in the oven. Care should be taken to work fast though so that the others do not burn while in the oven.
Naturally, these cookie rolls do not use a leavening agent in their ingredients and this is what allows then spread thinly. Like any other cookie variant, the cookie roll should be stored in an airtight jar to preserve the crisp freshness. Depending on how sweet one wants the wafer, the amount of sugar could be increased or reduced. Also, some granulated sugar may be sprinkled on top of the warm cookie rolls before they cool. For extra flavour, cinnamon and lemon peel are also added to the ingredients.
Large Worldwide Brands
The consumption of cookie rolls is very high especially in Asia, much more than in Spain. Again, this could be due to the high population of Asia. Several brands enjoy some fair amount of monopoly; with very little competitors in the field of manufacturing cookie rolls. A couple of big brands are:
• Deocampo – being the largest producer and distributor, Deocampo barquillos are known everywhere beyond the territories of Spain.
• Royal – a Philippine company
• Big Bite
Tell us what is your favorite Roll (contact@biscuitpeople.com)?
---
Leading image: By gowithstock/shuterstock.com