What gives rise to its name – chocolate chip cookies, is the fact that this variation of cookies has bits and pieces of chocolate sticking out of the flour dough. Even when baked, the final product had bits of chocolate pieces sticking out as this chocolate does not melt, as normal chocolate should in the presence of heat.
Your tablespoon can hold 50 chocolate chip cookies, so how much of them can you eat? Let's make a challenge! Which story merges chocolate chip cookies, its dough, and cartoons?
Packed with a titillating burst of textures in each bite, the chocolate chip cookies have come to gain immense popularity among sweet tooth culprits.
This cookie is similar to any other cookie in appearance: circular, fairly flat, hard and light brown in color.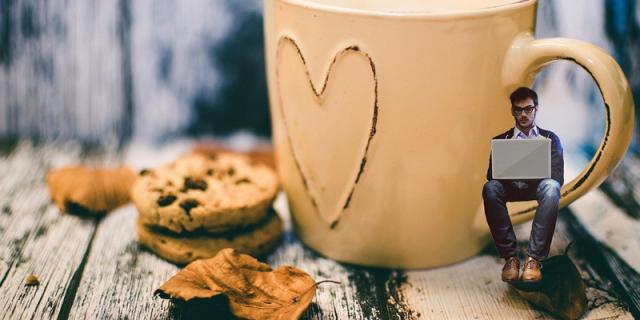 Origin and Usage
With a rich history dating back to 1930, the birthplace of the chocolate chip cookies was in the United States. Its invention was actually by accident when a baking enthusiast lacked an ingredient in the recipe she was preparing. Ruth Graves Wakefield - a dietician by profession – owned and run a tourist lodge in Whitman, Massachusetts.
For her love for all matters concerning food, she took it upon herself to prepare all meals at the Inn and her prowess for preparing amazing deserts came to be known all over the town. Even her regular guests looked forward to her sweet treats after every meal.
One day while working on a batch of cookies, Graves realized that she had run out of baker's chocolate and so since she had semi-sweet Nestle® chocolate at hand, she cut it to pieces and used it in place of the bakers chocolate in the dough mixture.
Contrary to her expectations though, the semi-sweet chocolate did not melt and instead, the dough had lumps of chocolate pieces; which ended up being the same appearance of the cookies after being baked. And just like that, this blissful accident gave rise to the chocolate chip cookies.
How these cookies came to gain worldwide popularity is when Graves sold the recipe to Andrew Nestle, owner of the Nestle Chocolate Company; and incidentally, the Nestle® semi-sweet chocolate Graves used in her first accidental batch of chocolate chip cookies had been a gift from Mr. Nestle. In return for sharing her recipe with the company, Graves was promised a lifetime supply of Nestle® chocolate.
On top of that, the Nestle Chocolate Company vowed to put the original chocolate chip cookie on every packet of the cookies which they would be manufactured. True to their word, this is a tradition that has held to date.
The cookbook of later Wakefield history, Toll House Tried and True Recipes, was first published by M in 1936. Barrows & Co., New York. The 1938 version of the cookbook was the first to include the recipe "Toll House Chocolate Crunch Cookie," which soon became a popular cookie in American homes.
During WWII, Massachusetts stationed overseas soldiers exchanged the treats they got from home with soldiers from other parts of the United States in care packages. Eventually, hundreds of soldiers wrote home telling their relatives to give them some Toll House cookies and Wakefield was eventually overwhelmed with letters from all over the world asking for her recipe.
Thus began the nationwide craze for chocolate chip cookies. The recipe for chocolate chip cookies was brought to the United Kingdom in 1956, with Maryland cookies being one of the UK's best-selling chocolate chip cookies. Nestlé marketing Every bag of Nestlé chocolate chips sold in North America has a variation (butter vs. margarine is now a stated option) of its original recycle printed on the back.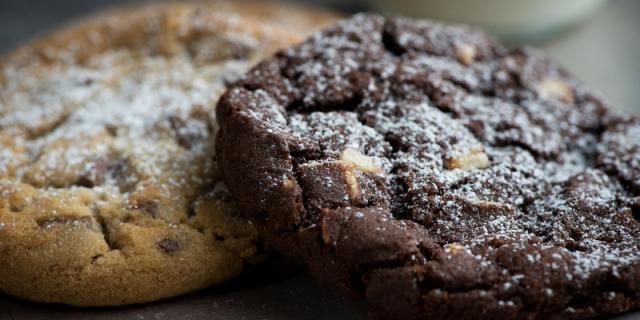 She shared the original recipe in an interview given in 2017:
​1 1⁄2 cups (350 mL) shortening
​1 1⁄8 cups (265 mL) sugar
​1 1⁄8 cups (265 mL) brown sugar
3 eggs
​1 1⁄2 teaspoon (7.5 g) salt
​3 1⁄8 cups (750 mL) of flour
​1 1⁄2 teaspoon (7.5 g) hot water
​1 1⁄2 teaspoon (7.5 g) baking soda
​1 1⁄2 teaspoon (7.5 g) vanilla
chocolate chips
The Tried and True Recipes cookbook specifies "2 bars (7 oz.) Nestlé's yellow label chocolate, semi-sweet, which has been cut in pieces the size of a pea.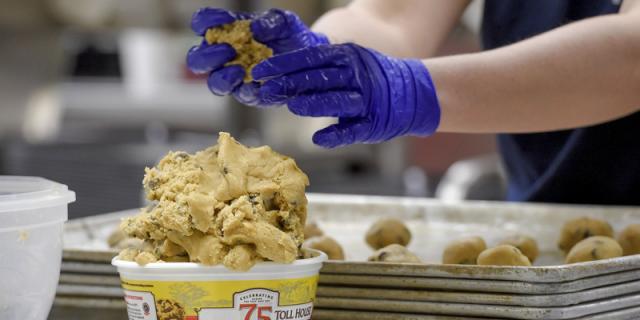 The cookies are today used as:
a) Finger foods during parties
b) Snacks
c) Desserts
d) Toppings for sundaes
e) Bases for other dishes
Sample Chocolate chip cookies recipe

Ingredients
• A full cup of multipurpose flour• A half tablespoonful of baking soda• A half tablespoonful of salt
• 1 cup of margarine or unsalted softened butter at room temperature
• Half cup of granulated sugar
• Half cup packed brown sugar
• 1 large egg
• Half tablespoonful vanilla extract
• 1 cup of chopped nuts
• 1 cup of semi-sweet chocolate morsels
Preparation
1. Preheat the oven to 375⁰Fahrenheit (190⁰C)
2. Line the baking sheets with parchment paper.
3. Sieve the flour, baking soda and salt together in a large enough bowl.4. In a separate bowl, beat the butter, granulated sugar, the vanilla extract, and brown sugar with an electric mixer until creamy. This should take about two minutes.
5. Add the eggs one by one, combining well to ensure even mixing.
6. With the electric mixer set at low speed, mix in the flour mixture, a little at a time.
7. Then stir in the chocolate morsels and the chopped nuts, by hand. Use a spatula for the final mixing, to make sure the dough is evenly mixed.
8. Cover the mixture and refrigerate for any length of time ranging from an hour to a day.
9. Scoop rounded tablespoonfuls of the mixture and drop onto the prepared baking sheets.10. Bake for around 9-11 minutes and the golden brown color will confirm the cookies are done.
11. Cool on baking sheets for three minutes, then remove and transfer to wire racks so that they cool completely.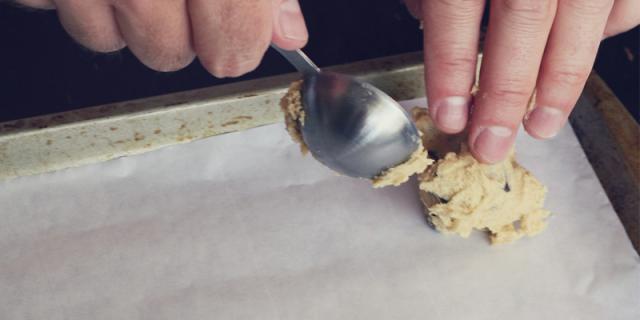 Substitutes and Variations
Using baking powder
Replacing the baking soda with ½ tablespoonful baking powder will result in cookies that are puffier and cakey.
Using both baking powder and baking soda
Replacing the baking soda with ¼ tablespoonful baking powder and ¼-tablespoonful baking soda will give rise to cookies that crisp around the edges and soft in the middle; and they will tend to spread more when dropped onto the baking sheet.
Using melted butter
For chocolate chip cookies, the butter used should be at room temperature. Using melted butter shall give rise to unimpressively flatter cookies, and with a crackled top that appears shiny; like brownies. The edges will also end up being crispier.
Using more flour
Using two cups of all-purpose flour instead of a single cup resulted in the dough being crumbly and having lesser spread. The cookies will also tend to have an undercooked center.
Daylong chilled dough
Chilling the dough for longer periods, of around 24 hours, results in chocolate chip cookies that are thicker, darker and chewier and the flavor felt more of deeper butterscotch.
Largest Brands and Manufacturers
Among the big brands in the chocolate chip cookies sector manufacturing are:
a) Famous Amos – by Kellogg Company
b) Maryland – by Burrton's Biscuit Company
c) Cookie Time – by Cookie Time Limited
d) Mrs. Fields – by Mrs. Fields Famous Brands
e) Chips Ahoy – by Nabisco Company
For the beginning, let us entertain you a bit...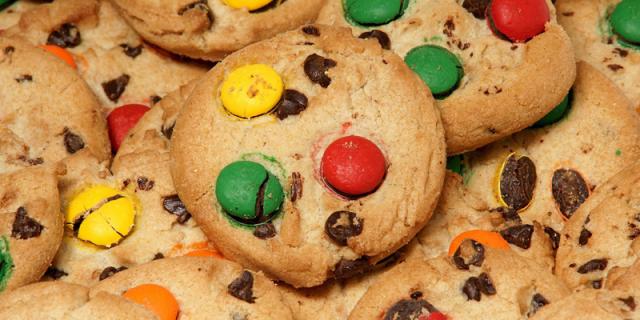 FUN FACTS ABOUT CHOCOLATE CHIP COOKIES:
Annual chocolate chip cookie sales average about 11.5 billion; with the UK being one of the biggest consumers of the snack. Of all the brands, Maryland is arguably the biggest; recording the highest sales every year.
Why are chocolate chip cookies so popular?
The chocolate chip cookie may be one of the most well-known accidental culinary innovations in the world. While baking cookies for the guests at her inn, Ruth Wakefield unknowingly—at the time—invented America's favorite cookie. Wakefield and her husband Kenneth acquired the Toll House Inn in 1930. Chocolate chip cookies are also popular because they hold a lot of nostalgia for people.
Are you picky? No problem, you'd still love chocolate chip cookies!
Chocolate chip cookies are among only four foods acceptable to even the pickiest eaters.
Moreover, chocolate chips – They were invented just because of cookies!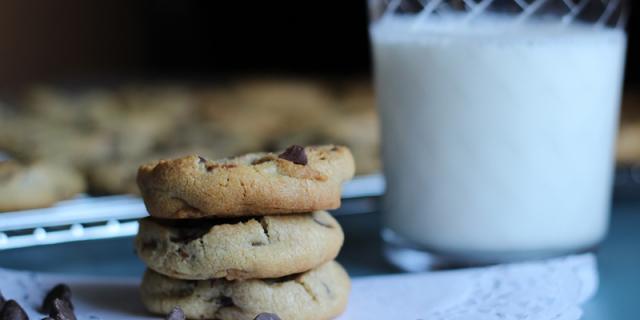 Chocolate chip cookies were first called "Butterdrop Do Cookies." Wakefield's recipe first ran in a Boston newspaper. In 1936, she published her first cookbook, Toll House Tried and True Recipes, and renamed them
In 1987 Chester Soling sponsored a contest to find the best recipe for chocolate chip cookies and got over 2.600 responses for various recipes
Did you know you eat about 35,000 cookies in a lifetime? (We ask you: How many of them are chocolate chip cookies?)
In the Middle East, chocolate chip cookies are topped with chocolate sauce and eaten with knife and fork
There was even the biggest chocolate chip cookie in the world
On May 17, 2003, the Immaculate Baking Company baked the World's Biggest Cookie next to their bakery in Flat Rock, NC.
It was 102 feet wide and it weighed over 40 000 pounds. It also contained 30,000 eggs. The previous record was 80 feet. Their motivation and the leading idea was money – they admitted, no shame.
Eight months – oh it wasn't so easy as it may seem, there were days and nights of preparing and building the Big Oven. They needed eight months of preparation for the big reveal.
The money goal – achieved!
They cut and sold cookie slices in a special commemorative box for $10 each to the waiting crowd, who were eager to get a taste of the World's Biggest Chocolate Chip cookie. The company raised nearly $20,000 towards the museum fund that day!

National Chocolate Chip Day
The presence of chocolate chip cookies is so valuable that they even have its National day! Mmm, my precious (you know where is this from?) But hang on, we will talk about cartoons too during this, chocolate chip cookie, topic... Stay tuned!
On May 15th, we even celebrate it! It's National Chocolate Chip Day! But that's not the only day, some researches show that National chocolate chip cookie day is also August 4th.
Flavors:
bittersweet chocolate chips, peanut butter chips, butterscotch chips, mint chocolate chips, white chocolate chips, dark chocolate chips, milk chocolate chips, and white and dark swirled chocolate chips.
Chocolate chips can be used in cookies, pancakes, waffles, cakes, pudding, muffins, crêpes, pies, hot chocolate, and various types of pastry. They are also found in many other retail food products such as granola bars, ice cream, and trail mix.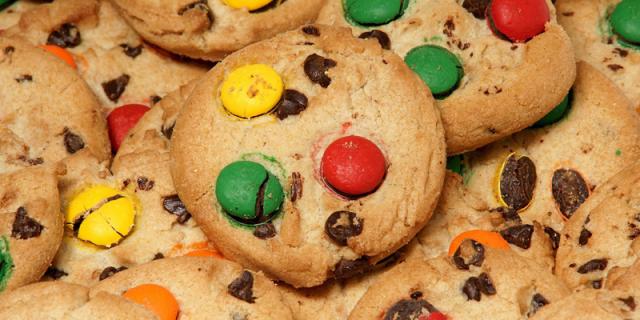 Let's make a challenge!
Your average rounded tablespoon can hold an average of 50 chocolate chips...Do we just wonder who was the first person that tried to measure this? We somehow think that it was a student who was trying to study the night before the exam... Whoever it was, we feel competitive to try it too! Are you joining us? Let us know how much chocolate chip cookies you managed to hold.
Eating raw cookie dough
At the time when the world got ''head over heels'' for chocolate chip cookies, cookie dough also got its light at the stage. The whole recipe is so tasty that people could not resist eating it whole – from the start to the final, baked product.
A lot of people think that our urge to eat cookie dough is because it reminds us of helping Mom make cookies in the kitchen of our youth, and the pleasures of her letting us lick the spoon. ... The sweet, creamy cold base of ice cream is a perfect accompaniment to the joy of texture and flavor of a morsel of cookie dough. It became so popular that some companies are even selling raw dough cups.
But, these are not for baking... No one can stop you from sticking the stuff in your oven, but this dough isn't meant to be baked. It's missing key ingredients like eggs and baking soda mostly because raw eggs would make you sick, so if you're eating cookie dough daily, be careful! Eggs can be contaminated with salmonella bacteria, and food safety recommendations encourage people to cook eggs until the white and yolk are firm to kill any bacteria and eat dough without raw eggs.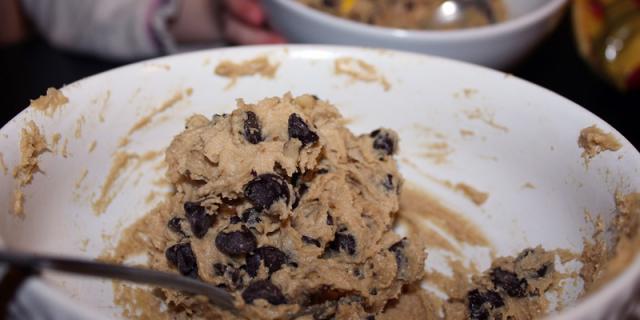 Cookie Monster
Cookie Monster is a Muppet on the long-running children's television show Sesame Street. This character automatically reminds us of chocolate chip cookies... Is there anyone who is a bigger fan of cookies than this monster?
We bet there isn't!
When we see this cute, chubby, blue puppet, we can't resist eating a cookie. He is best known for his voracious appetite and his famous eating phrases, such as Me want cookie!, Me eat cookie! (or simply COOKIE!), and Om nom nom nom (said through a mouth full of food).
As Cookie Monster would say: Good day? Eat cookie. Bad day? Eat cookie.
So, grab one, read more about Biscuit Types, and have a great day!