Cookies come in many flavours and shapes and the variety grows with every possible variation, but there are just a few evergreen treats out there. Here we present you with a true biscuit classic – almond cookies. To be more specific, we're going to take a closer look at Chinese almond cookies.
Almond is not just a delicious nut we can have as a snack, it's also one of the most used ingredients in all kinds of cookies, cakes and other sweet treats. In this case, Chinese Almond Cookies which are beautifully simple, crisp, buttery, and full of almond flavour.
Don't be fooled by the name, Chinese almond cookies can be found all around the world, and there are many similar versions by appearance involving almonds. There are Spanish almendrados, qurabiya (a shortbread biscuit made with almonds), The Pasticcini di Mandorle or Almond Cookies from Sicily, Italian Cantuccini, and even Turkish acıbadem kurabiyesi. For now, let's focus on the Chinese almond cookies and what makes them so delicious.
A story about Chinese Almond Cookies
As some other treats originating from China, this biscuit also has a special good luck component attached to it. Literally, because this is a cookie with an almond embedded in the center which represents said good luck, and cookies symbolize coins. Yes, fortune cookies, move over – almond cookies are a perfect dessert to an Asian inspired meal.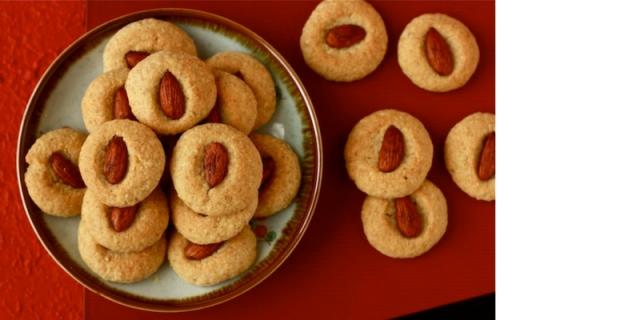 History
When it comes to main characteristics, the cookie itself is dry, crispy, and sweet - originally known as a walnut cookie in China which first appeared in the 16th century. Few treats have such a long and rich history.
The recipe was first created in the emperor's palace, where it was considered a royalty cookie. However, when the recipe later became available to the commoners, it was so popular that some will even call the Chinese walnut cookie (its original form) a National Cookie. There is even a National Chinese Almond Cookie Day celebrated on April 9th and is now a trademark in Chinese-American cooking since it was brought to America with the immigrants in the 19th century. It was typically served during Chinese New Year but now it's available year-round.
It's not used just to satisfy a sweet tooth... In some Chinese restaurants, they are served to cleanse the palate after several courses, rather than being regarded as a dessert.
Almond Cookies Recipe
Basic Chinese Almond Cookie recipe includes flour, sugar, baking soda, baking powder, butter, egg, almond extract, whole almonds with optional other nuts, lard, egg yolk, grounded almond, and corn-starch. These cookies were traditionally made with lard in China, but nowadays it's most often replaced with butter. It all comes down to personal preference when we mostly have an easy access to all ingredients.
Ingredients
3 cups all-purpose flour
1 cup sugar
1 teaspoon baking soda
½ teaspoon salt 1 cup softened unsalted butter
1 egg 1-½ teaspoons almond extract
3 dozen whole almonds (about 1/3 pound; we like raw almonds, but you can use roasted almonds)
1 egg
Preparation
Preheat the oven to 325°F.
Sift flour, sugar, baking soda and salt into a medium bowl and set aside.
In a stand mixer with the paddle attachment, beat butter on medium speed until smooth.
Add the egg and almond extract, and mix until combined.
Add the flour mixture and mix on low speed until just combined
Turn out dough onto a piece of plastic wrap, and form into a disk. Cover dough and refrigerate for about 20 minutes until firm.
Grease several cookie sheets or line them with parchment paper.
Roll the dough into 1-inch balls and place on sheets about one inch apart. Flatten them with the palm of your hand.
Place an almond in the center of each ball of dough. Brush a little of the egg wash over the top of each cookie.
Bake for 12 to 15 minutes, rotating cookie sheets halfway through. The cookies will start to turn golden at the edges when done.
Cool cookie sheets on wire racks for a few minutes before transferring the cookies to wire racks to finish cooling.
Store in an airtight container.
Recipe source: www.thenibble.com/
For a special taste, you can pair them with ice cream as an easy holiday dessert or simply with a cup of coffee or tea. And don't forget to celebrate the next April 9th with a fresh batch of these delicious treats. Enjoy!
If you love almond cookies visit The Complete Collection of Biscuit Types and find more great Biscuit types.