The butter pecan is a kind of very soft crumbly cookie-containing pecan – a soft kind of nut. The interplay of sweet and salty flavors has seen it become a favorite semi-healthy snack among many.
Etymology
Cookies draw their names from various things, but the butter pecan is named after its contents. Butter cookies are generally known to be cookies that contain a high amount of butter making them soft and crumbly. In America especially, butter cookies are very common explaining why the American idea of cookies is softer than that of its English counterparts. For the butter pecan cookie, the pecans are mixed in with the dough mix either chopped, or whole. As a result, the final cookie has bits of pecans integrated within it. This creates a chunky cookie with a twist of both soft and crunchy components in each bite.
Country of Origin and usage
Also referred to as Danish cookies, the origin of the butter pecan cookies is unknown as there appears to not be any information on who came up with this interesting creation. There are speculations though, that they hail from Denmark; a theory supported by the fact that Denmark could very well be the sole producer of packaged butter pecan cookies and they are also responsible for worldwide shipping of the same.
The cookie could be eaten as a snack solely on its own owing to the fact that it is very soft, or it could be accompanied with tea or any other beverage. Whether taken as a finger food at parties or as a sweet-savoury dessert, the butter pecan cookie is an all-round delicacy. In various parts of the world such as North America and several European countries, the butter pecan cookies are a common delicacy during the period around Christmas and the cookie tins even fit for a great gift too; whenever one may be visiting a friend or relative.
Simple Butter Pecan Recipe
It should be noted with interest that butter ocean cookies are intended to be unleavened cookies and so no raising agent is used in the ingredients. The recipe below is a sample of a basic peanut butter recipe; the proportions could be adjusted proportionally to produce a commercial batch of the cookies.
Ingredients

• One cup of multi-purpose flour
• Half cup of unsalted butter
• ¾ cup of pecans, sliced in half
• A third cup of firmly packed sugar (brown)
• 1/3 cup of granulated sugar
• 1/8 tablespoonful of salt
• 1 tablespoonful of vanilla extract
Preparation
1. Preheat the oven to 375⁰ Fahrenheit.
2. Line the baking sheet with parchment paper and on it, toast the pecans until they emit an aroma, for about 6 minutes.
3. Remove from oven to allow cooling then transferring onto the cutting board and chopping the pecans as evenly as possible. Set aside.
4. In a large bowl, cream the butter and brown sugar to a fine, light mixture.
5. Add in the salt, vanilla and flour and form into soft dough
6. Stir in the pecans, spreading them evenly over the dough and ensuring proper mixing and integration into the dough.
7. Form the dough into medium-sized balls and roll each ball in the granulated sugar.
8. Place balls on line baking sheets, and gentry flatten. Caution should be taken so as not to crumble the cookies.
9. Sprinkle with a little more sugar then allow baking for about 12 minutes or until golden brown in colour.
10. Remove them from the oven, sprinkle with a little more sugar while still hot, and then transfer to the wire rack for cooling.
Variations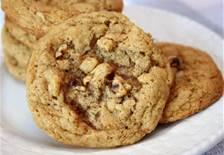 Besides vanilla; chocolate, coffee and coconut are other flavours that could be used to make butter pecan cookies. In addition, it is common practice to include chopped almonds for that extra crunch effect as well as enhance the flavour of the butter pecan cookies. The cookies come in a variety of shapes from squares, circles, ovals, rings and even twisted forms similar to pretzels. In addition, for a twist, the cookies could be made by piping the batter into decorative forms onto the baking sheet. The original traditional butter pecan cookies were meant to be wreath shaped.
This form is achieved by the piping method using a pipe with a 2" star-shaped ring. To keep the cookies fresh for longer after cooking, put in an airtight jar and place in the refrigerator. This will keep them fresh for even up to a month and without them losing their crunch; characteristic of all cookies.
Biggest Brands Worldwide
There are few butter cookie manufacturers with Denmark being the biggest worldwide distributor of the delightful snack. Royal Dansk in particular, is by far the top grossing butter cookie brand in the world, having been on top of its game since its inception in 1866. The trademark blue tin of royal Dansk has come to be common feature in most homes across the world; especially among cookie lovers.
That's all for today! Will you try to master your cooking skills and bake Pecan Butter Cookies biscuits? If you do and use our recipe, please send us your photos at contact@biscuitpeople.com and we will share it on our social network or even include in this blog post! Enjoy your snack!
---
Leading image: Photos and vectors/shutterstock.com