Short history lesson
Brownies are one of the most favourite baked treats in the world, and the first brownie was created at the end of the 19th century in the USA. Being Dutch, the first time I ever came across one was in 1987, when we had some friends from the USA coming over for a visit - they taught me a lot about brownies.
I still remember my first question to him. "What is an original Brownie?" And his answer was: "what do you mean?" This brings me to the conclusion that the story on how brownies came to be is correct. The brownie was created when a mistake was made when baking a chocolate cake, but how and when exactly, and what went wrong? Nobody knows! (if you do know: I'd love to hear from you)
Different types of Brownies
Brownies exist in a lot of variations, with differences in: aeration, chewiness, how hard or soft they are, whether or not there is icing on top, they can have a crusty top or they can be decorated with fudge.
All brownies have their own character and shelf life. You can cut them in special sizes, and they can be stored either ambient or frozen.
Ingredients and explanation of 'different' vs. more traditional Brownie recipes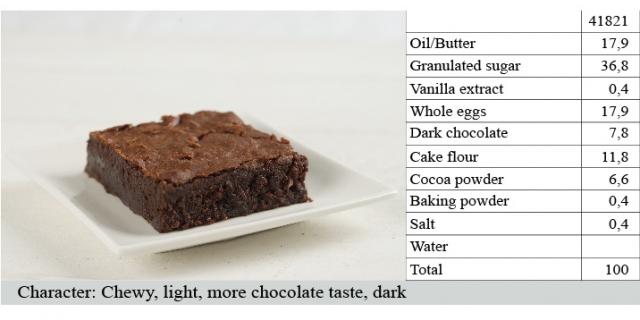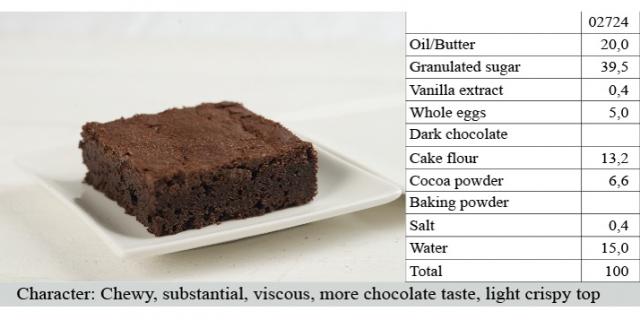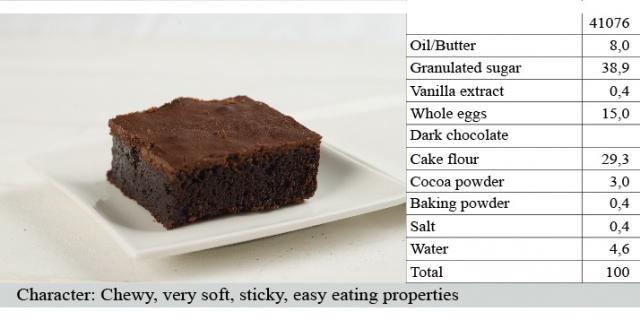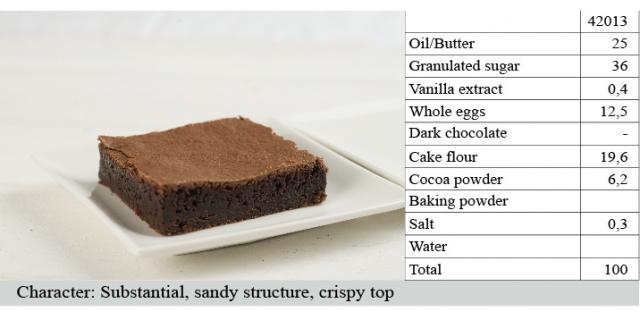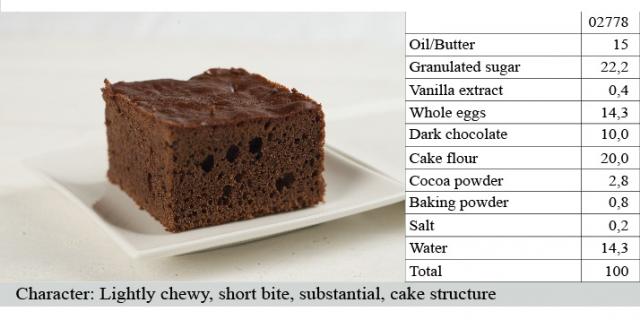 What steps to take when baking 'your preferred' Brownie:
The process step of mixing is very important if you want to achieve a smooth character and a full-of-taste brownie. During the mixing, you need to achieve a perfect solution of all ingredients, and especially of the sugars. Proper mixing takes time. And we don't need energy (speed) in the mixing process - we do need time and the right temperature, resulting in an excellent smooth batter. Water that has a temperature of 60°C speeds up the mixing process.
Sugars are responsible for the chewiness and/or softness of a brownie. They also have a big influence on the crispy top layer of the brownie. Fine sugar crystals are responsible for a nice crispy top layer. Large granulated sugar gives more volume to the brownie during the baking process. Glucose syrup makes brownies more chewy, but with a less crispy top.
Butter or oil is responsible for the amount of volume and for the structure. Butter gives a more open structure and a larger volume to the finished product. Oil gives it a more smooth structure and less volume. If you like to use butter, don't forget the option of using butter oil.
Baking powder is not really necessary for baking a brownie. It plays a small part in the baking process and the bite of the brownie. Adding more baking powder gives it a so-called 'shorter' bite. No baking powder results in a longer bite.
Cacao powder is responsible for taste and colour. Now, there are many different types of cacao powder. I prefer to use the cacao powder with the best flavour, because colour can also be influenced and determined by the structure and PH value. The amount of cacao powder used directly influences the taste intensity of the final product.
In terms of flavour: if you take the best cacao powder, you can increase the flavour by adding some vanilla and salt. These two ingredients make the flavour more 'round' and complete.
It isn't necessary to use real chocolate, as long as the balance of sugars, cacao powder and fat are optimal, you can create the same structure, crispiness and taste that you would using real chocolate. The best reason to choose for real chocolate, is so that you can use it in the description of your finished product. 'Made with real chocolate' simply sounds excellent.
A brownie's shelf life is determined by the best preservative in the world - sugar. The expected shelf life depends on the amount of sugar. A high sugar amount results in a longer shelf life, more sweetness, a more crispy top layer, and less volume.
Baking process
A slow baking process is preferable. By slowly heating up the batter, sugars will melt better and will end up 'at the top of the batter', which creates a more crispy and rich look of the brownie.
Conclusion
The brownie is a product with a heavy character and can stay fresh for a number of days without refrigeration (at room temperature, app. 20-23Celsius). You can create your own preferred structure and colour of the product. If you like, you can also make an assortment of different qualities, leaving the choice for 'the best brownie' to your customer. You can also choose to make a 'party version' brownie – by using some decoration on top, e.g., made of chocolate fudge. Brownie recipes are quite flexible, exceptional, and tasteful.
Be sure to subscribe to our newsletter by registering so that you do not miss any of our articles and insights.