Great works of art, empires, successful businesses. What do all these things have in common? As the old saying goes: "Rome wasn't built in a day" and neither were any of the aforementioned things. Success takes time. Sometimes it takes several generations of great management for family businesses to finally make a breakthrough in the ever-saturated market. Bath Oliver biscuits have a similar story. They are the English national biscuits and as such are loved by many.
I apologize if I spoiled the contents of today's article but today, we are looking at both a biscuit type and brand called Bath Oliver biscuits. What are these biscuits, what is their history and what makes them stand-out amongst so many different biscuit types? These, and many more, are the questions I will be answering to the best of my abilities. So, if you are looking for a fun and interesting read about some new types of biscuits you might have never heard before, you are in luck. Read on to find out everything there is to know about these British goodies.
What are Bath Oliver biscuits? History, origin and trivia
For starters, I thought it would be a good idea to look at the biscuits' history, origin, interesting trivia and what type of biscuits they are. So, to answer the most obvious question right away, the Bath Oliver biscuits are hard, dry biscuits (they can even be made as crackers) that are made from flour, butter, yeast and milk; no sugar is used for them and they are most often eaten with cheese! As for their origin, the biscuits were created by a physician named William Oliver of Bath, Somerset back in the 18th century.
Before we continue, I would like to dedicate a few words to the inventor of Bath Oliver biscuits. William Oliver was born in the year 1695, on 14th of August to be more precise, in a parish and village in Cornwall, England, UK. He was a physician and lived for 69 years before he passed away in the year 1764, on the 17th of March. He was the son of John Oliver, the owner of the Trevarno Estate, a private country estate in south-west Cornwall, near the village of Crowntown. Although his family first resided at Trevarno in Sithney (which is a civil parish in west Cornwall), they later moved to Ludgvan, where they settled in the Treneere estate in Madron.
Later, the estate came into his possession, and it remained so until 1768 when it was sold after his death. What is more interesting, however, is that William knew Alexander Pope, who is regarded as one of the greatest English poets of all time. When William erected a monument to his late parents, the English poet wrote the epitaph and drew the design of the pillar.
As for William's academic career, he was admitted a pensioner of Pembroke College, Cambridge on 17 September 1714, graduated M.B. in 1720, and finally M.D. in 1725. He was also a student of medicine, and to complete his medical training he entered Leiden University in 1720. The crowning achievement of his academic life was his admittance into the Royal Society on 22 January 1730 and into Oxford on 8th of July 1756.
William Oliver had a busy life. He was quite successful in his academic endeavours and would also go on to become a brilliant physician. There are some controversies about his life and work, but I will not be getting into these in today's article. What I am most interested in is his recipe for the Bath Oliver biscuits! The funny thing about the biscuits, however, is that they only became popular after his death, not during his lifetime.
After William Oliver died, he left his possessions, i.e. the recipe for the Bath Oliver biscuits, a 100 pounds and ten sacks of the finest wheat-flour he had to his coachman, Mr Atkins. Upon receiving these items, Mr Atkins immediately set out to fulfilling William's will. Atkins quickly set-up a biscuit-baking business and soon started making batches upon batches of Bath Oliver biscuits. The biscuits were an instant success and sold like crazy, which netted Mr Atkins quite a fortune. He became rich but later passed-on his business to a man named Norris, who then sold the business to a baker called Carter until the ownership of the business finally landed in James Fortt's hands.
From that point onwards, the company continued producing the biscuits for their numerous customers. However, due to the recent outbreak of Covid-19, United Biscuits suspended the production back in October. The fate of the biscuits remains to be seen.
However, I am sure that such an iconic part of English cuisine will continue to be produced for decades to come. Why? Because the Bath Oliver biscuits are so evocative of English culture that it would be criminal not to continue producing them. There are so many references to these biscuits in English popular culture which makes them that much more popular.
Are Bath Oliver biscuits still being made?
As I have said above, it is my personal belief that United Biscuits will continue the production of Bath Oliver biscuits shortly. However, the news that such iconic biscuits would no longer be produced was not met well by the English public. The news was quite discouraging, with some media outlets, primarily the British Telegraph calling the discontinuation of the Bath Oliver biscuits "a national tragedy." Per their words, the Bath Oliver biscuits were the last "symbol of decency and old-fashioned values."
Now, I don't want to analyse this too much as I'm not a Brit myself and I would not like for this article to become political, but I am sure that, no matter what one's political affiliation might be, the news that Bath Oliver biscuits would no longer be produced was disheartening. I believe that every country has its national biscuit brand or type that they are proud of and would hate to see go away.
And this is especially true for Bath Oliver. The Famous Crown Jewels, priceless possessions of the royal family, were kept safe in a Bath Oliver biscuit tin under Windsor Castle during World War II in case the Nazis managed to conduct a land invasion on the British Isles. Not only that, but they are also mentioned in works by great authors such as Rudyard Kipling and Evelyn Waugh.
The biscuits truly have a long and interesting history and are claimed by many to be one of the nation's greatest (if not THE greatest) biscuits. And as I have said, it would be criminal not to continue producing them. The current owners of the Bath Olivers biscuits Pladis has have reassured that the pause in the production of the biscuits due to Covid-19 is only temporary and that it will resume shortly. And with the light at the end of the tunnel in sight, life itself should go back to normal very soon. I hope that, soon, we will all look at 2020 as just a bad memory while enjoying some fresh Bath Oliver biscuits (or whatever your favourite might be).
Source: Felicity Cloake. "I despaired when I heard that the venerable Bath Oliver biscuit had ceased production." newstatesman.com
A recipe for Bath Oliver while you wait for them to come back
Although the biscuits will most certainly come back later (hopefully sooner rather than later) I realise that some of you cannot wait for the store-bought version to come back. So why not make some yourself? There is a good idea to fill-out a boring afternoon! So, let us get straight to it. The ingredients you will need for the recipe are:
Two tablespoons of warm water
One tablespoon of dried yeast
Fifty grams of butter
A hundred and fifty ml of milk
Half a tablespoon of salt
12 ounces (340 grams) of strong white flour
Now that you have got your ingredients all sorted out, we can get on with the recipe. Follow these steps and you will have no problems baking a batch of your very own Bath Oliver biscuits.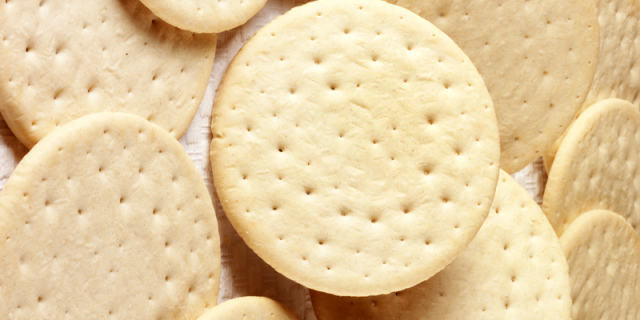 Photo by CKP1001/Shutterstock.com
Getting ready
Take the one tablespoon of dried yeast and sprinkle it onto warm water. After that, leave it to soften.
Take the fifty grams of butter, a hundred and fifty millilitres of milk and the half a tablespoon of salt and heat all these ingredients together until the butter melts.
Pour the mixture into a large mixing bowl and set it aside until it is just lukewarm.
Making the dough
Take the yeast that you have sprinkled into warm water and add it to the warm butter and milk.
Add a half a cup of strong white flour and mix it all until it is smooth.
Cover the smooth mixture with a plate and set it aside for about ten minutes.
Add the rest of the 12 ounces of strong white flour to the mix and mix it until a soft dough starts to form. If necessary, add a little warm water to it.
Knead the soft dough until it is smooth, cover it with a cloth and leave it in a warm place for about fifteen minutes. If you decide to leave it at room temperature, then let it rest for about an hour.
Time to preheat the oven! Set if to 325 degrees F or 160 degrees C.
Take a bench role and flour it. Put the dough onto it and roll it into a rectangle that is about 13 millimetres thick.
Take the bottom third of the dough and fold it up and then the top third down on top of it.
Rotate the dough so that all the folded edges are on the right side. This is the first turn.
Take a rolling pin and press it down all over the surface of the dough. After that, roll it out again and repeat. You should repeat this step for about 8 to 9 times.
After a couple of turns, the dough will start to resist, and it will keep shrinking back. The solution to this is to cover the dough with a cloth and leave it to relax for about 5 minutes before you continue to roll.
Rest the dough for another 5 minutes after all the turns had been done.
After the dough has rested, roll it out as thinly as possible. The dough should not be thicker than 7 millimetres.
Cut the rolled dough into circular shapes that are about 8 cm in diameter. Place them on wetter oven trays.
Prick the dough circles all over with a fork or a similar utensil.
Bake the dough for about twenty-five minutes, until the dough is brown and crisp. Make sure to rotate the oven trays halfway through.
In the end, you can take the leftover dough and turn it into small, irregular pieces and bake them along with the biscuits.
And there you have it! Your very own batch of Bath Oliver biscuits thanks to ladiesaplate.co.nz. These biscuits are quite plain, however, which means they are best enjoyed with other tasty ingredients such as flaky salt, caraway seeds, paprika, chilli powder, grated parmesan, sugar, whatever you like! You can either use sweet or savoury flavours, the sky is your limit. Just make sure not to eat all of them at once and to save some for your friends and family! Final tip: store them in a biscuit tin to prolong their shelf life.
Source: "Bath Oliver Biscuits." ladiesaplate.co.nz
It has been an absolute joy to write about such beloved with biscuits with an amazing history. I truly hope that they will soon reappear on store shelves and that this messy pandemic will soon be behind us. Until then, be sure to use the above recipe to bake yourselves a batch of two of these royalty snacks. If you do not like baking biscuits, then you can always check out our website for some other tantalizing products. On a final note, make sure to subscribe to our newsletter service to never miss out on any of our new articles. Cheers!
Be sure to subscribe to our newsletter by registering so that you do not miss any of our articles and insights.
---
Leading image by CKP1001/Shutterstock.com