Aachener Printen is a traditional German Christmas basked goodie or a Lebkuchen. It originated in Aachen City in Germany. The Printen looks a lot like traditional English gingerbread and it was originally made with honey for sweetening.

Etymology
The term Aachener Printen is a protected designation of origin and thus, all manufacturers of this cookie should be based in or around the city of Aachen. Aachener, obviously was derived from the German city where this unique biscuit comes from. Printen, on the other hand, has several different definitions. In Dutch, Printen means printing, and that somehow can be connected to the cookies because some biscuits are baked with certain printed images.
Due to the PDO (Protected Designation of Origin) label, only bakers and bakeries in and around Aachen City have the right to use the term Aachen Printen for their distributed Christmas gingerbread goodies.
Country of Origin
As mentioned, the Aachener Printen is baked only in the city of Aachen. And that is still true today; this delectable pastry cannot be made outside that specific German city. Aachen is known as the German Sweet Capital because of the famous cookie and their chocolates.

According to history though, Printen was originally from Belgium, in the city of Dinant. This baked goodie was originally soft and sweet; the kind of delicate sweetness that one usually gets from American honey. The pastry reached Germany and from then on, only Aachen bakers made these delights. It was in 1806, when the Aachen bakers started using beet sugar syrup and molasses for their recipe, and they liked the resulting chewiness and thus, that recipe stayed on through the years.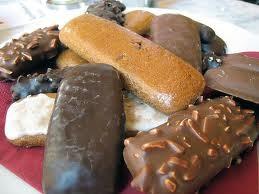 Uses
Originally, the Aachener Printen pastries and cookies are served for Christmas cookies as a German tradition. But nowadays, anyone can taste these mouthwatering goodies anytime of the year. If one will just walk through the streets of Aachen, you will see shops everywhere that are offering these yummy treats. The shops even offer samples to passersby and if you are a tourist you may even get a special treat.

It is simply not hard to get a quick bite of the Aachener Printen, if you are in Aachen, just walk and follow your nose, and you will surely end up tasting different cookies made and offered by different sweet shops. In some cases, just like any other types of cookies and biscuits, the Aachener Printen can be that perfect survival treat during the harsh winter season.
Ingredients
The Aachener Printen recipe is heavily guarded by the bakers of Aachen as they do consider it as their Family Secret. Today, these cookies come in a variety of variations, soft, hard, with herbs, with nuts, or with chocolate, and in different shapes and sizes.

Generally, the ingredients include; wheat flour, cinnamon, clove, aniseed, spices, ginger, coriander, and cardamom. The proportions though remain big secrets. There are also other ingredients being used today, which could include; cocoa mass, cocoa butter, raising agents, potassium carbonate, candy sugar, glucose-fructose syrup, soy lecithins, hazelnut, sesame, eggs, pure butterfat and peanuts.

The original sweetener used by the Aachen bakers was American wild-flower honey, which used to be exported from England. But when napoleon ordered that blockade against Engalnd, the bakers had to improvise because they got cut off from their supplies. This was when they started using beet sugar. The result was a dough that was a bit hard to form, but for the bakers, the important thing was that they had their beloved printen with them. According to history, Henry Lamberts, a master baker, was the one who created the now famous sugar solution. This ingredient provided a dough that was easier to make and distribute.
Biggest Worldwide Producer
Due to Henry Lamberts creativity, he was able to produce Aachen Printen variety that was easily manufactured and distributed, thus he also became one of the most famous producers of this unique German pastry. Another famous producer of Aachen Printen is the Kelin Printe Bakery in Franzstraße in Aachen. This bakery is very popular in and around the area because they produce some of the best Aachen Printen and they have been doing that since 1912.
Famous Aachener Printen Brands
The rarest, the best and definitely the most expensive Aachener Printen brands are the Schokolade-Printen and the Schokolade-Nuss-Printen. The Schokolade-Printen were dipped in bitter, dark chocolate, while the Schokolade-Nuss-Printen were totally covered with nuts.

The Aachener Printen cookies are unique in every possible aspect. Though they are usually compared to honey cakes and gingerbreads, these German cookies are firmer. They are so popular that over 4,500 tons of them are produced every year in Aachen bakeries and factories. The majority of these yearly Aachen Printen are sent to different parts of the world as Christmas presents and souvenirs.
Interesting facts about Aachener Printen
Due to the unique hardness of the original Aachener Printen dough, most German housewives had to use different tricks in softening the cookies in order for the children to enjoy eating them. One trick used was storing the goodies in closed boxes right after the baking process. The idea was to retain the moisture inside the cookies and prevent them from hardening. Another trick that worked for the German housewives was storing the cookies along with cut apples and fresh bread to make them softer.