If you are interested to find out how to make and shape vanillekipferl at home as well as Vanillekipferl history, you are at the right place
Vanillekipferl are small, crescent-shaped biscuits that are very popular in Austria, Germany, Czech Republic, Slovakia and Hungary. These biscuits are usually made with ground hazelnuts or almonds. The typical flavour is due to vanilla sugar that is heavily dusted on the biscuits.
The Vanillekipferl biscuits are magical, in the sense that they are shaped like half-moons. They are traditionally served during Christmas season, but can be served for any occasion, really. They are easy to bake and are ideal as a mid-afternoon snack, or for dieters as a light, after-supper dessert.
The vanillekipferl cookies are made using the common biscuit ingredients found in different types of sugar cookies. Even the preparation is similar, except, of course, for the cookie's shape. Regular sugar cookies are round while these Austrian cookies are crescent-shaped. Preparation is finished off with a lot of vanilla icing sugar dusted on top.
Etymology
Vanillekipferl are biscuits with many names, which include: Wiener vanillekipferl, Viennese crescent cookies and vanillekipferl. Because of the crescent shape, these biscuits are said to be the forerunners of the croissant.
Country of Origin and Usage
The Vanillekipferl was originally developed in Austria, in the city of Vienna. This is also the specialty cookie of the Bavarian town, the Nördlingen. These biscuits were traditionally served during Christmas time in Europe, and we can call them Christmas Cookies. If you are ever in Vienna, you will often see these biscuits available in the city's numerous coffee shops. These biscuits are also widely baked and enjoyed in Germany and other parts of Europe like the Czech Republic, Romania, Slovakia, and Hungary.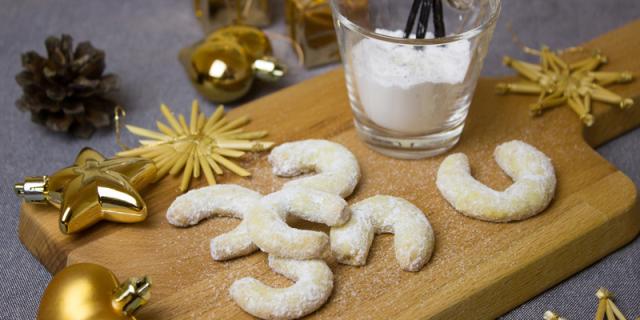 The Vanillekipferl is considered a very special cookie, because unlike other baked goodies, they are somewhat difficult to bake. The batter becomes quite fragile once hardened, which is why it really takes a professional baker with skilled hands to create this special Christmas biscuit. It takes a lot of practice to actually be able to shape the dough without breaking the biscuit.
Vanillekipferl history
According to one legend, the Vanillekipferl was all about celebrating the triumphant days of the Habsburg Monarchy. We now know from historical records that the Austrian army, along with its other European allies, triumphantly defeated the Turks in September of 1683 in Vienna. This victory was a turning point in the Austrian-Osman conflict, and to celebrate this monumental event, the bakers of Vienna created sugary cookies shaped as crescent moons, which were characteristic for the flag of the Osman Empire. They called these cookies Kipferl. The legend of the crescent shape cookies is concurrent with the legend of the beginning of the Viennese coffeehouses. Another legend has it that when the defeated Turkish army fled the city, they had to leave a coffee bean sacks.
In Paris, the French Vanillekipferl invasion started around 1839 when an Austrian army officer named August Zang moved to France and established his own bakery, called the Parisian Rue de Richelieu. The French version is flakier.
Ingredients and Preparation
The ingredients for the Vanillekipferl are similar to those used for other kinds of sugar cookies. They include sugar, flour, vanilla, butter and eggs, plus a leavening agent. Ground nuts are also used for flavouring; the most commonly used nuts for these biscuits are hazelnuts and almonds. In these biscuits among the functional properties of sugar in biscuits, sugar has also a decorative role. For the sweet taste, powdered sugar is dusted on top, while other people dip the cookies into melted chocolate. The crescent shape gives these cookies their distinctive characteristic.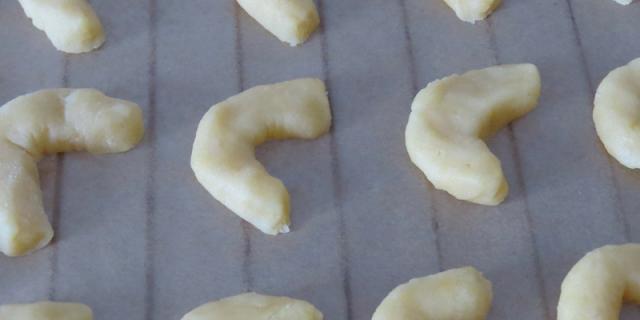 Biggest Producers of Vanillekipferl Worldwide
Wirklein Vanillekipferl Biscuits is a popular Vanillekipferl brand. These are small, crescent-shaped goodies baked with fine bourbon vanilla and then finished off with powdered sugar that is dusted on top. The Keksies is a brand that also distributes the Vanillekipferl Cookies along with other Weihnachtsgebäck (German Christmas pastries). This brand makes and delivers its goodies in New York. The Ritter Sport Winter Kreation also produces and distributes Vanillekipferl Cookies.
Interesting Facts about Vanillekipferl
The Kipferl biscuits are said to have originated in Vienna, Austria. However, these delicious crescent-shaped goodies have been baked and enjoyed throughout Germany during Christmas time for so long that they are sometimes mistaken for German cookies. In the Schönbrunn Palace in Vienna, Austria, the Vanillekipferl biscuits are considered a specialty, together with their equally popular mulled wine.
Vanillekipferl biscuits are great little edibles that people bring as gifts when they visit their families and friends for Christmas celebrations. The powdered, sugar-dusted variety is still the preferred version of Vanillekipferl compared to the chocolate-dipped variant.
The Germans may not have been the first to bake these goodies, but they were certainly the ones that made them very popular. As a matter of fact, the Germans who migrated to other countries have taken with them the tradition of making these cookies for their Christmas celebrations. They also shared their traditional recipes to their adoptive nations, making the Vanillekipferl a biscuit that can be enjoyed in most corners of the world and at any time of the year.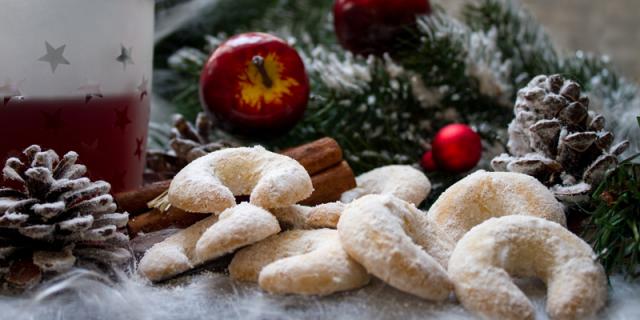 Enjoying these cookies is easy. Preparing them, however… not so much. They look deceptively simple-enough but require a certain level of baking skills as it can be hard to form the cookies into the crescent shapes without breaking the biscuit. The Austrian version is still considered the original version; they are still the melt-in-the-mouth variant of Vanillekipferl. We will provide you with a sample recipe below, however, do not be disheartened if you do not succeed at first! Remember, baking and cooking are not easy skills to pick up. Mastering these skills requires time, practice and patience, so don't be sad if the cookies don't turn out the way they're supposed to. Chances are that, even if you weren't able to shape them properly, they're still going to be tasty. With time, you'll learn how to make them look crescent-shaped as well!
The Vanillekipferl cookies are also called the Vanilla Almond Half-Moon Biscuits because of their unique shape. They are usually served with other cookies shaped like stars to complete the setting. In Austria and Germany, a Christmas season is never complete without the Vanillekipferl cookies. Austrians and Germans continue the tradition no matter where they are.
A Sample Vanillekipferl Biscuits Recipe
If you are reading this article, you probably wish to find out how to make some Vanillekipferl biscuits yourself. You came to the right place, as we have decided to present you with a sample recipe and easy-to-follow instructions. Remember, however, that shaping the Vanillekipferl is not easy, so don't worry if they don't look as good the first time you bake them. To start things off, here is the list of ingredients you will need to bake some of these delicious Austrian treats.
You will need the following ingredients:
Two hundred and eighty grams of flour (either cake or all-purpose flour)
One hundred grams of ground walnuts
Seventy grams of powdered sugar
Powdered and vanilla sugar (for dusting)
Two hundred and ten grams of butter
One egg yolk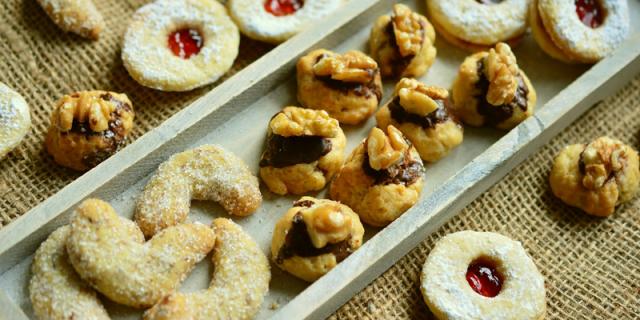 Once you have gathered all the necessary ingredients for the recipe, you can start preparing your very own Vanillekipferl biscuits. Here are the instructions on how to make vanillekipferl:
Take the ingredients for the Vanillekipferl biscuits and mix them together with your hands
After the ingredients have come together, shape the dough into a ball
Split the dough into two parts, for now, you are going to cover one half of the dough with cling film and place it in the refrigerator for later use
Preheat your oven to one hundred and eighty degrees Celsius (three hundred- and fifty-six-degrees Fahrenheit)
Take the first half of the dough and form it into a long roll which should be approximately one centimetre thick
Cut the dough roll into three-centimetre-long pieces
Take the three-centimetre-long pieces of dough and try to shape them into crescent moons, do not worry if you do not succeed at first
Place your crescent-shaped biscuits on a baking tray (which must be lined with baking paper)
Bake the biscuits in the oven for about seven to ten minutes, until they become very light gold in colour
Take you powdered and vanilla sugar, mix them, and then dust the Vanillekipferl biscuits with the mixture using a sleeve
Take the other half of the dough that has been cooling in the fridge, and repeat steps five to ten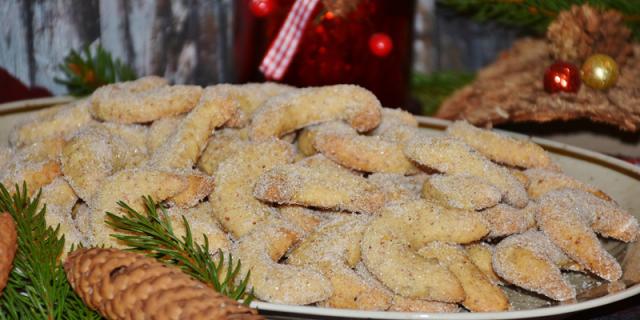 How to shape vanillekipferl and other Tips
Besides the ingredient list and the instruction for baking the biscuits, here are some tips to help you along the way:
Many people like to use margarine as a replacement for butter; the Vanillekipferl biscuits are already hard to shape properly as it is, so don't go and make it even harder for yourself, use real butter, it is going to make the recipe that much better and easier
After you are done baking your Vanillekipferl biscuits, be sure to store any remaining ingredients to prevent them from going bad; you never know when you might need to bake Vanillekipferl again or any other biscuits for that matter
While you can use moulds to shape the Vanillekipferl biscuits, you don't need them; it is much more rewarding to shape some yourself, all it takes is some practice; be sure to evenly apply pressure to the dough using your palms
As with any other types of biscuits, do not bake the biscuits for too long; they are going to lose their nutritional values, have bad taste, and not to mention they are going to break easily; seven to ten minutes with a preheated oven should be more than enough
The biscuit tins are a great commodity; we've written an entire article about their history, trivia and various uses which you can check out here. Vanillekipferl are a dessert that can last for an entire month, and they get better with time; store them in your biscuits tins for latter.
As with most dishes and desserts, it is important to pay close attention to temperature while baking; be sure to preheat the oven to one hundred and eighty degrees Celsius, as that is the optimal temperature for baking these biscuits
Be sure to use as-fresh-as-possible ingredients; if you have the will and time, it would be best to pay a quick visit to your local market or supermarket, the most important ingredients you should look out for are freshly ground walnuts, almonds and hazelnuts
If your dough seems to crumble too much, fret not! This problem can easily be solved with a simple trick, just take a few drops of milk and add it to your mix (a couple of small tablespoons should do the job); this should prevent the dough from crumbling any further
As some would say, good organization is half the job done; don't overburden yourself by working with the entire dough; as we've mentioned in the instruction, divide the dough and place one half in the fridge for latter, for when you are done with the first batch of biscuits
Many people try to take a shortcut by throwing the biscuits into the sugar mix; the reason why you should avoid doing that is because the biscuits break easily; use a sieve to dust the biscuits after they are done
Don't give up! And don't let the fact that the biscuits are hard to shape put you off, rarely does anyone succeed at first; even if the biscuits are not properly shaped, chances are they will still be very tasty
That's it for the sample recipe, courtesy of the Official Austrian Travel Guide. We hope the instructions are easy enough to follow and wish you a lot of luck if this is your first foray into biscuit baking!

Vanillekipferl: A Sweet Historical Tribute
Who says history can't be fun (and tasty)? What came about as a tribute to the victory of the Austrian forces over the Osman armies turned out to be a huge hit, not just amongst the Austrian people, but in other European countries as well! They are an extremely popular Christmas time biscuit, and they are here to stay for a long time. We wish you good luck in baking your very own Vanillekipferl biscuits, and as always, cheers until next time!
Related articles:
Christmas Cookies from All Around Europe
Discover more great Biscuit Types
Be sure to subscribe to our newsletter by registering so that you do not miss any of our articles and insights.