What are traditional Italian cookies with almond? The Sicilian pasticcini di mandorle, is a great little type of cookie for any occasion. They can be used as everyday snack, for holidays and any other type of gathering.
Picture this scenario: It is Friday, the weekend has just started. You do not have to go to work, the weather is beautiful, and it is warm outside. You are sitting in your backyard and enjoying your time off with an interesting book and cup of hot coffee, preferably black and strong. As you drink your coffee, you realise that you are missing something. Your taste buds start to crave for something sweet to balance out the bitterness in your mouth. But alas, you remember, no markets are working today, and you have not gone grocery shopping. You check your pantry to see the ingredients you have available: flour, sugar, some eggs and a bunch of almonds. Seems like an impossible task to make a dessert out of these ingredients, right? You open your grandmother's old desserts book and find a recipe for something named pasticcini di mandorle. You quickly realise it is a recipe for soft almond cakes your grandmother used to make and that you have all the ingredients.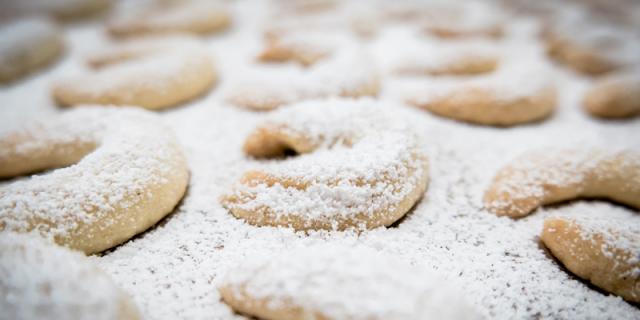 A simple recipe that is easy enough to make. You start following the instructions and you are done in a couple of hours or so. You pour yourself a new cup of coffee and take a few sips. You remember why you made the cookies and take the first bite. Hard on the outside, but soft on the inside. Simple yet so satisfying. You are transported to a happier time, to all the holidays when you ate your grandma's pasticcini and had no worries. Before you even realise it, you are out of cookies, and you go to grab yourself some more. Today's article will focus on the aforementioned pasticcini di mandorle (soft almond cookies) from Sicily.
Recipe for Pasticcini di Mandorle
The cookies should be refrigerated for two hours before baking and using superfine sugar can yield more delicate results. Once you have gathered all the ingredients, it is time to get the work. The first step is to take your almonds and sugar into a food processor. Blend the two ingredients together until you get a fine blend of sugar and almond meal. You should use about two hundred grams of almonds and sugar. Next up, break a couple of eggs (around three eggs) and separate the yolks from the whites. A nice little trick is to use an empty bottle to suck the yolk out of the egg whites. Place your empty plastic bottle near the yolk and apply pressure to the middle of the bottle. The yolk will be sucked in and you can place it somewhere else. Add the egg whites along with the vanilla extract to the food processor which contains the blended mix of sugar and almonds. Blend the ingredients together until you get a smooth dough. Take the dough and transfer it into a cookie press with the tip cut off (the tip should be cut off about two centimetres from the bottom). Press the dough onto the parchment paper which you have applied over your baking sheet. You should leave about two centimetres of room between each cookie, and they should not be larger than four centimetres. After that, refrigerate the cookies for about two hours, bake them at 180 degrees (Celsius) for about fifteen minutes, and voila! Your very own pasticcinis are done! Enjoy the fruits of your labour, preferably with a nice, black espresso nearby, just as the Sicilians do!If you have a sweet tooth and are looking for something to quench your need for desserts or dip into your coffee, then look no further. The pasticcini is the perfect little cookie to bake for gatherings and events or for relaxation in the backyard. The ingredients for baking pasticcinis are inexpensive and are readily available in most homes. If not, a quick hop to the nearest market will do the trick. The ingredients you will need for the almond cookies are: (surprise, surprise) almonds, sugar, eggs and one vanilla extract. You can also add any other ingredients if you want to spice things up, such as cherries for example. Almond cookies also go well with different kinds of jams, which can be applied after the biscuits are baked. As with any kind of cooking, it is always a good idea to plan ahead.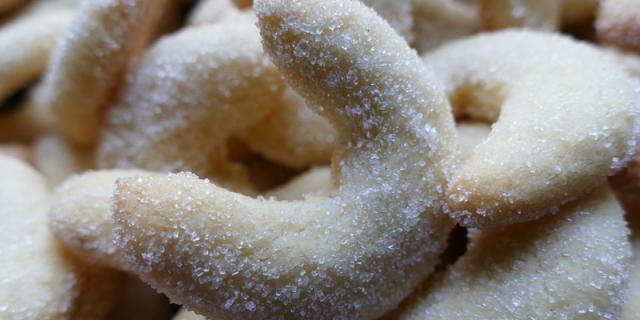 The Sicilian pasticcini di mandorle, is a great little type of cookie for any occasion, really. They can be used as everyday snack, for holidays and any other type of gathering. They also make for great gifts, and their simplicity enables you to add your own ingredients and ideas to the mix. They can also be decorated in any way you want, making for some delicious looking treats. The next time you forget to go grocery shopping, but are craving for something sweet, remember the simple almond cakes, make some yourself, maybe even invite friends or family over and enjoy some quality time with them over some freshly-baked, delicious Sicilian cookies.
Some Facts About the Sicilian Cuisine
Hopefully, the introductory paragraph aroused your senses and got you interested in the sweet little delights that are known as soft almond cookies. The process behind making almond cookies is super-easy and the instructions for making them can be found at the end of the article. But first-things-first, it might interest you to know some of the facts and history behind these Sicilian cookies. To kick things off, we will start with Sicilian cuisine.
Sicily is the largest island in the Mediterranean Sea. It is one of the twenty regions of Italy and one of the five autonomous regions, known officially as Regione Sicilliana. It is located south of the Italian peninsula and sports the typical Mediterranean climate, with its most remarkable landmark being Mount Etna, the largest active volcano in Europe. It has a rich history, with many cultures leaving their trace on the island. In ancient times, the island was a prized possession, as it was considered "the granary of the Mediterranean". Whoever controlled the island, controlled the largest source of grain production in ancient Europe. The Romans seized the island from Carthage in the First Punic War and turned it into a Roman province. The island in turn helped the Republic grow to become the major superpower in the region.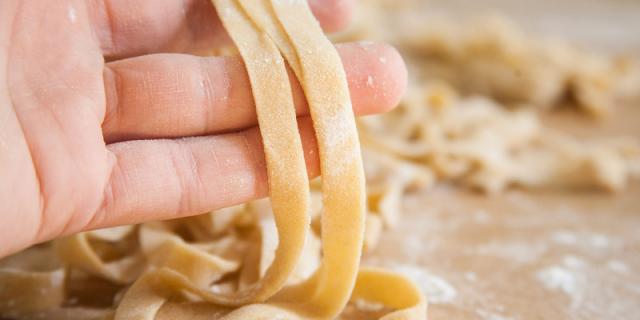 The Sicilian cuisine shows traces of all the cultures that had lived on the island in the past two millennia. It shares a large number of similarities with Italian cuisine. The major difference is that Sicilian cooking shows influences of the Arab, French, Greek and Spanish cultures. Sicily also took part in the creation of the first-ever cookbook, so to say. A Greek man called Mithaecus, born in fifth century BC, recorded everything he knew of Sicilian cooking, and brought that knowledge to Greece.
The Sicilian gastronomy uses an abundance of different and fresh ingredients. For example: sugar, citrus, rice, raisins, apricots, melons, saffron, pepper, clove, pine nuts, nutmeg and cinnamon are all ingredients introduced by the Arabs in the tenth and eleventh century. The next in line to leave their trace on Sicily are the Normans and Hohenstaufens. Their influence is most-felt in different meat dishes across the country. In southern Sicily, bakers even combine beef with chocolate to create little pastries. This combination might sound… discouraging, to say the least. But the opinions and reviews left by those people who tried this dessert are all positive. They say that you do not even feel the meat while you are eating.
Later on, the Spanish would bring numerous new cultures and ingredients from the New World. These include peppers, turkey, cocoa, tomatoes, maize and others, all staples in Sicilian cuisine. Last-but-not-least, the Greek colonists who settled on the eastern coast of the island brought with them fish, olives, pistachio and broad beans. As for some other preferences, the Sicilians like to use fresh vegetables such as peppers, tomatoes, aubergines and different schools of fish like tuna, sea bass, cuttlefish, sea bream and others.
Concerning the dishes, there are loads of starter meals, soups, pasta, secondary main dishes, desserts, preferred fruits and wines. Sicily is the birthplace of Italian pasta meals, as the first ever use of pasta as food, after being worked into long and thin forms, was recorded here by Muhammad al-Idrisi in his Tabula Rogeriana, a book in which he noted some of the traditions of the Sicilian kingdom. As for desserts and sweets, along with the pasticcini di mandorle we are taking a look at today, there are also: frutta martorana, Pignolata of Messina, buccellato, cannoli, granita, cassata siciliana and lastly, Crocetta of Caltanissetta. The Sicilian desserts were heavily influenced by Arab bakers, which can be seen today in the heavy use of sugars and marzipan. The modern Sicilian cuisine is also known for its famous sugar statues pupa di cena. Today, they are made in the images of celebrities or well-known cultural figures. As can be seen, the Sicilian cuisine can be quite exotic, primarily due to the influences of other cultures. It is an area of cooking reserved for the bravest of cooks, but the dishes one can create are certainly worth the hassle.

The History Behind Sicily's Famous Almonds
As it is the main ingredient in the numerous recipes available for making almond cookies, it is not a bad thing to know a thing or two about almonds as well. The almond, strangely enough, is not native to Europe. The first almonds were cultivated in the Middle East and were probably introduced to Sicily somewhere around 1000 BC (the exact dates are unknown). There are different types of almonds which can be categorized into sweet and bitter ones. They produce a tasty oil, and in some cases, cyanide, which can be quite toxic. The first almond tress start to blossom in February, during the Famous Sicilian festival called Almond Blossom Festival in Agreganto. Although they blossom in February, they are not harvested until July. The almond tree is connected with numerous ancient world myths, and is heavily referenced in the Bible, where it is known as shakked and luz. They were cultivated across Europe. However, almond trees do not thrive in colder climates, and are consequently mostly found in warmer areas around the Mediterranean Sea.
Today, Italy is the second largest exporter of almonds, the first being California, which produces more than eighty percent of world's supply. Almond trees are also the second most cultivated type of trees in Sicily and are sometimes used to create almond-flavoured wine. Along with that, almonds are the primary ingredient of pasticcini di mandorle, a traditional Sicilian soft cookie. Almonds are also symbols of good fortune, and are given as gifts at weddings, which has become a world-wide trend.
In Sicily, almond tress symbolize love. This connection is rooted in ancient Greek myths. In one such myth, Phyllis, a noble maiden, marries Demophon, a soldier who fought in the Trojan war. After their wedding, Demophon had to depart, but promised to return one day. After waiting for her husband for years, Phyllis died of a broken heart, thinking Demophon had forgotten her. An almond tree grew from her grave, and when Demophon came to visit his wife, the tree blossomed. A sign that, even in the afterlife, Phyllis still loved him, and was happy to see him. Other than being a symbol of love and many other virtues, almonds are full of nutritious substances which nourish the body, such as vitamin E, essential oils and monosaturated fats.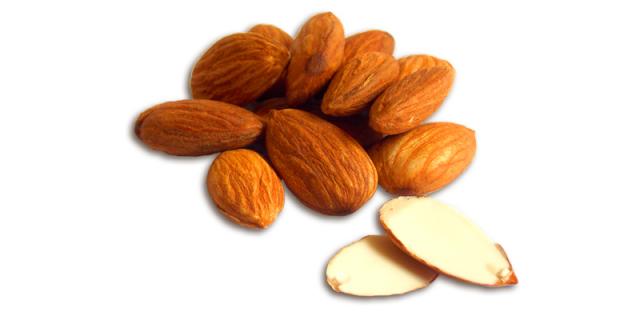 The reason why almonds succeed in Sicily is because the island combines the calcium-rich soil with the perfect mix of Mediterranean temperatures and constant sunshine. There are three types of almonds grown in Sicily. These are: Pizzuta, Romana and Fascionello. The most prized type of almonds among the three is the Pizzuta, which is rich in vitamins and essential oils. It is highly sought out by both bakers and confectioners. Almonds are also considered to be "brain food" because of the vitamin E and are marvellous for strengthening the immune system.