Macaron, not to be confused with macaroon, is a sweet meringue-based confection made with egg white, icing sugar, granulated sugar, almond powder or ground almond, and food coloring.

Macaron is an airy biscuit that comes in a variety of colors, which adds to its popularity. As Charles Spence who heads the Crossmodal Research Laboratory at Oxford University points out, more than half of our cortical real estate is dedicated to processing vision—just a percent or two is given over to taste faculties (making us rather unique among mammals). The result is not just that color flavors our expectations: It changes how we taste food.
You can find macarons in most bakeries focused on the sweet business. They've quickly become favorites as a party treat, gift, and for any kind of event catering.
Etymology
The word "macaron" entered the English language from French and ultimately comes from Italian "maccarone", meaning "filled pasta". Although it has the same etymology as macaroon, the two biscuits are different and one shouldn't be confused with another.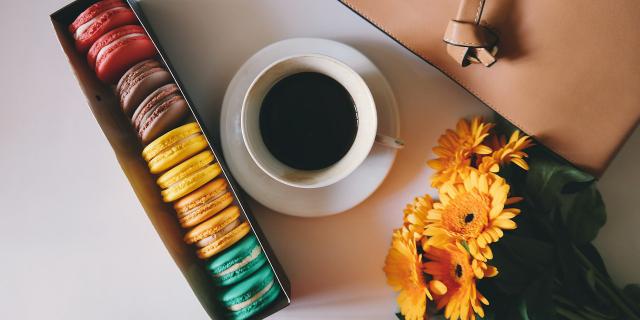 Country of Origin and usage

As many world famous foods, the earliest recipes of this cookie are mentioned in Italian and French cookbooks. Different almond biscuits closely resembling macarons were mentioned in Italian cookbooks in the 16th century, while the earliest known recipe dates to the 17th century and appears to be inspired by the French version of the same cookie. What makes the two versions different is the way the meringue is made.
Early macarons were a plain sweet meringue type cookie with no special fillings. Made from the simple ingredients of almond flour, fine sugar and whipped egg whites folded together and baked into a light airy cookie with a crisp outer shell that melts in your mouth.
It is said that the cookie was introduced in France during the Renaissance period when in 1533 Catherine de Medici married Henry Duc d'Orleans, who fourteen years later became the King Henry II of France. Her pastry chefs introduced macarons to French nobility.
It wasn't until 1930 though, that the macarons as we know them today became popular. That year, a famed Parisian tea salon and pastry shop Laduree opened the first tea salon in Paris upon the wishes of the owner's wife to have a fashionable place for women to meet unescorted and freely discuss "anything and everything" while enjoying tea and sweets. Pierre Desfontaines then came up with the idea of joining two macaron shells with ganache filling as one of the sweets to offer in the tea salon.
Many French regions claim long histories and variations of this cookie, including Loraine, Basque County, Saint-Émilion, Amiens, Montmorillon, Le Dorat, Sault, Chartres, Cormery Joyeuse and Sainte-Croix in Burgundy. Macaron Day was created in 2005 in Paris, by la Maison Pierre Herme. Today it is globally celebrated on March 20th.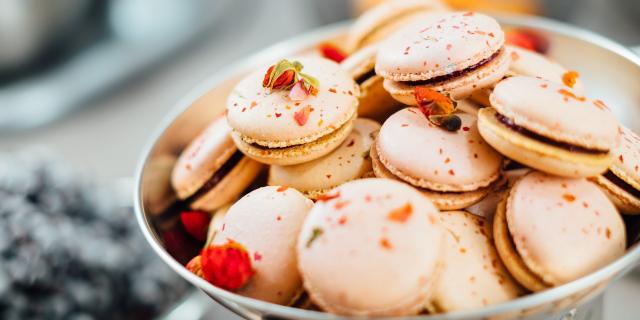 Ingredients and Preparation

Try this Martha Stewart's recipe, originally posted on marthastewart.com.
What you'll need:
2/3 cup sliced blanched almonds (71 grams)
1 cup confectioners' sugar (117 grams)
2 large egg whites, room temperature
1/4 cup granulated sugar (53 grams)
Jam or another filling

Preheat oven to 350 degrees with rack in lower third. Place almonds in a food processor; process until as fine as possible, about 1 minute. Add confectioners' sugar; process until combined, about 1 minute. Pass almond mixture through a fine-mesh sieve. Transfer solids in sieve to food processor; grind and sift again, pressing down on clumps. Repeat until less than 2 tablespoons of solids remains in the sieve. Whisk egg whites and granulated sugar by hand to combine. Beat on medium speed (4 on a KitchenAid) 2 minutes. Increase speed to medium-high (6) and beat 2 minutes. Then beat on high (8) 2 minutes more.

The beaten egg whites will hold stiff, glossy peaks when you lift the whisk out of the bowl. Add flavoring
and food coloring, if desired, and beat on highest speed 30 seconds. Add dry ingredients all at once. Fold with a spatula from the bottom of bowl upward, then press the flat side of spatula firmly through the middle of the mixture. Repeat just until batter flows like lava, 35 to 40 complete strokes.

Rest a pastry bag fitted with a 3/8-inch round tip (Ateco #804) inside a glass. Transfer batter to bag; secure top. Dab some batter remaining in bowl onto corners of 2 heavy baking sheets; line with parchment. With piping tip, 1/2 inch above sheet, pipe batter into a 3/4-inch round, then swirl tip-off to one side. Repeat, spacing rounds 1 inch apart. Tap sheets firmly against counter 2 or 3 times to release air bubbles.

Bake 1 sheet at a time, rotating halfway through, until risen and just set, 13 minutes. Let cool. Pipe or spread filling on flat sides of half of the cookies; top with remaining half. Wrap in plastic and refrigerate.