Macaron, not to be confused with macaroon, is a sweet meringue-based confection made with egg white, icing sugar, granulated sugar, almond powder or ground almond, and food coloring.
A macaron is an airy biscuit that comes in a variety of colors, which adds to its popularity. As Charles Spence who heads the Crossmodal Research Laboratory at Oxford University points out, more than half of our cortical real estate is dedicated to processing vision—just a percent or two is given over to taste faculties (making us rather unique among mammals).
The result is not just that color flavors our expectations: It changes how we taste the food.
You can find macarons in most bakeries focused on the sweet business. They've quickly become favorites as a party treat, gift, and for any kind of event catering. Although, behind their pastel shades and beautiful textures the art of macarons is a technical science with inspiration taken from sweets, fragrances, and encounters, so let's learn more about this beautiful treat known as a luxury!
Etymology
The word "macaron" entered the English language from French and ultimately comes from Italian "maccarone", meaning "filled pasta". Although it has the same etymology as a macaroon, the two biscuits are different and one shouldn't be confused with another.
French macaroon is a sweet meringue-based cookie made with egg white, icing sugar, granulated sugar, almond powder ground almond, and food coloring. There is some variation in whether the term macaron or macaroon is used, and the related coconut macaroon is often confused with the macaron.
American Macaroons – Sweet Treat for Coconut Lovers
In English, some bakers have adopted the French spelling of macaron for the meringue-based item to distinguish the two. These two types of cookies have a shared history, also shared with macaroni (Italian maccheroni). The French meaning is said to have been introduced in 1552 by Rabelais. The -oon ending was conventional in 15c.-17c.
Country of Origin and usage
The word macaron is derived from the Italian word, maccherone, meaning fine dough. It's believed that the macaron cookie was born in Italy and brought over to France as early as 1533 by Catherine di Medici, a noblewoman from Florence who married the future King of France.
As many world-famous foods, the earliest recipes of this cookie are mentioned in Italian and French cookbooks. Different almond biscuits closely resembling macarons were mentioned in Italian cookbooks in the 16th century, while the earliest known recipe dates to the 17th century and appears to be inspired by the French version of the same cookie.
What makes the two versions different is the way the meringue is made.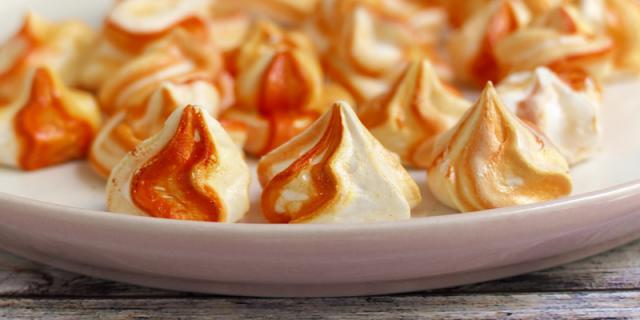 Early macarons were a plain sweet meringue type cookie with no special fillings. Made from the simple ingredients of almond flour, fine sugar and whipped egg whites folded together and baked into a light airy cookie with a crisp outer shell that melts in your mouth.
It is said that the cookie was introduced in France during the Renaissance period when in 1533 Catherine de Medici married Henry Duc d'Orleans, who fourteen years later became King Henry II of France. Her pastry chefs introduced macarons to the French nobility.
Moreover, the first macaron ever derived from Italy rather than France and was brought over in 1533 by the chef of Italian noblewomen (and later Queen of France) Catherine De Medici. It was credited by Pierre Desfontaines who had the idea to fill them with creamy ganache.
In 1792, it is said that the macarons began their popularity by selling the shell to pay for their board, namely, Les Sœurs Macarons.
'Macaron sisters'
When Catherine de Vaudémont, daughter of Charles III Duke of Lorraine and the Abbess of Remiremont, founded the monastery of Les Dames du Saint-Sacrement in the center of Nancy, strict rules banned eating meat. This meant that the sisters baked a wide range of pastries, including the famous macaron.
The Macarons Sisters were two nuns, Sister Marguerite, and Marie-Elizabeth who, during the French Revolution, sought asylum in Nancy and created their special type – 'Nancy Macaron' which was just like a typical macaron shell but without the shell being filled.
The town of Nancy honored the sisters by naming them on the Rue de la Hache, where they invented them. In the novel, Larousse Gastronomique cited the macaron produced in a convent next to Cormery before that there was a reference to the Macaron in 792.
In the 1830s the "Gerbet" or Paris macaron arrived on the scene and was once the first based totally on French meringue made through whipping egg whites and castor sugar into a dense mixture. It used to be made then as now of two discs joined in pairs, although barring a filling. It was only in the 1900s that the filling used to be added in stages, first ganache, then buttercream, then myriad different centers, until the macaroon became the toothsome cookie so loved today.
Landurée - A piece of heaven for macaron lovers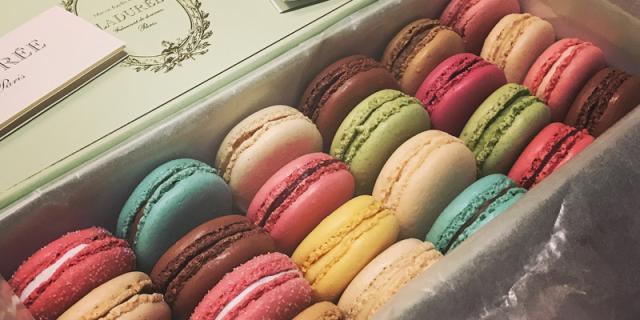 The macarons as we know today became popular in the 1860s and their birthplace is the most romantic city in the world – Paris of course! Parisian confectioners introduced the world to the 'Macaron Parisien,' which was specifically popularized by Ladurée. This famous company was created in 1862 by Louis-Ernest Ladurée.
Ladurée became a place for people to gather and socialize way back in the 1860s. It all began when Louis Ernest Ladurée opened his shop in Paris in 1862. After opening the shop, Ladurée's became known as a place to enjoy beautiful food and have a pleasurable, social experience as well. "Parisian tea rooms" are now considered to be closely tied with the history of the Ladurée family.
In 1871, while Aristocrat Haussmann was giving Paris "another face", a flame at the baked good shop opened up the credibility of transforming it into a cake shop. The beautification of the cake shop was depended on Jules Cheret, a prevalent turn-of-the-century painter and ad spot expert. Mr. Cheret searched for inspiration from the depict systems used for the roof of the Sistine Chapel and the Garnier Musical show House.
By coordination them into his work, he included significance and mitigation to the roofs decorated with stout seraphs, extraordinarily the "Cake Angel" who was a short time later to awaken the House's reasonable character. Under the Moment Realm, cafés made and got the chance to be progressively sumptuous. They pulled in Parisian high society.
Afterward, in 1930 a renowned Parisian tea salon and baked goods shop Laduree opened the main tea salon in Paris upon the desires of the proprietor's better half to have an elegant spot for ladies to meet unescorted and uninhibitedly talk about "everything without exception" while appreciating tea and desserts.
Pierre Desfontaines then thought of joining two macaron shells with ganache filling as one of the desserts to offer in the tea salon.
Many French regions claim long histories and variations of this cookie, including Loraine, Basque County, Saint-Émilion, Amiens, Montmorillon, Le Dorat, Sault, Chartres, Cormery Joyeuse and Sainte-Croix in Burgundy. Macaron Day was created in 2005 in Paris, by la Maison Pierre Herme. Today it is globally celebrated on March 20th.
Ingredients and Preparation
Try this Martha Stewart's recipe, originally posted on marthastewart.com.
What you'll need:
2/3 cup sliced blanched almonds (71 grams)
1 cup confectioners; sugar (117 grams)
2 large egg whites, room temperature
1/4 cup granulated sugar (53 grams)
Jam or another filling

Preheat oven to 350 degrees with rack in the lower third. Place almonds in a food processor; process until as fine as possible, about 1 minute. Add confectioners' sugar; process until combined, about 1 minute. Pass almond mixture through a fine-mesh sieve. Transfer solids in sieve to food processor; grind and sift again, pressing down on clumps. Repeat until less than 2 tablespoons of solids remains in the sieve. Whisk egg whites and granulated sugar by hand to combine. Beat on medium speed (4 on a KitchenAid) 2 minutes. Increase speed to medium-high (6) and beat 2 minutes. Then beat on high (8) 2 minutes more.

The beaten egg whites will hold stiff, glossy peaks when you lift the whisk out of the bowl. Add flavoring
and food coloring, if desired, and beat on highest speed 30 seconds. Add dry ingredients all at once. Fold with a spatula from the bottom of bowl upward, then press the flat side of spatula firmly through the middle of the mixture. Repeat just until batter flows like lava, 35 to 40 complete strokes.

Rest a pastry bag fitted with a 3/8-inch round tip inside a glass. Transfer batter to bag; secure top. Dab some batter remaining in the bowl onto corners of 2 heavy baking sheets; line with parchment. With piping tip, 1/2 inch above sheet, pipe batter into a 3/4-inch round, then swirl tip-off to one side. Repeat, spacing rounds 1 inch apart. Tap sheets firmly against counter 2 or 3 times to release air bubbles.

Bake 1 sheet at a time, rotating halfway through, until risen and just set, 13 minutes. Let cool. Pipe or spread filling on flat sides of half of the cookies; top with remaining half. Wrap in plastic and refrigerate.
Extra tip: French macaroons are incredibly sensitive to moisture above everything. This is why some recipes call for "aging egg whites" as when egg whites get old they lose some moisture.
If you don't manage to make the perfect shapes at first, don't worry, they are really tricky to make.The practice is what makes it perfect.
The most popular macaron flavors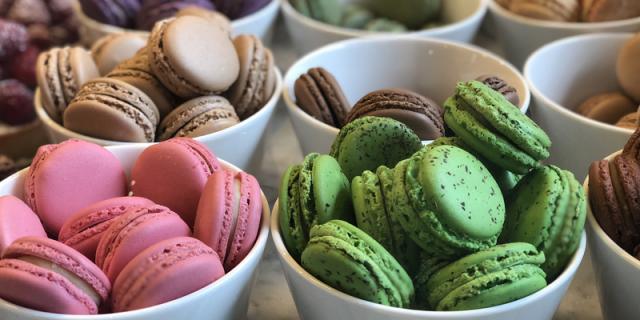 There are, we could say, at least 100 different flavors and macaron fillings, here are the most popular ones.
Chocolate
Vanilla
Pistachio
Caramel
Coffee
Coconut
Lime
Raspberry
Cheesecake
Blueberry
White chocolate
… Talking about types, flavors, fillings and combinations – why not mention the weirdest macaron combinations ever made? These will make you laugh or, maybe, if you're an adventuristic type it will make you want to try or maybe make yourself? Challenge accepted, is it?
Cheetos
Wasabi
Tequila
Ketchup filling
Bacon
Lavender
Chilli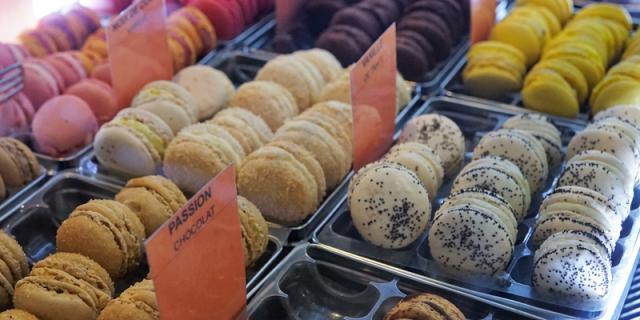 Interesting facts and Guinness record!
National Macaron Day, March 20, was founded in 2005 at La Maison Pierre Hermé, another Parisian confectioner with locations throughout the world. Bakeries across the NYC indulge passersby with free macaron treats to celebrate the sweet confection.
There are so many different types of macaron fillings – the most unusual is thai curry flavor and bacon
The macaron has spread across the world, thanks in part to Sofia Coppola's 2006 film Marie Antoinette, in which the queen is surrounded by luscious pyramids of multicolored macarons (which were provided by Maison Ladurée).
Macarons were originally served as a single cookie but the popularity of rich flavors and creams made it a winner
The world's tallest pyramid made entirely of macarons was created in 2013, using 8540 macarons donated by local entrepreneurs. It now holds its place proudly in the Guinness Book of World records.
The correct pronunciation is macaron (mah-kah-ROHN.) It's not unusual for people to mistakenly call them macaroons (mah-kah-ROON.)
Ladurée Paris sells over 4,000,000 macarons per year. Between the four Laudrée shosp in Paris, they collectively sell 12,000 macarons per day, making that approximately 4.3 million per year.
The first original recipe is said to have been kept secret and is still used in some French macaron manufacturing to this day.
The best macarons have now been brought to India by 'A Piece of Paris'
At first, they were called 'priest's bellybuttons,' due to the pastry's shape.
They became very popular because presenting macarons in shows such as Sex & The City and Gossip Girl

Why are macarons often so expensive?
This is one of the most frequently asked question worldwide. If you buy macarons in a package or if you buy a simple one – they are mostly expensive.
Raw materials - Almonds, vanilla and chocolate are some of the most expensive ingredients to work with.
Also, another reason is that they are extremely tricky to make.
So, the high cost of macarons is a function of their difficulty to make; the time it takes to make them and the cost of their ingredients, many of which are highly specialized.
They are gluten-free!
Traditional French macarons contain egg whites, sugar, almond flour and some sort of flavoring in the form of extracts or concentrated juices, along with food coloring. No of these things contain gluten.
Although not necessarily "healthy" they are certainly lighter and contain fewer calories than most of the other sweets. One macaron has from 70-100 calories, while, for example, one cupcake has close to 400 calories.
Nutrition facts
Calories 110
Calories from fat - 60
Total fat 6g
Saturated fat 2.5. g (13%)
Trans fat 0g
9%
Cholesterol 1 mg
3%
Sodium 10 mg
0%
Potassium 0 mg
0%
Total Carbohydrate 12g
4%
Dietary Fiber 1g
Sugars 11g
4%
Protein 2 g
4%
Vitamin A 2%
Vitamin C 0%
Calcium 2%
Iron 2%