The name Petit Beurre according to The Complete Collection of Biscuit Types originates from France and the invention company is ''LU''. Their meaning is: ''little butter'' and their appearance has an interesting story related to time.
Think about your childhood for a moment …Grandparents, mother, father, aunts – they all offered you biscuits. What biscuits did you mostly eat? Do you remember them?
We can bet that at least one of your childhood biscuits were exactly Petit Beurre biscuits. If you didn't eat them yourself, you probably tried them in the Petit Beurre Cake they are part of.
This article is dedicated to these, one of the most widely spread cookies in the world. Simple, crunchy, flat, but still delicious. They are part of the afternoon tea, afternoon and morning snack, brunch, parties, but they are also one of the main ingredients of many cakes and sweet treats. These simple cookies are rich and only slightly sweet so that is why they are well-combined with almost every ingredient!
They have a recognizable taste – there is no doubt that when you bite only a little piece you'll know – ''oh, that is Petit Beurre''.
Oh not even to mention the combinations! Strawberry cream, jam or Nutella take those biscuits to another level! Although, we will move to combinations later, first you need to know when and where did they come from. There are quite interesting stories about Petit Beurre, so, let's learn!
The famous Petit Beurre biscuits marked many childhoods, but even today it gives children and the elderly pleasure. Moreover, did you know that its appearance actually has a meaning?!
Be patient, we are here for you to learn! These crispy biscuits that melt in the mouth are nowadays the symbol of the seaside town of Nantes.
Why is it called "Petit Beurre"?
''Petit Beurre'', which means ''little butter'' in French, was created by the English biscuits of the time.
noun, plural pe·tits beurre [puh-tee bœr]. French Cookery.
A small, usually oblong butter cookie.
The name Petit Beurre originates from France since 1886 (meaning: ''small butter''.) The name Petit Beurre is, in fact, a generic name for a butter-flavored biscuit with a characteristic shape and a specific taste.
Origin
The origin oft he French Petit-Beurre dates back to 1886, to the most romantic country, you guess where?
Of course, France!
The inventor is Louis Lefèvre. He originally sold biscuits from the English biscuit factory Huntley & Palmers and then he began his production in the mid-1800s. Then, in 1886, Louis Lefèvre created this square butter cookie in his Nantes-based biscuit factory. Lefèvre was the first to create a cookie factory in France.
Romantic Story
This inventive baker was married to the beautiful Mademoiselle Utile – they were madly in love! Louis Lefèvre decided to place both their initials ''LU'' on every biscuit.
LU rapidly became a benchmark in terms of French pastry and confectionery and has now become the global brand name of the company. After launch, the biscuit design and recipe were copied many times and were therefore patented in 1988 with the name the Véritable Petit Beurre.
Even today, this crunchy butter cookie retained its shape. It has scalloped edges, tiny holes on the surface that looks like it was pricked by a needle, and a small browned ear at each corner.
These recognizable biscuits are the symbol of Nantes.
Lu Company
Lefèvre Utile, better known worldwide by the initials LU, is a producer brand of French biscuits, significant of the city of Nantes. The brand is currently part of the US ice cream parlor organization Mondelēz International since 2007, after its procurement from Groupe Danone. The Petit-Beurre bread remains the leader item close by the Boudoir, Champagne, Petit four, Prince (FR), Pim's, Paille d'Or, and so on.
Lefèvre-Utile was established in Nantes, France, in 1846 by Jean-Romain Lefèvre. Initially, he sold biscuits from the English manufacturing plant Huntley and Palmers and after that, he started his generation.
As we already mentioned in the ''romantic story'', the name came from his and his wife's' initials. Their initials were first used by Alfons Mucha for an 1897 schedule promotion for the Lefèvre-Utile Biscuit Co.
That equivalent year the organization enlisted Firmin Bouisset to make a notice advertisement.
Bouisset, effectively noted for his work for the Menier Chocolate organization, made Petit Écolier ("the Little Schoolboy") which fused the LU initials. Bouisset's publication was utilized widely and the picture was embellished on the organization's Petit Beurre line of biscuits. Inside a couple of years, the accomplishment of the logo brought about the organization getting to be known as LU.
The author's child, Louis Lefèvre-Utile, assumed control over the organization and in the end, it was gained by Générale Biscuit S.A., which thusly was offered to Groupe Danone in 1986. Albeit a worldwide brand today, LU items are fundamentally appropriated in Western Europe, and in 2005 spoke to almost 50% of the deals for Danone's biscuits and grain division.
Worldwide Success!
LU's biscuit factory today produces about one billion French Petit-Beurre a year. The ''pure butter'' cookie has become a worldwide success. Many people tried to imitate the recipe thousands of times, but never equaled!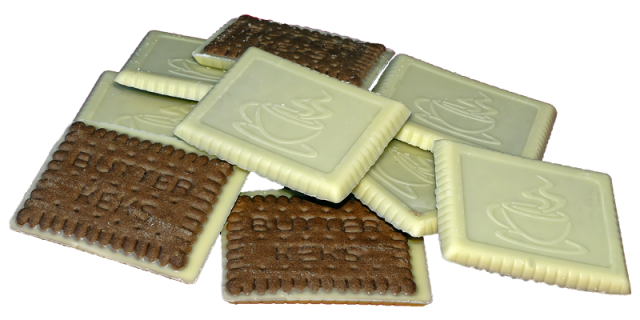 Traditional LU packets contain 24 cookies, to match the 24 hours a day, but more about interesting facts you will be able to learn later in this article.
LU produces over 9,000 tons of VPB a year, about 1 billion biscuits packaged in 41 million packs of VPB. LU rapidly became a benchmark in terms of French pastry and confectionery and has now become the global brand name of the company.
OTHER LU PRODUCTS
Mikado: Famous crisp biscuits sticks with the sweetness and delicacy of delicious chocolate topping.
Pim's: A delicious combination of three distinct tastes: Smooth European chocolate, tangy fruit-flavored filling, and soft, sweet biscuit.
TUC: Created in Belgium, TUC biscuits are rich in grains, and their light and crispy texture lend a unique taste.
LU Granola: launched in 2016, these Brownie and Large Bar varieties have been a big success
Birthday party! To celebrate its birthday, LU is inviting French fans to make their birthday cakes with their favorite LU cookie. Fans can also send birthday cards to their loved ones and personalize them based on their favorite cookies!
Today, LU biscuits can be found in more than 100 countries around the world, including France, Belgium, the US, Canada, and China.
Design intrigue
Petit-Beurre biscuits owe their appearance to the mold Louis, brought from England. We can say that he is a pure perfectionist with a sense for marketing.
It can be said that Louis Lefèvre-Utile was the pioneer of the industrial era. A perfectionist with a sense of marketing, this man has realized the importance of packaging and building a brand image.
He carefully selected ingredients of the highest quality for his product: milk, eggs, flour ...He placed great importance on advertising and hired great artists of his time for these purposes. At first glance, barely anyone would not notice anything unusual in a fairly simple "design" of biscuits, but there are a few facts about the numbers that are very interesting.
What do the numbers 4, 24 and 52 mean for Petit Beurre?
When you look at the biscuit, you will notice corners, tines, and holes, but before you eat it, it would probably rarely occur to anyone to count it all and give the resulting amounts a deeper meaning. The meaning is very interesting and unusual for biscuits – it is closely related to time.
Look, it's the stamp created by T and T Vicars, an English organization. The structure has 52 teeth at the edge of the scone. It represents 52 weeks of the year. The 4 ears on the borders of the bread lines are spoken in the four years, and the 24 openings are spoken in the morning.
At the time when the scones were propelled the parcels 12 or 24 could be accessed, another reference to the clock 12 or 24 hours.
Interestingly, LU's entire existence was influenced by Raymond Loewy. In 1956, Lefevre asked Loewe to upgrade and update its logo.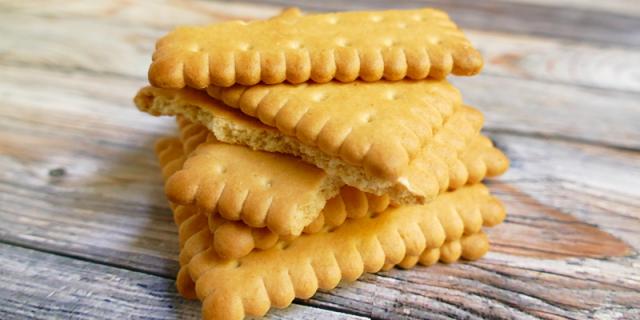 Characeristica
The unit weight is 65 mm long, 54 mm wide and 6.5 mm thick.
The surface is smooth, and the inscription "LU PETIT-BEURRE NANTES" is intermingling in three lines with twenty-four indents (quatre lines with six columns).
The letters are meant to recall the books that one of the creators of Le Petit Beurre reads, his grandmother.
The biscuit is watered with milk to have a "homemade" appearance before baking.
The width is equal to the thickness of 8 biscuits and allows for square packaging.
Ingredients Wheat flour 73.4%, sugar, butter (from milk) 13.6%, powdered skim milk 1.3%, salt, raising agent: ammonium carbonate, sodium carbonate, citric acid as acidity corrector, flavoring. May contain eggs, sesame. Allergens: wheat, milk.
Other Petit-beurre producers
One of the biggest and the most popular is Koestlin.
Koestlin is a Croatian food company based in Bjelovar, specializing in confectionery products.
Koestlin was established in 1905 by Croatian Jewish industrialist Dragutin Wolf.
In 1921 the company began to produce biscuits and wafers. In 1932 Wolf's sons, Otto and Slavko Wolf agreed cooperation with Koestlin in Hungary, which was founded by Hungarian industrialist Lajos Koestlin at the end of the 19th century.
Today Koestlin holds first place int he export of biscuits and related products, waffles in a part of Europe, while in Croatia it holds first place in the sale of biscuits and second in the sale of waffles.
Koestlin markets 50% of its total production to foreign markets, especially to Slovenia, Bosnia and Herzegovina, Macedonia, the USA, Sweden, Canada, Slovakia, the Czech Republic, and many other countries. Koestlin today boasts forty products in about eighty different packages. One of the most famous Koestlin products is, of course, Petit Beurre.
Kraš
Kraš (Croatian pronunciation: [krâʃ]) is a Croatian food company based in Zagreb, specializing in confectionery products.
As we have already mentioned, Petit Beurre cookies were made in the 19th century in Nantes. According to the original recipe, they contain wheat flour, sugar, milk powder, 13 percent butter, salt, baking powder, and aroma.
A few years later, the Germans made very similar biscuits with Leibniz butter. When designing the Petit Beurre, Louis Lefèvre-Utile was quickly copied by his competitors. He then set up a rather virulent advertising company in which he renamed his biscuit the "Véritable Petit Beurre" or "True Petit Beurre".
After many years, he managed to impose the basic recipe, without chemical additives, reducing the number of competitors. Another sweet butter biscuit produced in France is known as the "Petit beurre with Lorient sea salt."
In 1891, at Hanover in Germany, the Bahlsen company began making a Butterkeks (butter biscuit very similar to the French Petit Beurre) called Leibniz-Keks in homage to the philosopher and mathematician Gottfried Wilhelm von Leibniz.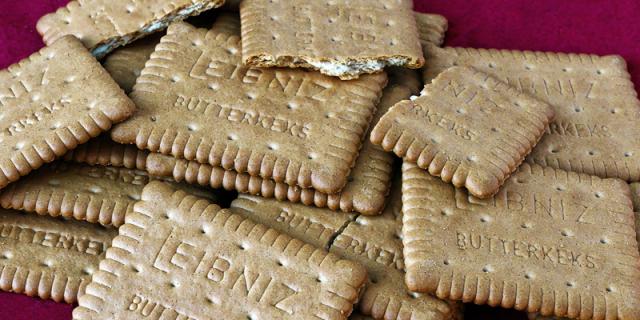 Health - Where is the butter
Research has shown that not all manufacturers of Petit biscuits use butter in the production of these biscuits, though the name itself dictates that these biscuits should contain butter.
If there is no butter, the other ingredients are more dangerous to health. Although, some manufacturers do not even use ''butter'' in the names, so there are variations such as ''Petit Biscuit'', Dooel, Leibniz, as we mentioned…
Biscuits should be the real 'little butter' - or just 19th-century original recipe states that they should contain 13 percent butter.
There are now mostly fewer or none. The problem is the less butter in biscuits, the more other types of fat. Wheat flour is first on the ingredient list on all biscuits analyzed, which means it has the most in them. It's white flour. It is, in contrast to the whole, poor in dietary fiber and minerals. It is quickly digested and raises blood sugar levels. The less butter, the more other types of fat.
Butter-free biscuits are cheaper substitutes, such as palm fat or oil. And they are full of saturated acids. If the oil is hydrogenated (converted to fat), it may contain more trans-fatty acids that are equally harmful.
Margarine is a thankful raw material for the food industry due to its low cost, stability and easy transportation. The main difference between butter and margarine is fatty acids. The advantage of butter is that it is obtained more naturally, and it also contains vitamins A, D and E and lauric saturated fatty acid, which is associated with improving immunity.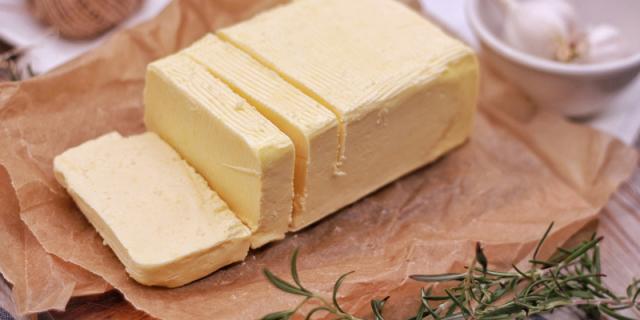 According to the maker, le Petit Beurre LU contains:
Wheat flour: 73.5%
Butter: 13.6 %
Evaporated milk: 1.3%
Salt
Baking powder
Extract or Flavoring
The nutritional intake is the following:
| | | |
| --- | --- | --- |
| | Serving 100 g | Serving: 1 biscuit |
| Energetic Value | 440 kcal – 1850 kJ | 36 kcal – 154 kJ |
| Protein | 8 g | 0,7 g |
| Carbohydrates | 73 g | 6,1 g |
| Lipids | 12 g | 1 g |
Variations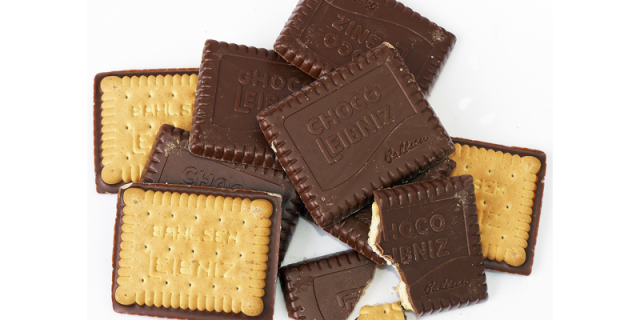 The substantive Petit Beurre is a generic term from the past; it has a hyphen and when it is plural Petit-beurre is often misspelled.
It is known in Anglo-Saxon countries as the French Petit Beurre and is called "Petibör" in Turkey.
The most popular variation is the one with chocolate topping.There are also many types of cakes that you could make with the Petit Beurre. For example: mosaic, pudding slices, crumble …
Visit

TechTalks

Discussion
I would like to ask about the mixing of petit beurre biscuits, we have double z mixer, with two speeds. I have received different recommendations about the right mixing time, some said 20 minutes, some said 25 minutes. Also, is there a relationship between the mixing time and the hard bite of biscuits? How can we know that the mixing is ok, and we not need more?. Should we use high speed mixing, or low speed mixing to avoid hard bite biscuit, or both of them is ok?
Be sure to subscribe to our newsletter by registering so that you do not miss any of our articles and insights.